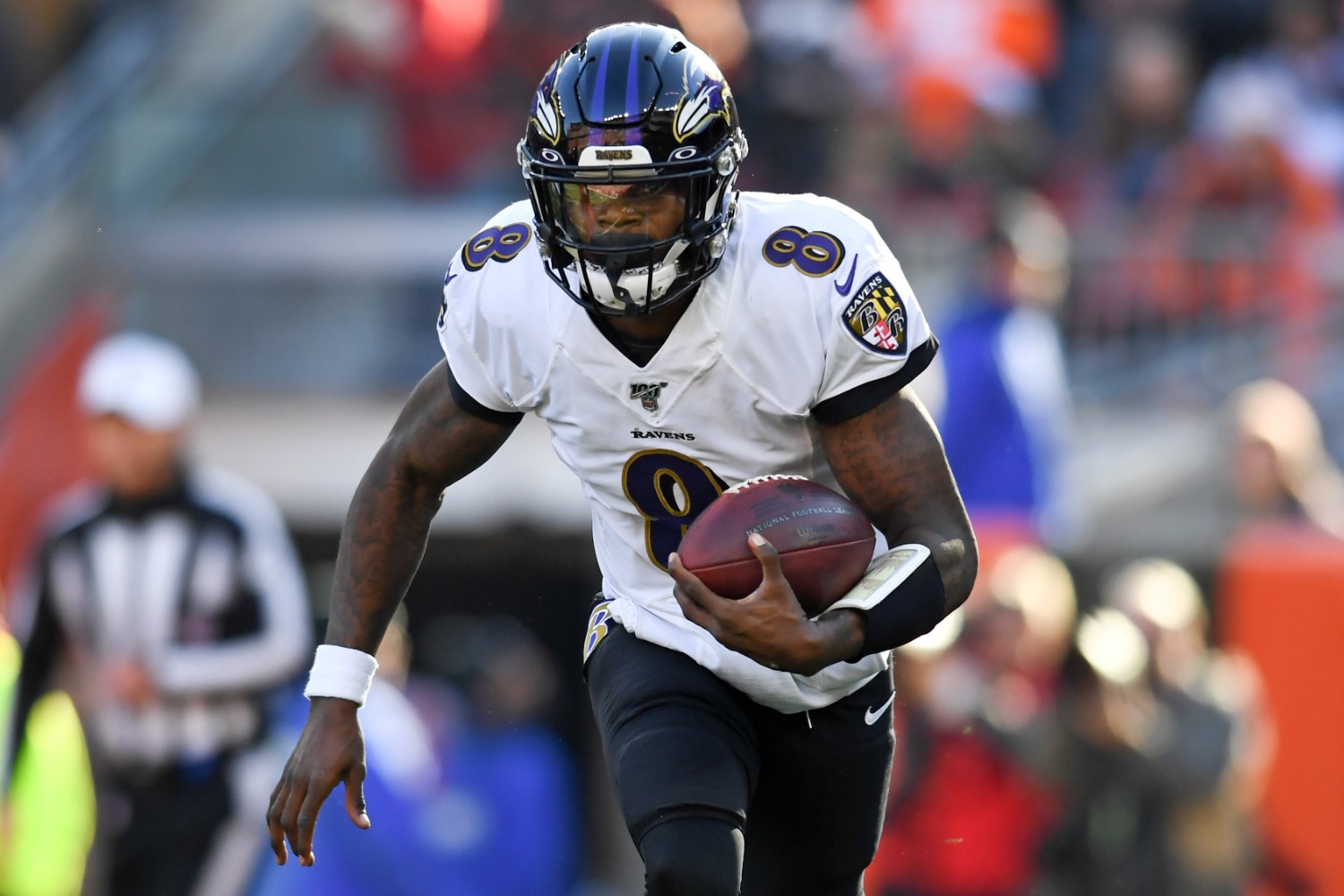 Lamar Jackson and Ravens Must Defeat 'Pure Death' Test Before Football Begins
Lamar Jackson and his Baltimore Ravens teammates must pass the NFL's most brutal conditioning test that includes 900 yards of sprints.
If there's one thing Lamar Jackson excels at, it's running. The reigning NFL MVP dazzled fans with his fleet feet last season. As the league's biggest breakout star, he led the Baltimore Ravens to a 13-3 record while shattering everyone's expectations. Of course, the Ravens flopped in the postseason against the Tennessee Titans and watched the Super Bowl from home.
But as the 2020 NFL season inches closer, Jackson and his Ravens teammates face a tremendous challenge. And it has nothing to do with a team on their schedule. Instead, they must defeat the most brutal 900 yards of their lives.
Lamar Jackson enters the 2020 season as the reigning NFL MVP
Coming off a rather nondescript rookie season, Lamar Jackson entered 2019 with just 99 completions to his name. Detractors pointed to his lack of accuracy and his penchant for tucking the ball and taking off. Others questioned whether Jackson had the accuracy to truly become an elite NFL quarterback.
The former Louisville star silenced his critics from the get-go. Jackson kickstarted his magical campaign by torching the Miami Dolphins. In the 59-10 drubbing, the dual-threat magician stood firm in the pocket and threw five touchdown passes. A week later, he went off for 120 rushing yards in a narrow victory over the Arizona Cardinals.
While Jackson took some time to get acclimated to NFL defenses, he went on a torrid stretch to finish the season. From Weeks 11-17, he racked up 24 passing touchdowns and just one interception. He also posted two 100-yard rushing games.
By the conclusion of the regular season, nobody had any doubts that Lamar Jackson had arrived. The transcendent talent turned heads on a weekly basis. He made defenders look downright silly. And he more than justified his first-round selection a year ago.
Unfortunately, the Ravens couldn't get it done in the playoffs. Instead, they spent the offseason aggressively attacking areas of need. And with football coming back into focus, Jackson and his teammates will be put to the test.
Ravens players must pass a brutal 900-yard conditioning test before training camp
Lamar Jackson loves to run. But even he can agree that sprinting toward the end zone is much more fun than the type of running he and his teammates have to do every summer.
Most NFL teams feature a conditioning test as part of getting cleared for training camp. Typically it includes a series of timed sprints. Some coaches have different ways of implementing the test. Ultimately, it serves as a fitness benchmark. But in Baltimore, John Harbaugh and his staff take the term "conditioning test" to an entirely different level.
According to Jamison Hensley of ESPN, the Ravens head coach isn't letting the COVID-19 pandemic stop him from ensuring his players are in shape. In fact, many of his players set up their phones on tripods to capture themselves running the NFL's most brutal conditioning test. Just take a look at what it includes:
Players must run a total of 900 yards in six legs.
Each set consists of 25 yards out and back three times.
They must finish that heat of 150 yards under a designated time
Offensive and defensive linemen have 32 seconds; Tight ends and linebackers have 29; Wide receivers, running backs, and defensive backs have 27.
There is a break of 64 seconds between each set.
Players who go over their designated time in any of the six legs flunk the test and must take it again.
Even for elite athletes, the Ravens' idea of testing fitness represents a brutal challenge. Former running back Justin Forsett termed it as "pure death" and said it's the hardest conditioning test he ran during his entire NFL career.
Baltimore should be considered a Super Bowl favorite after strong offseason
Assuming Lamar Jackson and his Ravens teammates successfully run the most brutal 900 yards of their lives, they can finally focus their attention on football. Baltimore has been aggressive this offseason in upgrading a roster that already ranked as one of the best in the league.
While the Ravens lost Marshal Yanda to retirement, they fortified the other side of the trenches by trading a fifth-round pick for Jacksonville Jaguars defensive lineman Calais Campbell. He should be an excellent addition to a front seven that also brought in longtime Denver Broncos starter Derek Wolfe.
The Ravens also put together one of the top 2020 NFL draft classes. First-round pick Patrick Queen should have no problem making the transition from LSU to the NFL. Second-round pick J.K. Dobbins boasts plenty of big-game experience from his days at Ohio State. Plus, receivers Devin Duvernay and James Proche give Jackson two more weapons.
Will the Ravens' strong offseason allow them to topple the Chiefs as the AFC's top team? On paper, they certainly have the talent to win Super Bowl LV.
But first, it's time to run.