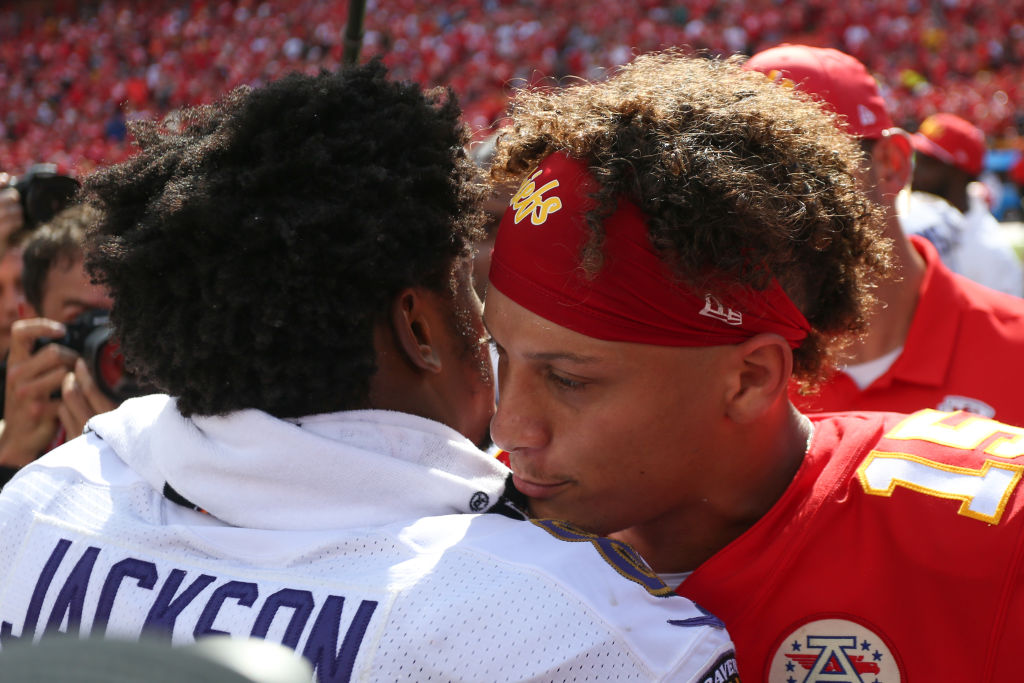 Lamar Jackson Deserves the Patrick Mahomes Treatment After a Jet Ski Nearly Cost Him Everything
Lamar Jackson could have suffered a catastrophic injury this offseason. The Ravens should put him on the Patrick Mahomes plan in response.
Lamar Jackson is as slippery as they come. He weaves between defenders with ease. He can sidestep a would-be tackler. And he can flat-out fly when he's in the open field. But if the Baltimore Ravens plan on building around the multi-faceted star, they'd be smart to put Jackson on the Patrick Mahomes treatment plan. After all, a jet ski nearly ended Jackson's career.
Lamar Jackson was the breakout star of 2019
When Ozzie Newsome made Lamar Jackson the final pick of the first round in 2018, nobody knew exactly what to expect. At Louisville, he put up prolific numbers and tantalized with his running ability. But no one knew if Jackson could capably play quarterback at a high level in the NFL.
The slithery 6-foot-2, 212-pounder eventually took over for Joe Flacco later in his rookie year. He certainly didn't impress. Jackson threw just six touchdowns on 170 attempts. Though he did lead the Ravens to a 6-1 record as a starter, he flopped in the playoffs.
However, Jackson made everyone forget his lackluster rookie campaign with one of the most electrifying seasons in NFL history. Playing in an offense designed to highlight his strengths as a runner, Jackson shattered expectations. He led the NFL with 36 passing touchdowns while also running seven more.
Incredibly, he ran for 1,206 yards, which eclipsed Michael Vick's previous record of 1,039. As the NFL's biggest breakout star, Jackson won the league's MVP award and cemented himself as one of the best young players in the game. But his football career nearly came to a crashing halt thanks to a jet ski.
Reigning NFL MVP could have suffered a catastrophic injury
The Ravens ultimately came up short in the Super Bowl quest last season. However, with one of the strongest rosters in the NFL, they will be favorites to win the Lombardi Trophy in 2020. That's assuming Lamar Jackson manages to avoid jet skis and any other dangerous obstacles.
Baltimore's franchise quarterback posted a video on Instagram Sunday showing him playing a casual game of beach football. Jackson dodged a defender and took off sprinting down the sand near the water. As he tried to elude another defender, he tripped over a jet ski and tumbled into the water.
Ravens fans who have seen the video have probably held their collective breath too many times to count. What could have been a franchise-altering moment luckily turned out to be a harmless fall. But just ask Kansas City Chiefs fans what they think about their star quarterback playing pickup games in the offseason.
Ravens should put Jackson on the Patrick Mahomes plan
Patrick Mahomes and Lamar Jackson should be the faces of the league for the next decade and beyond. Both possess incredible athletic gifts. For Mahomes, he could have gone pro at baseball. And last year, we found out he's a pretty good basketball player, too.
That didn't matter to the Chiefs. All that did was that the face of the franchise put himself in a potentially dangerous situation. The organization responded quickly.
According to ESPN, in an interview on Kansas City radio station 810 WHB, Chiefs general manager Brett Veach said that he called Mahomes' agent. He made sure that Mahomes wouldn't be putting himself at risk again.
"The [Chiefs] Kingdom can be assured: No more basketball for Pat. … We were able to nip that in the bud," Veach said.

For the Ravens and their star quarterback, reaching a similar agreement should be a top priority. What started out as a fun, innocent game of beach football could turn into a career-ending ordeal. Lamar Jackson luckily escaped unharmed, but every time he takes off running, he risks getting hurt no matter what playing surface.
At the end of the day, Lamar Jackson needs to take care of his body. He's still at least a year away from getting a massive contract extension. And given the history of dual-threat quarterbacks breaking down, he'd be smart to avoid any possible injuries away from the field.