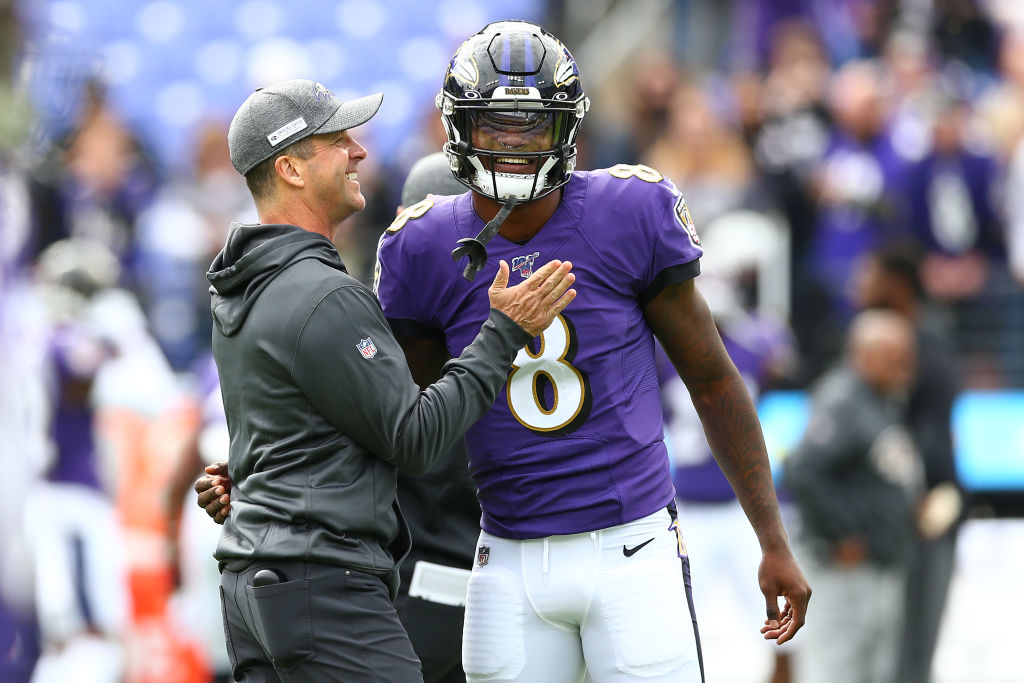 Lamar Jackson Needs to 'Take the Next Step' in 2020 By Improving a Specific Part of His Game
While Lamar Jackson and the Baltimore Ravens offense exploded last season, John Harbaugh believes they can improve in one specific area.
During the 2019 NFL season, Lamar Jackson and his Baltimore Ravens took the league by storm. Most experts expected them to have a solid, if unremarkable, season; instead, the club cruised to the top of the AFC, and the second-year quarterback claimed league MVP honors.
Despite that strong regular season, the Baltimore Ravens fell at the first hurdle in the 2019 NFL playoffs. After their painful loss to the Tennessee Titans, head coach John Harbaugh has a specific idea for where Lamar Jackson and the entire offense needs to improve.
Lamar Jackson and the Baltimore Ravens' impressive 2019 season
Given the way the Baltimore Ravens' 2019 NFL season ended, it's easy to write the entire campaign off as a failure. That judgment, however, would ignore the strides that Lamar Jackson and his offense made.
Under the guidance of offensive coordinator Greg Roman, the Ravens turned into an offensive powerhouse. Everything started with the team's ability to run the ball—Jackson, Mark Ingram, and Gus Edwards combined for just under 2,000 yards on the ground—which created space for the team's passing game. While Jackson might not be a traditional quarterback who stands tall in the pocket, he's more than capable of making plays with his arm, in addition to his legs.
While some cliches the need for a balanced offense have been proven to be myths by folks at sites like Football Outsiders, the Ravens did find success by keeping their opponents guessing. Since their offense was able to find success with both passes or runs, there was usually a weak point to exploit; if the opposition stacks the box, for example, there should be single-coverage outside and minimal help over the top.
John Harbaugh wants Lamar Jackson and his receivers to improve downfield
No NFL coach, especially one who fell short of the Super Bowl, will ever be caught publically resting on his laurels. That includes John Harbaugh of the Baltimore Ravens.
In a recent conference call with the team's PSL holders, Harbaugh shared his vision for how the Ravens can improve next season. For all of the offense's success, he'll be looking for more from Lamar Jackson and the receiving corps.
"Those corners are going to be one-on-one, and those safeties are going to be one-on-one against receivers, especially on downfield throws, and we got to make them pay for it," Harbaugh explained, according to the Ravens' official website. "I really do believe that's the next step for this offense from an execution standpoint. I really do believe Lamar is going to take the next step, and our receivers are going to take the next step."
While that thought process seems perfectly logical, it is worth noting that Jackson found success throwing deep last season. According to USA Today, "he completed 27 of 68 deep passes for 829 yards, 12 touchdowns, two interceptions, and a passer rating of 113.3, fifth-best in the league among quarterbacks who took at least 50% of their snaps." Does Harbaugh want him to improve even further? Bump up that completion percentage? Attempt deep passes more often? We'll have to wait for the 2020 season to find out.
John Harbaugh knows 2020 will be a new test for the Baltimore Ravens
As noted above, there may be some small issues with John Harbaugh's plan for offensive improvement. At the same time, though, the coach is spot-on about 2020 representing a new challenge for the club.
Last season, the Baltimore Ravens burst onto the scene and took the league by storm. This year, however, they won't have that same luxury; everyone knows how they play and will be specifically game-planning to slow Lamar Jackson and the running game down.
"Going into our season last year, we were the iceberg," Harbaugh said. "Ninety percent of what we were going to be capable of was still underwater, and people hadn't seen it yet. Starting next year, we're not going to be the iceberg. People are going to see us. We're going to be everybody's most important game."
This year, the Baltimore Ravens won't be taking anyone by surprise. With Lamar Jackson under center, however, they should be more than capable of continued success.
All stats courtesy of Pro-Football-Reference