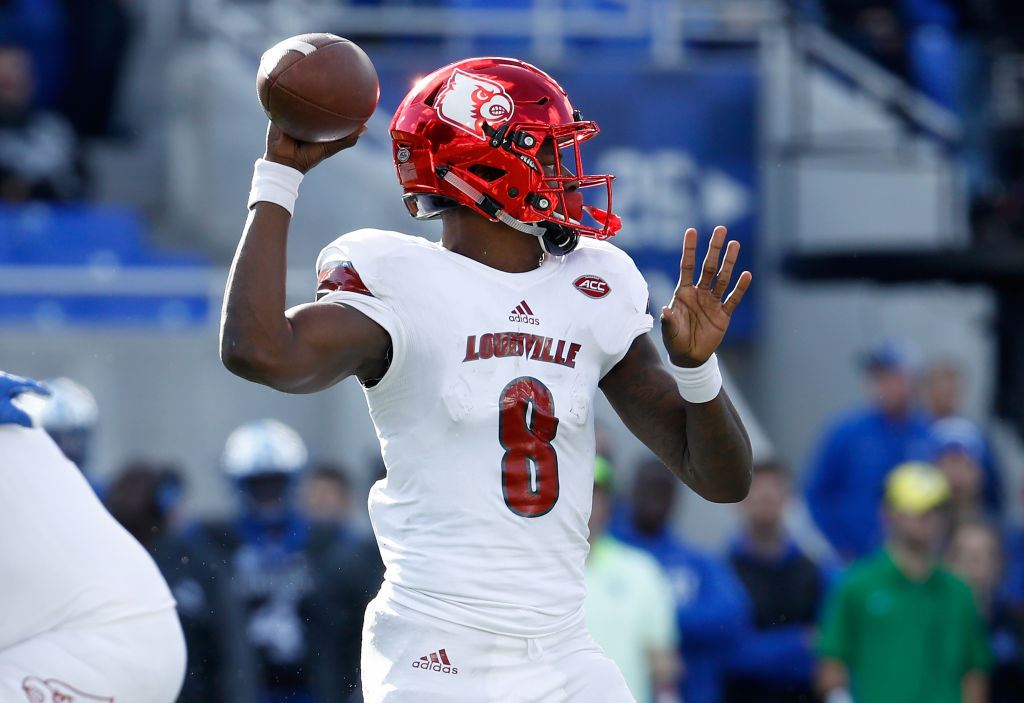 The Biggest Reason Why Lamar Jackson Chose the University of Louisville
Lamar Jackson won the Heisman Trophy during his time at the University of Louisville, but what convinced him to join the Cardinals in the first place?
During the 2019 NFL season, Baltimore Ravens quarterback Lamar Jackson took the league by storm. While no one expected him to have an MVP-caliber year, he had shown signs of incredible talent in the past. During his time at the University of Louisville, for example, he did take home the 2016 Heisman Trophy.
Getting Jackson from his home in Florida to Louisville, however, was no easy feat. In fact, Cardinals head coach Bobby Petrino made to make Lamar's mother one specific promise before she agreed to let her son head to Kentucky.
Lamar Jackson's time at the University of Louisville
During his latter two years of high school, Lamar Jackson emerged as an exciting quarterback prospect. During his time at the University of Louisville, however, he took his game to the next level.
In his first season on campus, Jackson started eight games under center. While he was still raw, his now-familiar dynamism was already present; he threw for 1,840 yards and 12 touchdowns while rushing for 960 more yards and an additional 11 scores. The next season, though, would be the quarterback's true coming-out party.
As a sophomore, Jackson terrorized defenses with both his arm and his legs. He piled up 3,543 passing yards and 30 touchdowns through the air; on the ground, he chewed up 1,571 yards and found the end zone 21 times. Unsurprisingly, his dominance extended into awards season, as the quarterback picked up the Walter Camp Award, the Maxwell Award, and the Heisman Trophy.
Despite a slight regression as a junior, Jackson remained a strong Heisman contender; he ultimately fell behind Baker Mayfield, though, and finished third in the overall voting. He then decided that he had done all he could in college and entered the 2018 NFL draft.
One promise helped the University of Louisville land Lamar Jackson
While Lamar Jackson may have become a nationally-known quarterback at the University of Louisville, getting him to commit to the school was no easy task. Not only did head coach Bobby Petrino have to win over Lamar, but he needed to give Lamar's mother, Felecia Jones, his word on one particular matter.
Jackson had come up as a quarterback, but some coaches wanted to switch him to wide receiver in order to better utilize his natural athleticism; that trend, for the record, continued through the NFL combine. Jones, however, wasn't having it. Her son was a quarterback, and he would only go to a school that was willing to give him a chance to play.
"When we sat down," Lamar Thomas, who was a Louisville assistant at the time, told the Courrier-Journal, "she said, 'I just want to know one thing, Coach. Is my son going to have an opportunity to play quarterback and compete for the starting job?"
Thomas answered affirmatively, but he was only an assistant; his word wasn't enough. Head coach Bobby Petrino had to personally promise Jones that Lamar would get a chance to play quarterback for the Cardinals.
Even in the NFL, positional concerns still remain
After Bobby Petrino's pledge, the rest is history. Lamar Jackson headed to the University of Louisville and won the Heisman Trophy. He then went to the Baltimore Ravens and, after seizing the starting job, won the NFL MVP Award. Despite that success, he still hasn't quieted all of the skeptics.
While Jackson is more than capable of making plays with his arm, his style of play has made him a lightning rod for criticism. Football purists picture a quarterback as a fearless leader, standing tall in the pocket and throwing strikes to his receivers; Jackson simply doesn't fit that mold. Even when the criticism is couched in seemingly legitimate concerns, such as potential injuries or eventual struggles once defenses adapt, the message is clear: Lamar Jackson isn't playing football "the right way."
On the field, however, Jackson already has a history of rewarding those who believe in him. Bobby Petrino trusted him to run Louisville's offense, and the quarterback put in a Heisman-winning performance. The Baltimore Ravens handed him the reigns, and the quarterback posted an MVP-quality campaign. Now, he'll have to prove the 2019 NFL season wasn't a fluke. If history is any indication, though, he'll be able to pass the test with flying colors.