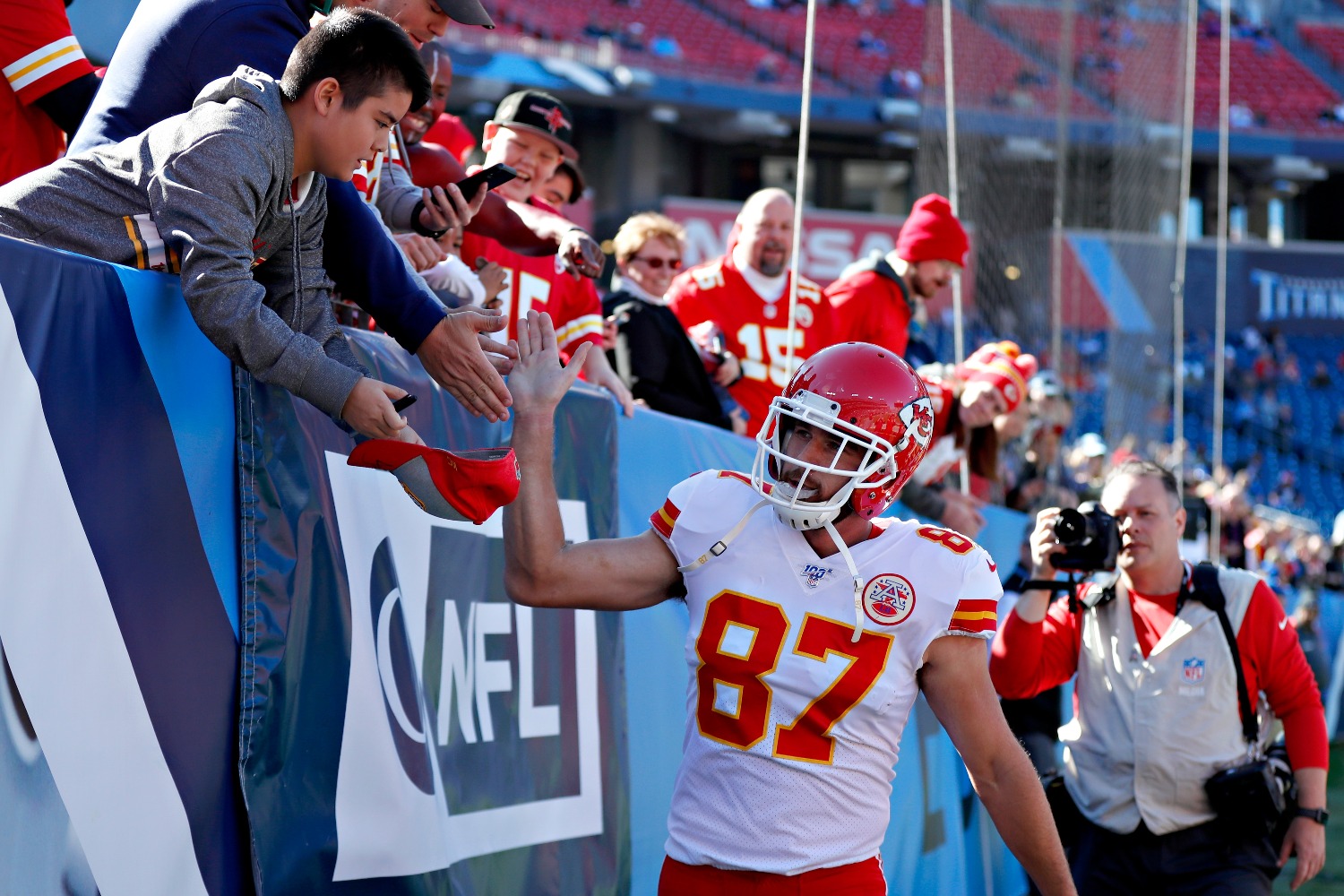 Travis Kelce Used His $57 Million Chiefs Contract to Change the Lives of Teenagers in the Kansas City Area
Travis Kelce just signed a $57 million extension with the Chiefs. The star tight end will change teenagers' lives thanks to his new deal.
Scoring a life-changing contract does not always lead to positive results. Just ask New York Jets fans how they feel about C.J. Mosley's $85 million deal. But in the case of Travis Kelce, he has already put his $57 million contract extension with the Kansas City Chiefs to good use. In fact, the star tight utilized his new deal to make a purchase that will change teenagers' lives.
Travis Kelce's rise to stardom
An Ohio native, Travis Kelce stayed right at home and took his talents to the University of Cincinnati. The younger brother of Philadelphia Eagles center Jason Kelce served a one-year suspension as a redshirt sophomore. After totaling just 13 catches in his first year back, he entered his senior season with little buzz about an NFL future. He surprised everyone with 45 catches for 722 yards and eight touchdowns.
That breakout campaign, combined with a strong showing at the combine, boosted Kelce's draft stock significantly. Kansas City snagged the athletic pass-catcher with the first pick in the third round of the 2013 NFL draft. Though he missed essentially his entire rookie season, the 6-foot-5, 260-pounder wasted no time making an impact once he got back on the field.
Kelce racked up 67/862/5 in his first full NFL season. That simply set the stage for future greatness. Patrick Mahomes' favorite target has surpassed 1,000 receiving yards in each of the last four seasons—a record for tight ends. Kelce certainly won't blow anyone away with his blocking ability. However, he has become arguably the top tight end in the game due to his pass-catching prowess.
Chiefs sign their star tight end to $57 million deal
Travis Kelce broke the bank in 2016 when he signed a five-year, $46 million extension with the Chiefs. After putting up ridiculous numbers and helping Kansas City win a Super Bowl title, the 30-year-old scored another monster payday on Friday.
The Chiefs signed their star tight end to a four-year, $57 million extension. Kelce's deal ties him to the team through the 2025 season. In actuality, the five-time Pro Bowler did not get a major raise over the next three seasons. However, he will make $13.25 million in 2023, $15 million in 2024, and a whopping $17.25 million in the final year of his deal.
Ultimately, the move helps the Chiefs retain one of their top players without sacrificing cap space in the short term. But for Travis Kelce, his $57 million deal provided an opportunity to give back to a Kansas City community that has embraced him with open arms.
Kelce will change teenagers' lives with incredible purchase
Professional athletes like Travis Kelce have the ability to make a tremendous impact off the field due to their financial success. While some NFL players have blown their fortunes on jewelry, that won't be the case for the Chiefs tight end.
On the same day he signed his contract extension, Kelce shared his incredible plan to change teenagers' lives in Kansas City.
"I am excited to announce I am purchasing the building that will be the future home of the "Ignition Lab: Powered by 87&Running" – a co-working space where these teens will have the support, resources, and opportunity to explore careers in STEM, launch their own entrepreneurial ventures and gain real-world experience," Kelce wrote in a statement published on Twitter.
Thanks to a partnership with Operation Breakthrough, Kelce will provide Kansas City's inner-city teenagers with a safe place to better themselves. The selfless move shows the power that professional athletes have to better their community and give back to those who are less fortunate.
Ultimately, the talented tight end delivered the perfect words to describe his mission.
"Where you live, the situation you were born into or the color of your skin should have no impact on the dreams you can dream," Kelce wrote. "And it's a beautiful thing when a kid's dream comes true."