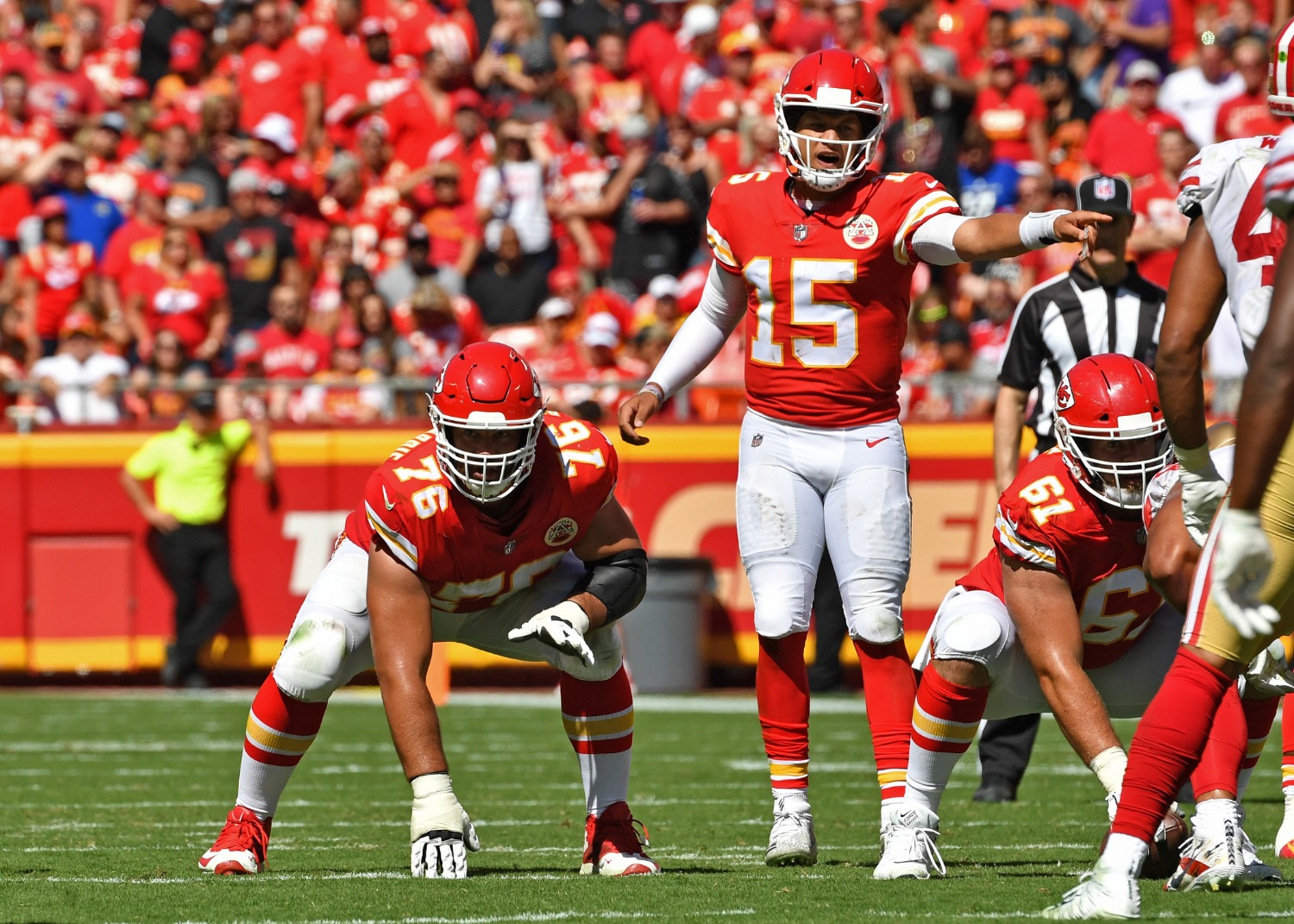 The Kansas City Chiefs Just Executed a $2 Million Steal to Protect Patrick Mahomes
The Kansas City Chiefs just fixed their only Super Bowl deficiency by signing Kelechi Osemele to replace Laurent Duvernay-Tardif.
Patrick Mahomes may have dynasty dreams on his mind, but he'll never achieve them if he has no time to throw. So when Laurent Duvernay-Tardif officially opted out of the 2020 NFL season, that put the Kansas City Chiefs in a serious bind. The team expected to return 20 of the 22 starters from a roster that just captured the franchise's first Super Bowl title in 50 years.
However, in the wake of Duvernay-Tardif's decision to continue fighting COVID-19 as the NFL's only medical doctor, that exposed a deficiency on a roster teeming with talent. But thanks to a savvy signing by general manager Brett Veach, the Chiefs just fixed the only roster flaw that could prevent them from winning a second straight Super Bowl championship.
Laurent Duvernay-Tardif opted out of the 2020 NFL season
Since entering the NFL as a sixth-round pick in 2014, Laurent Duvernay-Tardif has quietly developed into one of the best right guards in the NFL. Tipping the scales at 6-foot-5, 321 pounds with terrific athleticism, the Canadian native went from playing his college ball at McGill University to becoming entrusted to protect Patrick Mahomes.
Despite the sizable step up in competition, Duvernay-Tardif showed no issues making the leap. By his second season, he earned the starting right guard position. He has started 57 games and earned a lucrative $42 million extension in February 2017.
Of course, Kansas City's starting right guard also has another job title on his resume: medical doctor. In fact, after earning a Super Bowl ring in February, the offensive lineman traded in his helmet and shoulder pads for a medical coat and scrubs in an effort to combat the COVID-19 pandemic.
On Friday, Duvernay-Tardif officially opted out of the 2020 NFL season to continue his work on the medical front. His absence created a roster deficiency that could jeopardize the Chiefs' ability to repeat as Super Bowl champions.
Chiefs sign Kelechi Osemele to protect Patrick Mahomes
Losing a player of Laurent Duvernay-Tardif's caliber would qualify as a potential game-changer for a team that has invested ridiculous money to build the NFL's most explosive offense. Though the former Canadian college star has never earned a Pro Bowl invite, he still played at a high level while locking down a starting spot.
Luckily for Chiefs fans, the team addressed their critical roster deficiency in no time at all. Late Saturday night, Kansas City signed veteran offensive lineman Kelechi Osemele to a one-year deal. Ian Rapoport tweeted that Osemele's contract carries a maximum value of $2 million—a steal for a player with his credentials.
At 6-foot-5, 330 pounds, Osemele brings size, power, and a championship pedigree to Kansas City. The 2012 second-round pick earned a Super Bowl ring with the Baltimore Ravens. The two-time Pro Bowler spent the 2019 season with the New York Jets.
Adding a player with Osemele's skills and experience fills the hole left behind by Duvernay-Tardif. In fact, the former Raven figures to be an upgrade given his track record of elite play. And by fixing their only roster deficiency and ensuring Patrick Mahomes will be protected, the Chiefs officially positioned themselves as Super Bowl favorites.
The Chiefs boast a stacked roster capable of a second Super Bowl run
Looking at the rest of the AFC, it's difficult to put any other team in the same class as Kansas City. On offense, the starting lineup remains largely in tact. That should strike fear into opposing defenses, who will have to figure out a way to corral Mahomes and his deep arsenal of weapons.
The Chiefs already boasted arguably the best group of skill players thanks to Tyreek Hill, Travis Kelce, Sammy Watkins, and Mecole Hardman. However, defenses will also have to contend with first-round pick Clyde Edwards-Helaire. The former LSU running back gives Andy Reid yet another playmaker to add to his embarrassment of riches.
Of course, none of those players will succeed if Mahomes doesn't get great protection. Luckily for the quarterback with a $503 million contract, he should have no trouble dominating behind a line that scored a potential upgrade with Kelechi Osemele. Plus, the Chiefs have a former No. 1 pick at left tackle (Eric Fisher) and an All-Pro at right tackle (Mitchell Schwartz).
Now that the Chiefs addressed their biggest roster deficiency, it looks like they have the most complete team in the AFC, and in all likelihood, the entire league. And if Mahomes and Co. live up to expectations, expect the Chiefs to bring the Lombardi Trophy back to Arrowhead Stadium again.