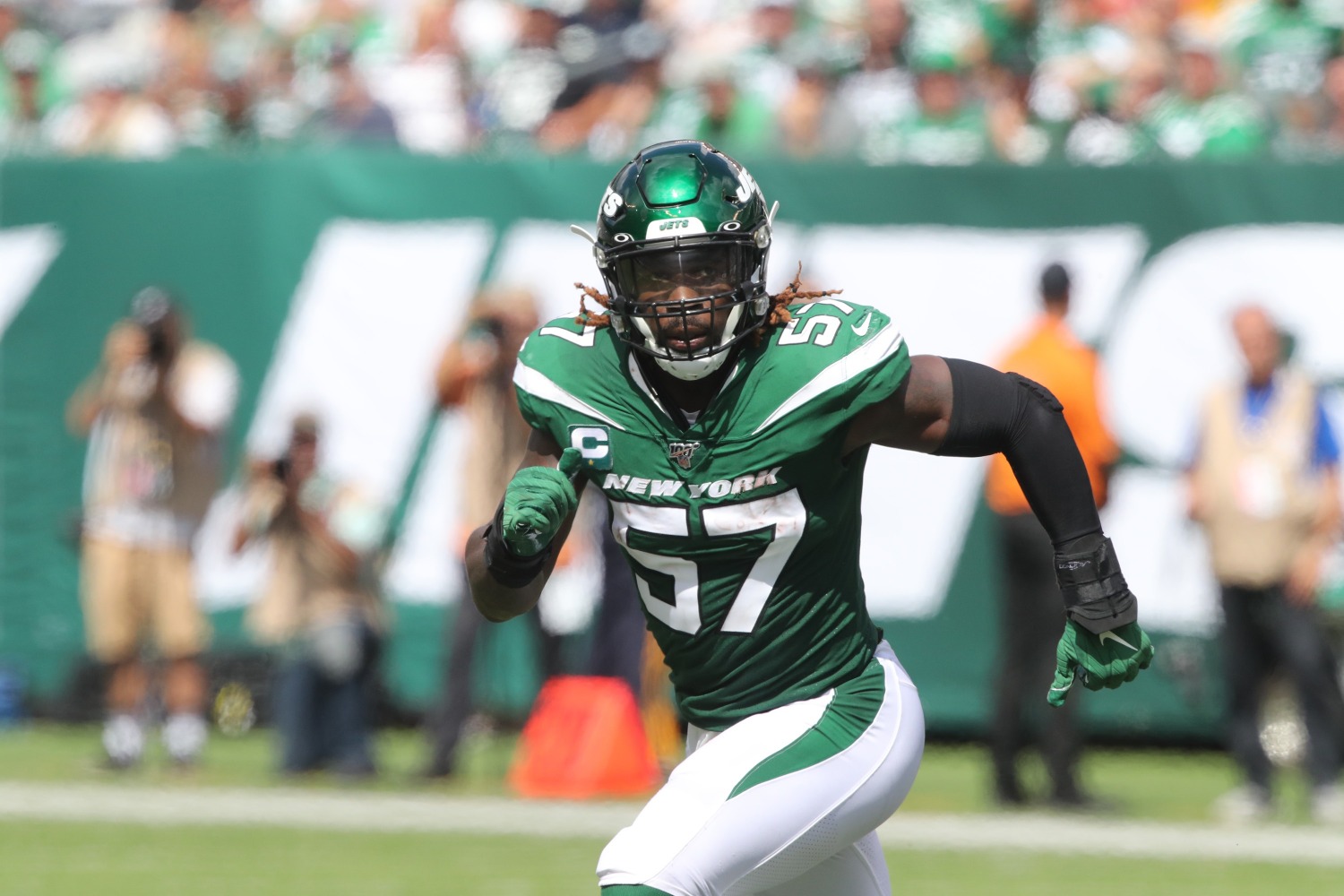 C.J. Mosley Looks Like an $85 Million Mistake by the New York Jets
Between injuries and opting-out of the 2020 NFL season, linebacker CJ Mosley looks like an $85 million mistake by the New York Jets.
Early in his career, C.J. Mosley looked like the NFL's next great linebacker. Tasked with replacing Ray Lewis, he made the Baltimore Ravens look smart for selecting him with the 17th overall pick. But once Mosley became a free agent, he bolted from Baltimore to score an $85 million contract from the New York Jets.
And with Mosley elected to sit out the 2020 season after missing the majority of the 2019 campaign, it looks like the Jets made an $85 million mistake.
C.J. Mosley became a star in Baltimore
C.J. Mosley got the best possible preparation for an NFL career by playing for Nick Saban at Alabama. Crimson Tide linebackers have enjoyed tremendous success at the next level, so Mosley certainly had a lot to live up to. Ozzie Newsome unsurprisingly selected the two-time All-American from his alma mater.
It didn't take long for Mosley to show why he left Alabama as one of the most respected and productive players in the program's history. He started all 16 games as a rookie and recorded 133 total tackles, 12 quarterback hits, three sacks, eight passes defended and two interceptions. Mosley earned second-team All-Pro honors and his first Pro Bowl selection.
Over the next four years, the 6-foot-2, 250-pound linebacker continued to assert his will. As one of the most well-rounded players at his position, Mosley made a ton of splash plays while calling the defense.
By the time his rookie contract concluded, he had earned four Pro Bowl trips and four second-team All-Pro selections. Entering free agency as one of the top players available, it didn't take long for C.J. Mosley to find a new home.
The Jets didn't get a great initial return on their $85 million investment
Following five fantastic years in Baltimore, the NFL's top young linebacker looked to cash in. And boy did he do just that. Even though the Ravens wanted to bring C.J. Mosley back, the two-time BCS national champion spurned his old team in favor of a monster payday.
On March 15, the Jets signed Mosley to a stunning five-year, $85 million contract. The deal blew away his contemporaries in both magnitude and average annual value. Before Bobby Wagner signed his own record-breaking contract extension, Mosley's $17 million salary made Myles Jack's $14.25 million AAV look cheap.
Expected to transform a Jets defense that ranked 29th in points allowed in 2018, Mosley failed to deliver in his first year in New York. In fact, he barely saw the field at all. A groin injury limited the pricey free-agent addition to just two games and nine total tackles. Instead of sacking quarterbacks and making interceptions, he landed on injured reserve and underwent surgery.
Mosley opting-out of the 2020 NFL season makes his contract look like a massive mistake
Considering the price the Jets paid, C.J. Mosley's first season could only be described as a disaster. With $43 million guaranteed on his deal, the Jets certainly expected more bang for their buck.
But on Saturday, Adam Gase and the rest of his staff suffered a critical blow with Mosley electing to opt-out of the 2020 season. Rich Cimini broke the news on Twitter, which certainly left Jets fans wondering what exactly will happen to a defense that just lost Jamal Adams.
Mosley will sacrifice his $6 million salary by opting-out. However, his deal still looks like a massive mistake by the Jets when you look at what they've paid him and what he has delivered.
According to Albert Breer, Mosley has made more than $29 million since putting pen to paper last March. He received a $7.5 million signing bonus, plus combined roster bonuses of $20.5 million. Of course, he barely saw the field last season and won't even play in 2020.
While Mosley deserves credit for opting-out in order to keep his family safe and healthy, that doesn't mean the Jets should get let off the hook. They paid an exorbitant price for an inside linebacker—a position that typically does not make nearly the same impact as a pass-rushing outside linebacker.
Plus, by the time Mosley takes the field in 2021, he will have essentially missed two full seasons and may not even be the same player anymore. Ultimately, the Jets made an $85 million mistake even before C.J. Mosley announced his decision to not play this year. It certainly seems overly optimistic to think he'll live up to that deal whenever he does play again.