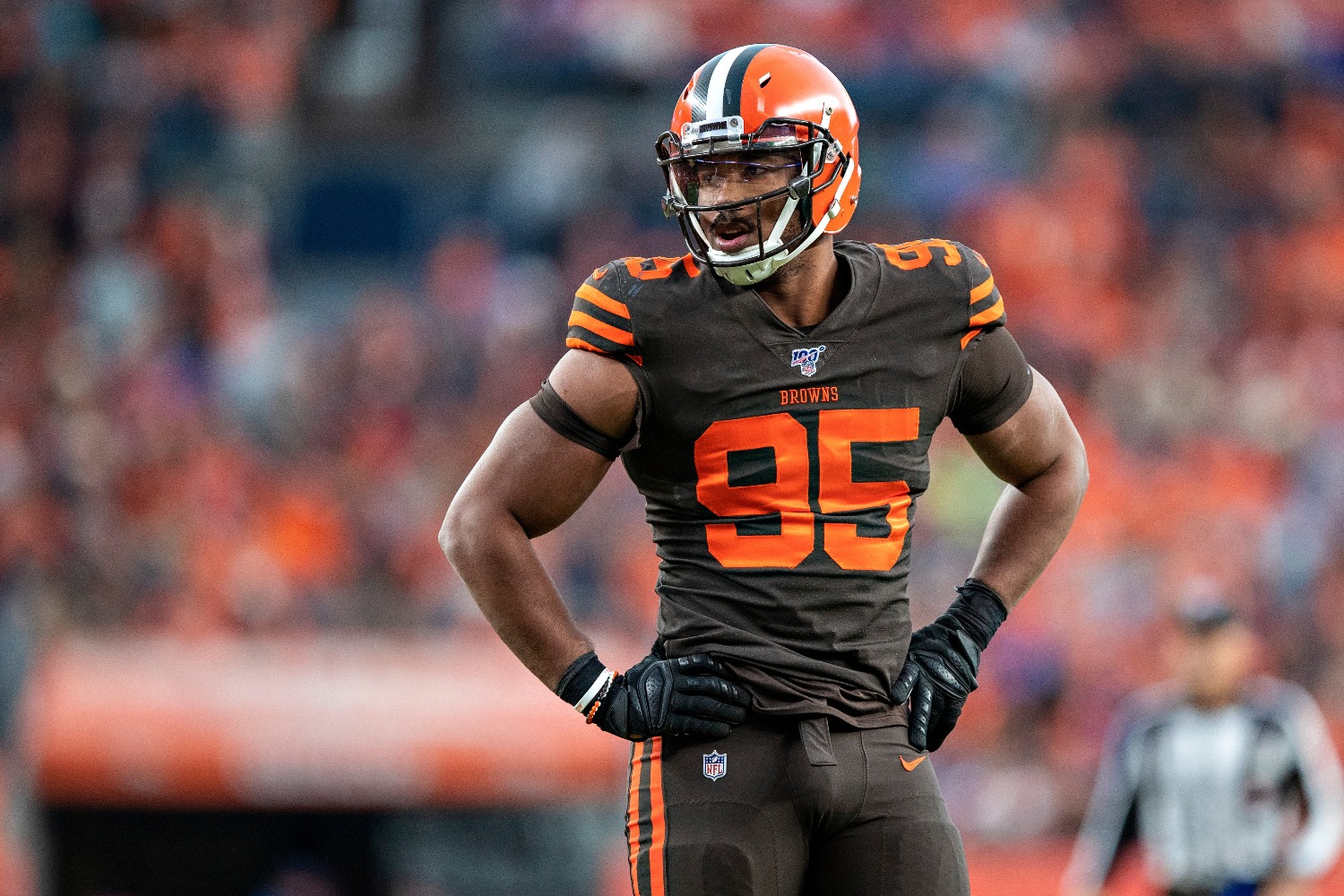 The Cleveland Browns Just Wasted $125 Million on Myles Garrett
Myles Garrett is on the verge of signing a $125 million contract with the Cleveland Browns, which will be a massive mistake for the franchise.
Since entering the league as the No. 1 overall pick in 2017, Myles Garrett has certainly lived up to expectations. The freakishly gifted defensive end already ranks as one of the best players at his position. Yet, the Cleveland Browns just made a massive mistake by handing their top defensive player a record-setting $125 million contract.
Myles Garrett has developed into one of the NFL's best pass-rushers
Coming out of Texas A&M, NFL teams drooled at the possibility of adding a generational talent like Myles Garrett. In three years with the Aggies, he racked up 31 sacks and 47 tackles for loss. At the scouting combine, he made jaws drop by running a 4.64 40-yard dash at 6-foot-4, 272 pounds.
The Browns smartly took Garrett with the first overall pick, and he quickly showed why he garnered comparisons to Lawrence Taylor and Bruce Smith. Despite starting just nine games, Garrett led the Browns with seven sacks as a rookie.
In his second season, the Texas native exploded for 13.5 sacks, 29 quarterback hits, and 12 tackles for loss. Thanks to his devastatingly quick get-off, incredible power, and elite closing speed, the long-limbed pass-rusher earned second-team All-Pro honors and his first Pro Bowl selection.
Of course, Garrett's 2019 season ended in unceremonious fashion. After totaling 10 sacks to start the season, he infamously hit Pittsburgh Steelers quarterback Mason Rudolph with his helmet in a truly ugly incident. That resulted in an indefinite suspension for the former No. 1 pick.
Browns sign Garrett to record-setting contract
Despite an uncharacteristic outburst from their otherwise mature, introspective star, the Browns showed no hesitation in investing millions on Myles Garrett. On Tuesday, Ian Rapoport broke the news via Twitter that the Browns worked out a five-year, $125 million deal to ensure Myles Garrett will remain in Cleveland for years to come.
According to Rapoport, the record-setting extension includes $100 million in total guarantees. Garrett gets $50 million fully guaranteed at signing and will now make more money on an annual basis than any defensive player in NFL history.
While it may seem like a smart strategy for Cleveland to lock up one of their few successful draft picks, the Browns just made a $125 million mistake.
Paying pass-rushers doesn't necessarily lead to Super Bowl titles
On the surface, it seems like good business to keep your best players. And in most cases, that's correct. But in the case of Myles Garrett, the Browns will pay the defensive end $25 million per year to chase after quarterbacks. Yet, when you look at how teams have performed since signing pass-rushers to massive contracts, you quickly realize the Browns just made a mistake.
Since signing a $141 million deal in 2018, Khalil Mack has been the highest-paid defender in NFL history with an average annual salary of $23.5 million. While he has been a fantastic fit in Chicago, the Bears have nothing to show for it. Chicago got bounced from the first round of the playoffs in Mack's first season. Last year, the Bears went just 8-8 thanks to their ineptitude at the quarterback position.
Is that Mack's fault? Not necessarily. But when you command such a significant portion of the salary cap as a non-quarterback, that limits the financial flexibility to add other key pieces. Mack even watched his production drop significantly in his second season in Chicago.
The New England Patriots have won three titles since 2014. Bill Belichick traded away Chandler Jones and Jamie Collins rather than pay them top-of-the-market deals. He even let Trey Flowers and Kyle Van Noy leave in free agency in back-to-back offseasons after both played pivotal roles in the team's last two Super Bowl titles.
For further evidence, take a look at Von Miller and how his contract has worked out for the Denver Broncos. He signed a six-year, $114 million deal one month after the Denver won Super Bowl 50. Since then, the Broncos have never made the playoffs again.
Browns will regret committing to Garrett with questions at QB
Myles Garrett absolutely possesses elite traits and should be an All-Pro for years to come. But the Browns still have to figure out whether Baker Mayfield will be the face of the franchise. If he recaptures his rookie-year form, he will also be in line for a massive payday next year.
However, if the Browns have another underwhelming season, they'll have to hit the reset button at the most important position in sports. And they'll still be saddled with Garrett's $125 million contract, no franchise quarterback, and no hopes of bringing the Lombardi Trophy to Cleveland.
Ultimately, this isn't a knock on Myles Garrett as a player. But in terms of positional value, and considering Cleveland is breaking in another new regime that still has to make an evaluation on Mayfield, the Browns just made a $125 million mistake.