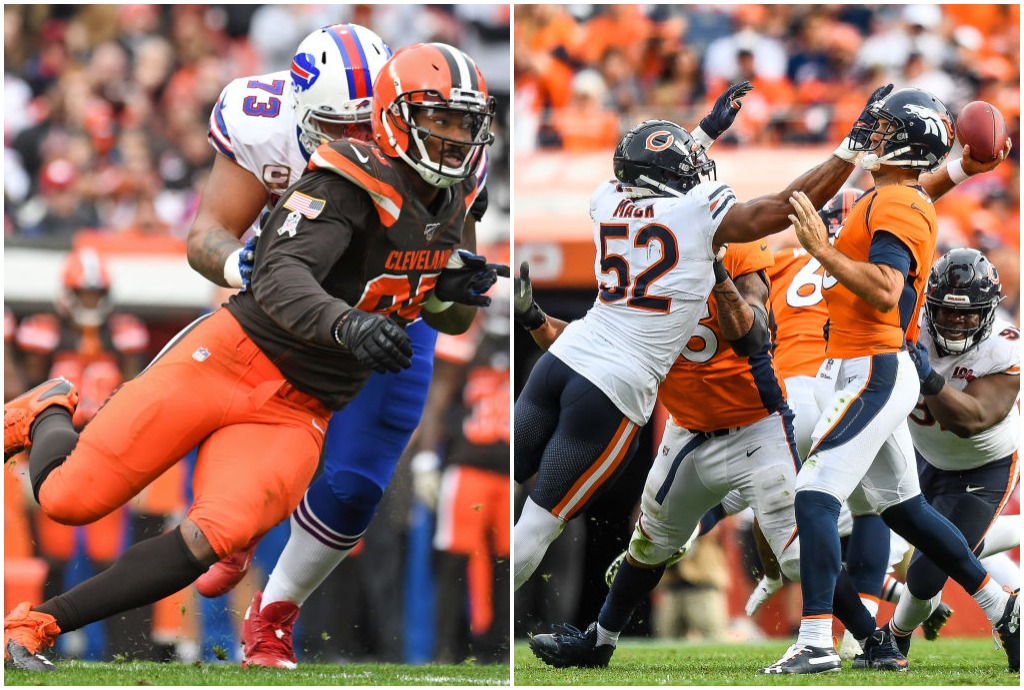 Myles Garrett Will Blow Khalil Mack's $141 Million Contract Out of the Water
Myles Garrett is already a star for the Browns. He can blow past Khalil Mack's $141 million contract on an extension in Cleveland.
Pass rushers get paid. So for Myles Garrett, the opportunity to go from the No. 1 pick to the No. 1 highest-paid defensive player in the NFL isn't far away. The Cleveland Browns defensive end had his 2019 season end in infamous fashion. But as Garrett enters his fourth NFL season, he's about to blow Khalil Mack's $141 million contract out of the water.
Myles Garrett has lived up to the hype with the Browns
On paper, you couldn't draw up a more perfect defensive end than Myles Garrett. Tipping the scales at 6-foot-4, 272 pounds with 4.6 speed with incredible explosion and strength, he possesses every physical quality you want in an edge rusher. More importantly, he's put those skills to use on the field.
As the first pick in the 2017 NFL draft, Garrett entered the NFL with sky-high expectations. Unlike most first-rounders from that class, he's managed to live up to the hype. As a rookie, the former Mississippi State star racked up seven sacks and 18 quarterback hits on just 49 percent of the Browns' defensive snaps.
By the end of his second season, Garrett clearly made the leap to superstardom. He played 86 percent of the snaps and dominated. Cleveland's rare first-round success story totaled 13.5 sacks, 29 quarterback hits, three forced fumbles and 12 tackles for loss.
Garrett appeared well on his way to surpassing those numbers before his infamous brawl with Mason Rudolph. Prior to getting suspended, the long-limbed pass rusher recorded 10 sacks and 18 QBH in 10 games.
With 30.5 sacks in 35 career starts, there's no doubt that Myles Garrett already ranks as one of the NFL's premier players. But he still ranks behind Khalil Mack where it counts the most.
Bears made Khalil Mack the NFL's highest-paid defender
The Houston Texans selected Jadeveon Clowney first overall in 2014. The injury-prone edge defender still hasn't found a new home. Meanwhile, Mack, who went fifth overall, quickly ascended to elite status.
Mack began his career in Oakland, where he developed into one of the league's most dominant players. In four years with the Raiders, he racked up 40.5 sacks and 84 quarterback hits. Somehow Jon Gruden didn't see the value in keeping Mack around.
In a move that hasn't exactly yielded great results, Gruden traded the team's best player to the Chicago Bears. In two years in the Windy City, the 6-foot-3, 269-pounder has continued to abuse offensive linemen. Mack went off for 12.5 sacks, six forced fumbles, and a defensive touchdown in his debut season.
Last year, he earned his fifth straight Pro Bowl trip. Though his raw numbers took a dip, Mack still played at a high level. Entering his age-29 season, he definitely has a few elite years left. However, he's about to be surpassed by a younger, faster, and soon-to-be richer version of himself.
Garrett can blow past Mack with his upcoming contract extension
ESPN's Jeremy Fowler reported Friday that Myles Garrett and the Browns have begun discussing a contract extension. Looking at the landscape of NFL contracts, that deal will change the game.
According to Spotrac, Khalil Mack's $141 million contract tops all NFL defenders in total value. He boasts an average annual salary of $23.5 million. Aaron Donald checks in at No. 2 with a total value of $135 million and AAV of $22.5 million. Only DeMarcus Lawrence, DeForest Buckner, and Frank Clark boast salaries north of $20 million amongst defensive players.
Considering he doesn't turn 25 until December, Garrett stands to reset the market. Other than his bizarre helmet-swinging incident, he's impeccably clean from a character standpoint. He has proven to be a game-changer despite playing for a rather terrible organization. And most importantly, he plays an extremely valuable position.
Whenever he does sign a contract extension, the 2018 Pro Bowler should easily top $25 million per year. If he signs a four-year deal, Garrett could even cash in again before he turns 30. Khalil Mack may stand atop the financial mountain for now, but Myles Garrett will topple him from his perch very soon.