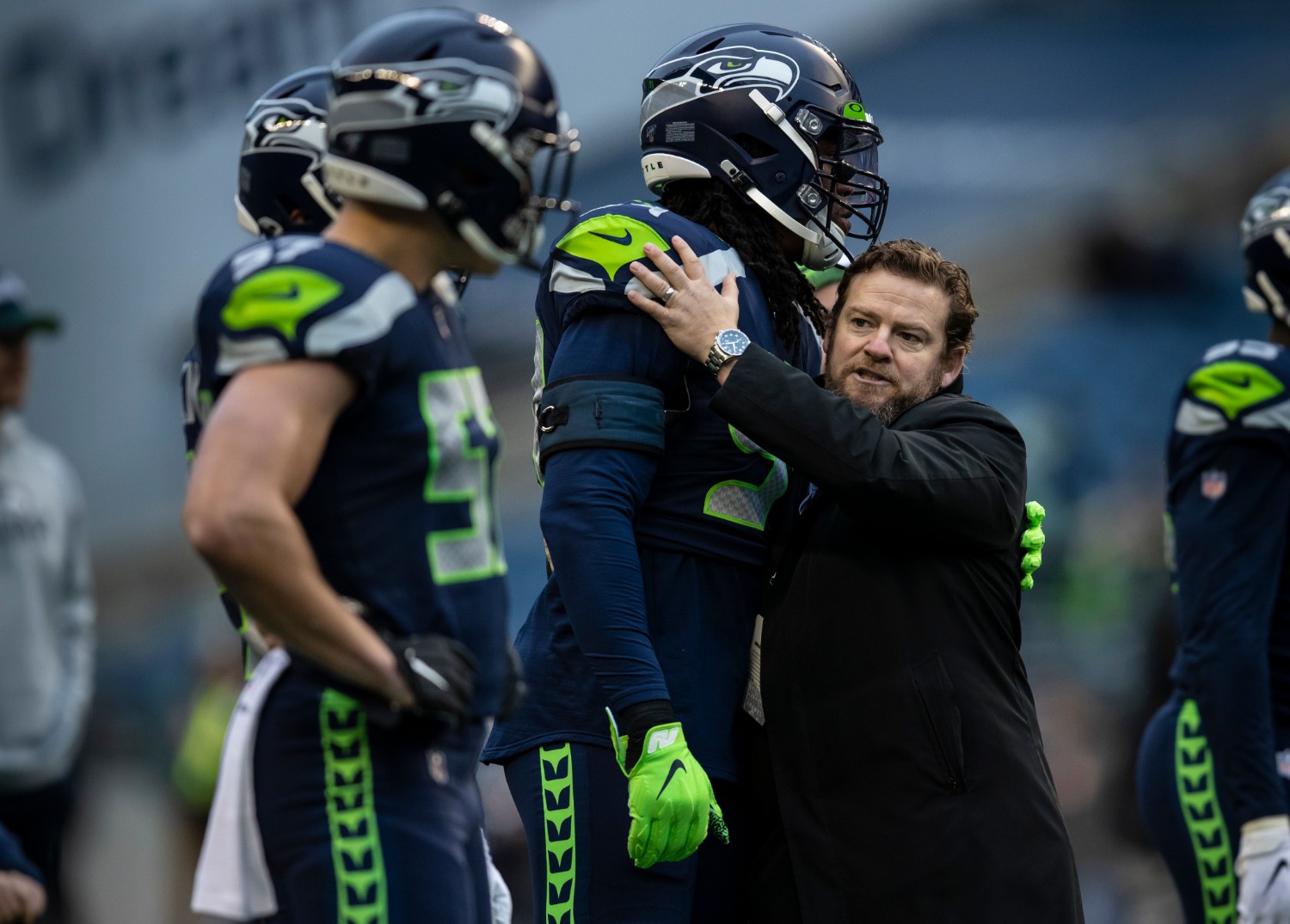 Seattle Seahawks GM John Schneider Just Committed a $100 Million Fireable Offense
John Schneider just proved why the Seattle Seahawks should fire him immediately after he paid an obscene price to trade for Jamal Adams.
John Schneider was once the gold standard for NFL GMs after building a historically dominant defense almost exclusively through the draft. But recently, he has failed to score huge hits as he did in his early years with the Seattle Seahawks. Along the way, he has mortgaged precious draft picks and millions of dollars on players who failed to deliver results.
And by paying an obscene price for Jamal Adams—who will likely command a $100 million contract—Schneider just proved why the Seahawks should fire the man who once put together the Legion of Boom.
John Schneider built a historic defense
When the Seahawks hired John Schneider as their general manager in 2010, Ted Thompson's protege inherited a team that went 5-11 the year prior. Faced with a monumental task of rebuilding a roster that lacked top-end talent, Schneider went to work right away. He traded for Marshawn Lynch, who turned out to be one of the best players in franchise history.
However, his best work came through the draft. Schneider's first draft class featured a number of solid hits, including key starters like Russell Okung and Golden Tate. But by snagging Earl Thomas with the 14th pick and stealing Kam Chancellor at pick 133, Schneider scored two integral pieces of what eventually became the Legion of Boom.
He followed up with another strong class in 2011 when he took a fifth-round flyer on Richard Sherman. Plus, he plucked another starter from the middle rounds in versatile linebacker K.J. Wright.
Finally, his 2012 draft class couldn't have gone much better. First-round pick Bruce Irvin never developed into a star, but Schneider more than made up for that by selecting Bobby Wagner in the second round and Russell Wilson in the third.
The Seahawks suddenly had a ridiculously strong foundation of players on rookie deals. And thanks to John Schneider's tremendous draft-and-develop model, Seattle won the Super Bowl in 2013 before falling to the New England Patriots the following year.
Seahawks GM has a troubling trend of bad personnel decisions
Early in his career, it appeared as though everything John Schneider touched turned to gold. Yet, his resume doesn't look so impressive when you look at some of the truly awful moves he's made since capturing that Super Bowl championship seven years ago.
Looking at Schneider's trade history, the Seahawks whiffed badly on Percy Harvin. Seattle traded a ransom for the talented playmaker, including a 2013 first-round pick. Yet, Harvin got traded for a late-round pick after playing just eight games for the Seahawks.
In 2015, he sent starting center Max Unger and a first-round pick to the New Orleans Saints for Jimmy Graham. Once viewed as one of the best offensive weapons in football, the 6-foot-6 tight end never replicated the success he enjoyed with Drew Brees.
Things have only gotten worse in the draft. Though Schneider has done well to trade down and accumulate draft capital, he has missed badly on his top picks. Germain Ifedi, Malik McDowell, Ethan Pocic, and Rashaad Penny have all failed to live up to expectations for various reasons. L.J. Collier, the team's top pick last year, didn't even record a single sack as a rookie.
Schneider just proved why he should be fired with Jamal Adams trade
Though the Seahawks have made the playoffs in all but two seasons since John Schneider took over, Russell Wilson deserves more credit for carrying a largely undermanned roster. Despite never earning a single MVP vote, the former third-round pick has established a reputation as one of the best quarterbacks while playing behind a typically porous offensive line.
But on Saturday, Schneider officially made the worst personnel decision of his career. And this time, the sin he committed should result in the Seahawks firing him immediately.
Adam Schefter reported via Twitter that the architect of the Legion of Boom traded two first-round picks, a 2021 third-rounder, and safety Bradley McDougald to the New York Jets for Jamal Adams and a 2022 fourth-round pick. Just digest that for a second.
That means the Seahawks won't have first-round picks in each of the next two drafts, and that's not even the worst part. Adams still needs a long-term contract extension. And given his desire to get paid like a top-five defender in the NFL, that means Seattle will likely have to commit at least $20 million per year to make his wish come true.
Even if he ranks as the top safety in the NFL, that type of contract, combined with the obscene amount of draft capital it took to trade for him, makes Jamal Adams a horrific value fit for the Seahawks. For such an impactful player, he has just two interceptions in 46 career starts. The Jets never ranked better than 16th in points allowed in his three years in New York.
Ultimately, John Schneider just mortgaged the future of the franchise. It's difficult seeing the Jamal Adams addition swaying the landscape of the NFC. And by making yet another major personnel mistake, the GM who once built the most dominant defense in NFL history deserves to be fired immediately.