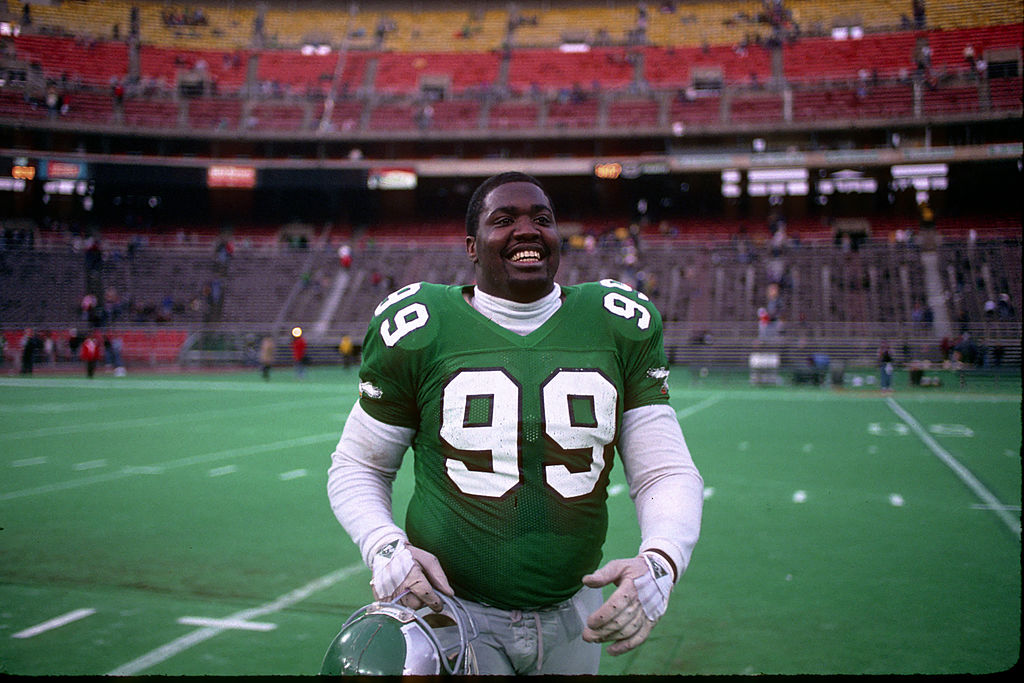 The Tragic Death of Former Eagles Star Jerome Brown
Jerome Brown was a star the University of Miami before becoming a Pro Bowler for the Eagles. He sadly died at the age of 27.
Jerome Brown could do anything he wanted on a football field. At 6-foot-2, 292 pounds, he terrorized offensive lineman at the University of Miami before taking his talents to the NFL. He quickly became a standout for the Philadelphia Eagles. But just as he entered his prime, he died at the age of 27. Here's the story of Jerome Brown and a life that ended too soon.
Jerome Brown was a superstar at the University of Miami
Hailing from Brooksville, Fla., Jerome Brown starred at Hernando High. The talented defensive tackle traded in his small-town upbringing for the bright lights of Miami. It turned out to be a terrific decision.
For four years, Brown built a reputation as one of the most dynamic defensive linemen in the country. He racked up 183 tackles (19 for loss), 21 sacks, five forced fumbles, and four fumble recoveries for the Hurricanes. Brown earned consensus All-American honors as a senior.
Of course, his final year at UM included a famous showdown against Penn State University. Prior to the 1987 Fiesta Bowl, Brown led a group of Hurricanes players on a walkout after Penn State players mocked Miami coach Jimmy Johnson during a pre-game banquet.
The outspoken defensive lineman delivered a line for the ages by asking, "Did the Japanese go and sit down and have dinner with Pearl Harbor before they bombed them?"
Despite a strong defensive effort, Jerome Brown and the Hurricanes fell to the Nittany Lions 14-10. Still, that did little to dissuade NFL scouts from salivating over the promising prospect.
Becoming a Pro Bowler with the Eagles
The 1987 NFL draft saw three Hurricanes go in the first nine picks. Tampa Bay selected Heisman winner Vinny Testaverde No. 1 overall. Alonzo Highsmith went third overall to the Houston Oilers. With the ninth overall selection, the Eagles took Jerome Brown.
He joined a franchise that hadn't won double-digit games since 1981. While Philadelphia didn't become an immediate Super Bowl contender overnight, it didn't take long for Brown to bring the team to new heights.
After recording four sacks and two interceptions as a rookie, he racked up five takedowns in 15 starts. Brown's third season included a career-high 10.5 sacks for an 11-5 Eagles squad. Of course, he also benefitted from playing alongside the legendary Reggie White.
Brown took his game to another level to start the new decade. The pass-rushing force earned first-team All-Pro honors in 1990 and 1991. By that time, the Eagles had become one of the top teams in the NFC. Just as everything seemed to be trending upward, things came to a crashing halt.
Brown and his nephew tragically died in a car crash
By 1992, Jerome Brown already ranked as one of the best players at his position. He seemingly had multiple years left of his prime. And the Eagles looked like a team capable of contending for the Lombardi Trophy. But on June 25, 1992, the football world suffered a tragic loss.
That afternoon, Brown and his 12-year-old nephew died in a car crash in Brooksville. The New York Times reported that his 1992 Corvette lost control on wet pavement, hit a palm tree, and overturned.
Brown, 27 years old, was speeding before the crash on Hale Avenue in Brooksville, according to a witness who refused to give his name. The witness said it had been raining earlier in the day, but that it was not raining when the accident occurred at approximately 4:45 P.M. Brown and his 12-year-old nephew, whose name was not released, were pronounced dead at 5 P.M.

Brown's death sent shockwaves through the NFL. Reggie White even had to deviate from his plan and announce the news at a scheduled speaking event. White fought back tears as the crowd gasped to hear that the Eagles' 27-year-old superstar had passed away.
Following Brown's death, Eagles coach Rich Kotite said, "Right now, I don't know what to say. I'm just shocked. Jerome was such an outstanding and dynamic guy. He had the biggest heart of any man I've ever known."
Ultimately, Jerome Brown and his nephew lost their lives before they truly got a chance to live them. However, his son, Dee Brown, did get a chance to fulfill his own dreams to become a professional athlete. Jerome Brown's son got drafted by the Washington Nationals in the 10th round of the 2005 MLB draft. He spent four years in the team's minor league system.