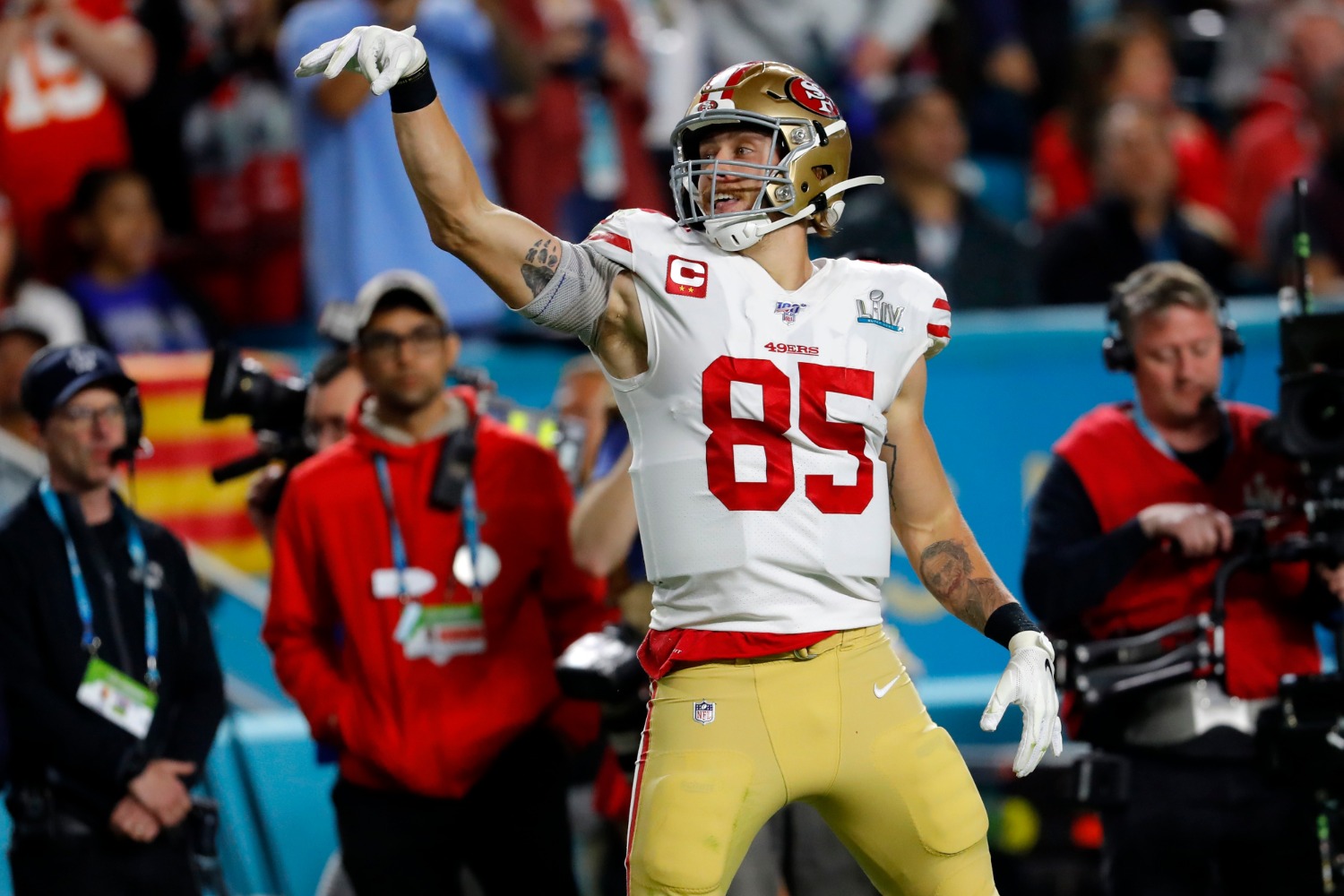 George Kittle Just Became a $75 Million Bargain for 49ers
George Kittle has quickly become the best tight end in the NFL. The 49ers just rewarded him with a record-setting $75 million contract.
George Kittle entered the NFL as a little-known prospect from the University of Iowa. However, thanks to Kyle Shanahan's scheme and his incredible natural ability, the former fifth-round pick has quickly become the best player at his position. On Thursday, the San Francisco 49ers rewarded Kittle with a $75 million contract that shattered the previous record for tight ends.
And yet, that price feels like a bargain.
George Kittle's rise to NFL stardom
The University of Iowa churns out NFL tight ends and offensive linemen on an annual basis. So it should have been no surprise that George Kittle hitched his wagon to Kirk Ferentz. Strangely, the Hawkeyes did not utilize the highly athletic tight end in the passing game.
By the time Kittle wrapped up his four-year college career, he totaled just 48 receptions for 737 yards and 10 touchdowns. Of course, the fact he played just 22 games did not help.
Despite destroying the combine, Kittle waited quite a while to hear his name called. Ultimately, the 49ers stopped his slide by selecting the athletic specimen with the 146th overall pick. The fifth-rounder nearly matched his college numbers in his first year in the NFL. Kittle posted a line of 43/515/2 even as a part-time starter.
However, he became the NFL's biggest breakout star not named Patrick Mahomes in 2018. Shanahan's player-friendly scheme allowed Kittle to rack up 1,377 receiving yards—a single-season record by a tight end. In addition, he bulldozed linebackers and defensive backs as a blocker.
Last season, the 6-foot-4, 250-pounder continued to showcase his dynamic skill set. Kittle posted 85/1,053/5 and once again delivered devastating blocks in the run game. And while the 49ers came up short in their Super Bowl quest, Kittle proved why he deserved a new contract.
Kittle signs record-setting contract
Figuring out what to pay an elite tight end can be a challenge. Years ago, Jimmy Graham wanted wide receiver money after breaking out as one of Drew Brees' top targets. Rob Gronkowski probably should have gotten a raise from Bill Belichick, but he locked himself into a long-term deal that eventually became a bargain for the Patriots.
While neither Graham nor Gronkowski ever managed to secure wide receiver money, George Kittle did. The 49ers rewarded their star tight end with a five-year, $75 million deal on Thursday that shattered the previous record for the position. Earlier this offseason, Austin Hooper signed a four-year, $42 million contract with the Cleveland Browns.
However, Kittle absolutely obliterated that deal with a record-setting contract that ties him to the 49ers for six years. In addition, Adam Schefter tweeted that Kittle will receive $40 million guaranteed—twice that of any other tight end in the league.
With an average annual salary of $15 million, George Kittle officially put himself in wide receiver territory. In fact, only 11 receivers carry a higher salary than the two-time Pro Bowler.
49ers scored a huge bargain
With George Kittle locked up for the next half-decade, the 49ers secured a critical component of their championship puzzle. But when you consider his value to the offense, that $75 million price tag looks like a huge bargain.
Unlike Travis Kelce—who many regard as the top pass-catching tight end in the NFL—Kittle excels doing the dirty work in the ground game. Turn on the coach's tape and you'll see a player who throws vicious blocks that an offensive line coach could only dream of.
Plus, Kittle offers legitimate WR1 production despite playing the tight end spot. A player who can routinely post 80+ catches for 1,000 yards and block like an offensive lineman deserves much more than $15 million per year.
Just consider this: Would you take Odell Beckham Jr. at $18 million per year over Kittle at $15 million? How about A.J. Green at $18.2 million? Even Amari Cooper's $20 million salary seems incredibly expensive when you consider his contributions compared to Kittle's all-around impact.
Ultimately, the 49ers may have reset the tight end market with George Kittle's $75 million contract. But somehow, it seems like they scored a huge bargain given Kittle's well-rounded skill set and value to the franchise.
All stats courtesy of Pro Football Reference. Contract figures courtesy of Spotrac.