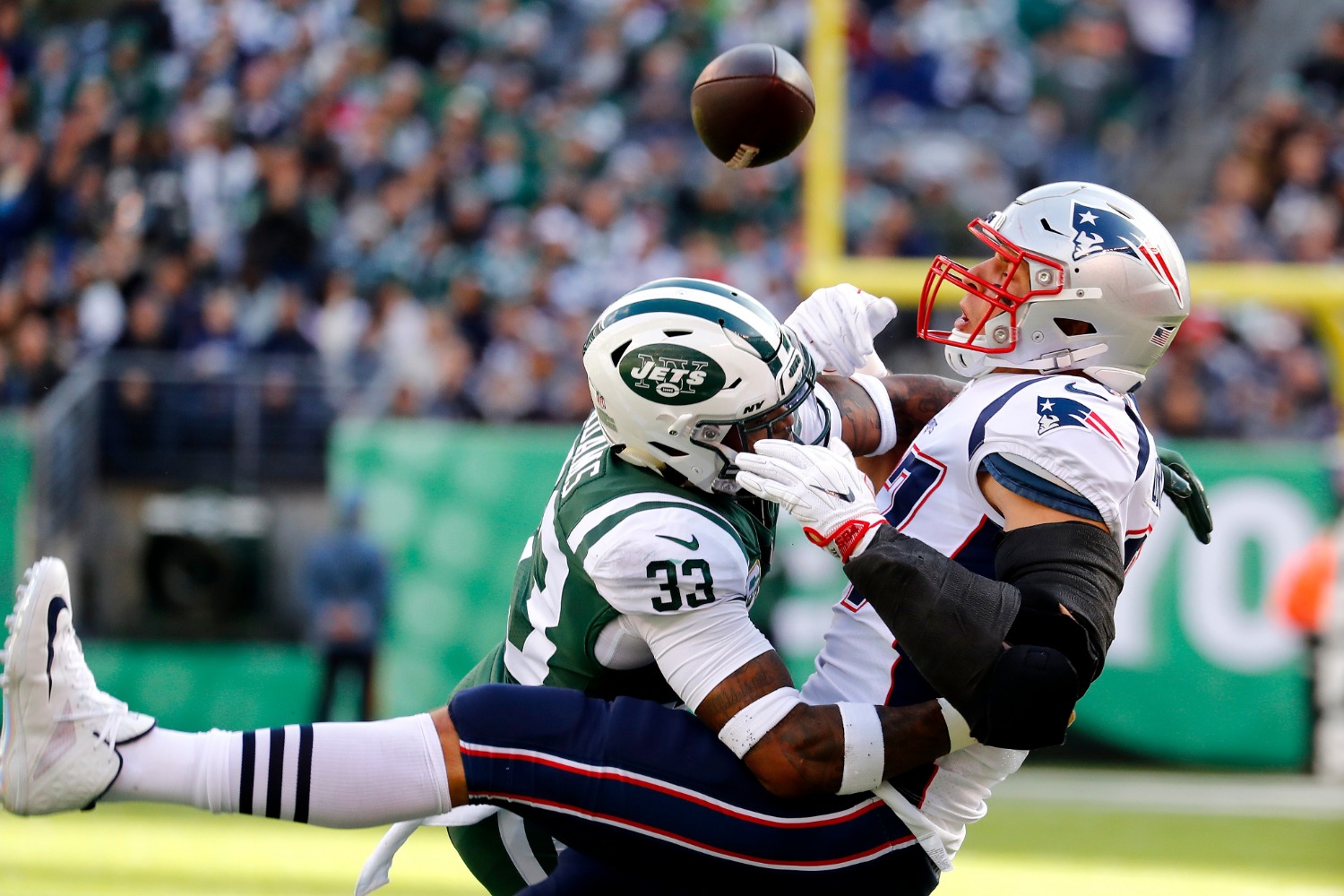 Rob Gronkowski's Ridiculous Madden Rating Proves Creators Ignored His Drastic Decline
Rob Gronkowski received a ridiculously high Madden rating that doesn't reflect his lackluster final season with the New England Patriots.
Even the most loyal Rob Gronkowski fans would acknowledge the legendary tight end didn't look like himself in his final season with the New England Patriots. For years, he dominated defenses as one of the NFL's most difficult one-on-one matchups. But after sustaining numerous injuries, Gronkowski looked like a shell of himself in 2018.
Apparently the Madden rating gurus didn't turn on that tape. Because despite a lackluster final season and a year away from football, Gronk still received a ridiculously high rating that in no way reflects what he showed the last time we saw him play in the NFL.
Rob Gronkowski struggled in 2018 after dominating for nearly a decade
When Bill Belichick traded up to select Rob Gronkowski with the 42nd pick in the 2010 NFL draft, nobody knew how his NFL career would turn out. After all, he missed his entire junior season with a back injury that required surgery. Still, that didn't stop the Patriots from investing a premium draft pick on the talented tight end.
Gronkowski quickly put any concerns about his NFL future to rest. As a rookie, he snagged 10 touchdowns on just 59 targets. He and fellow rookie Aaron Hernandez transformed the New England offense into one of the most unstoppable units in the NFL.
The 6-foot-6, 265-pounder followed up with one of the most dominant seasons ever from a tight end. In just his second season, Gronk posted a league-high 17 touchdown receptions. He also set career-highs in catches (90) and yards (1,327) while earning first-team All-Pro honors.
Unfortunately, that 2011 season also represented the only time he ever suited up for all 16 regular-season games. Gronkowski missed 14 games over the next two seasons before storming back with a terrific two-year run in which he earned two more first-team All-Pro selections. In 2017, he once again earned that coveted spot after totaling 69/1,084/8.
However, after nearly a decade of taking vicious hits and subjecting his body to immeasurable punishment, Gronkowski struggled in 2018. In what turned out to be his final year in New England, he posted the lowest yards-per-reception average since 2014. Clearly slower and unable to gain separation, Gronk no longer struck fear into defenses.
Gronk has a ridiculously high rating in Madden 21
Rob Gronkowski retired after winning his third Super Bowl ring. He needed to step away from the game to let his body heal and get his mind right. Even diehard Patriots fans understood why the legendary tight end had to hang 'em up after watching him struggle throughout the 2018 campaign.
Despite his lackluster final season and spending a year away from football, Madden creators showed incredible love for the lovable tight end. On Friday, ratings for tight ends came out and Gronkowski shockingly earned a 95 rating. That put him well ahead of Zack Ertz, who many would argue had surpassed Gronkowski by the time he retired.
Apparently Madden "gurus" didn't turn on that 2018 tape. If they did, it would be quite interesting to hear their explanation of how Gronkowski could rank as the third-best tight end in the game when he finished 13th in catches and sixth in receiving yards in 2018. Plus, he caught just three touchdowns after posting five double-digit TD seasons in his career.
Buccaneers tight end faces uphill battle to prove Madden rating correct
The Madden franchise may rate Rob Gronkowski at a 95, but he faces an uphill battle to prove that grade correct. It may seem blasphemous to doubt a Hall of Famer, but the fact remains that Gronk simply didn't perform anywhere near that level when we last saw him play for the Patriots.
Besides his lengthy injury history, he just spent an entire year away from football. On one hand, that gave him a chance to clear his mind and get his body healthy. On the other hand, it brings up a legitimate concern about his dedication to the game and whether he can suddenly rejuvenate his career playing in a new offense for a new head coach in a new environment.
Can Gronkowski make that Madden rating look accurate? Perhaps a reunion with TB12 will unleash a new version of Gronk that we haven't seen before. Ultimately, though, the odds are against him. And if he fails to live up to the hype in Tampa, he will disappoint not only Buccaneers fans but also the Madden gurus who gave him a ridiculous 95 rating.