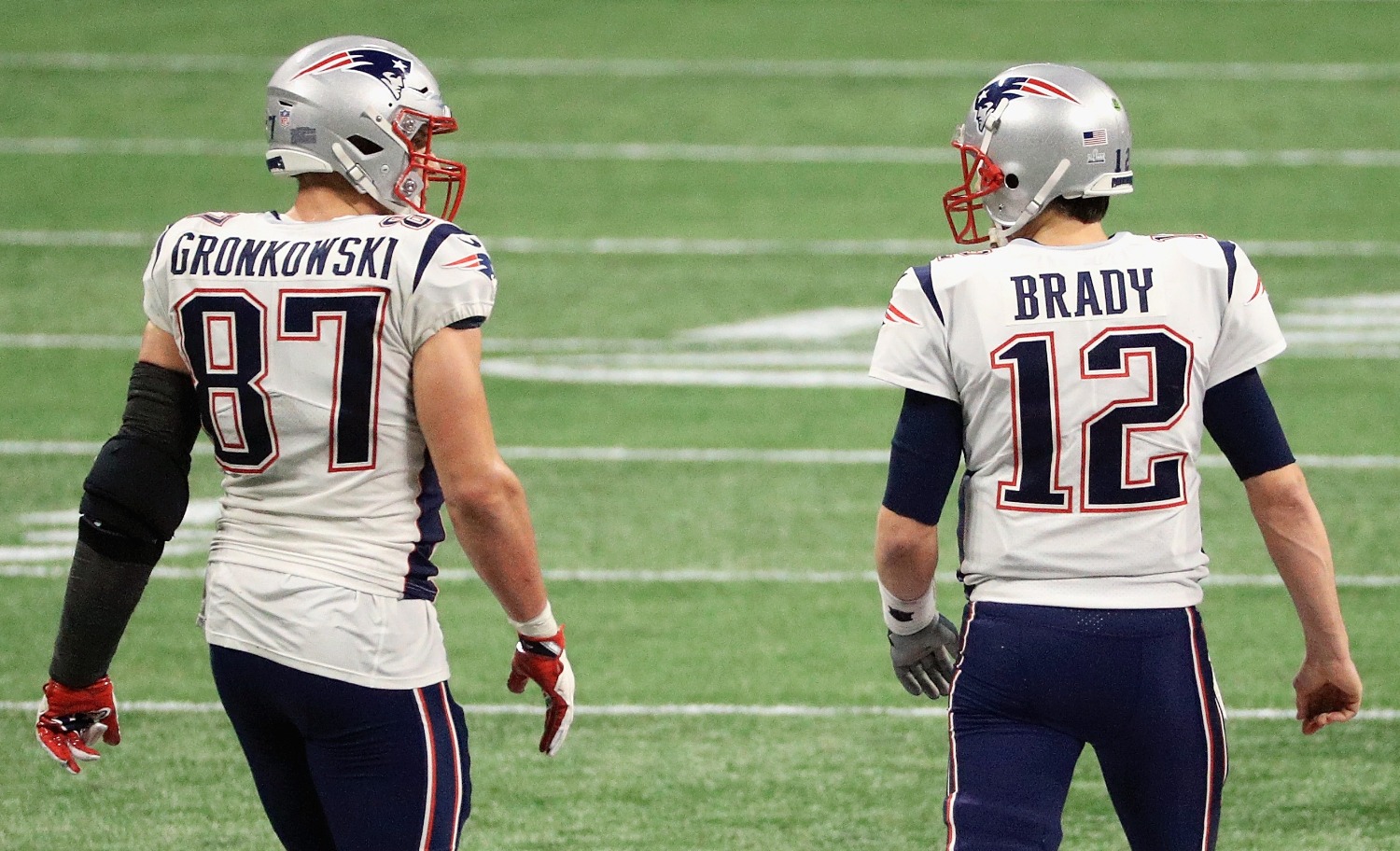 Rob Gronkowski Reveals Startling Truth on How Tom Brady Influenced His Comeback
Rob Gronkowski revealed the startling truth on how Tom Brady influenced his comeback. Will the former teammates make magic in Tampa?
When Rob Gronkowski extended every inch of his 6-foot-6 frame to haul in a 29-yard pass from Tom Brady in Super Bowl 53, nobody knew that would be his final NFL catch. At least, for a while. About a month after winning his third title with the New England Patriots, the tight end retired from the game that made him millions but also inflicted incredible damage on his body.
A year away from football gave Gronkowski the opportunity to get involved in other business ventures. Yet, once TB12 took his talents to Tampa, it didn't take long for rumors to swirl about a reunion between the GOAT and his most trusted target. And as we've later learned, Tom Brady played a significant and perhaps sinister role in Gronk joining the Buccaneers.
Rob Gronkowski retired after winning third Super Bowl ring
For nine years, Tom Brady and Rob Gronkowski established a reputation as one of the most unstoppable tandems in the NFL. Despite suffering a laundry list of injuries, Gronkowski racked up prolific receiving stats. In addition, he steamrolled defenders in the run game and did everything asked of him by Josh McDaniels and Bill Belichick.
With four 1,000-yard seasons and 79 regular-season touchdowns on his resume, Gronk walked away from the game with a legitimate case as the GOAT.
But as he enjoyed his newfound freedom from Belichick and the year-long grind of subjecting his body to immense physical pain, Gronk's former teammate suffered from his absence. In 2019, Brady had arguably the worst season of his career due in large part to a lack of top-end weapons.
So when the six-time Super Bowl champion had his chance to leave, he traded in his Patriots uniform for Buccaneers colors. Only he wouldn't be the only ex-Patriot to take his talents to Tampa.
Tom Brady had a major influence in Gronk's comeback
Though Rob Gronkowski's retirement surprised some folks, Patriots fans had an inkling that the four-time All-Pro could call it quits. He actually had considered retiring before, even threatening to hang 'em up in order to nix a potential trade to the Detroit Lions. Of course, that had to do with the fact that Gronkowski had no intention of playing with another quarterback.
In a recent appearance on "Tiki and Tierney" on CBS Sports Radio, Gronkowski revealed the startling truth behind just how much Tom Brady influenced him to make a comeback.
"I don't like to spill all the beans, but when Tom went down to Tampa, it just looked like a great situation, a great opportunity. I wasn't just going to come back out of retirement just to come out of retirement … definitely one of [the factors] was Tom going down to Tampa. That was a big connection."
A year away from the game also gave the future Hall of Famer a chance to heal his body. And once he started feeling healthy, it seems like Gronk and Brady began staging a plan to reunite, just not in New England.
"I was feeling healthy. I had that juice going again. When Tom and I talked a little bit and just thought about the situation and how we can pull it off and everything — everything went well. Everything went down as planned and the situations all lined up. I thought it was a great opportunity that I couldn't pass on. It's just going to be fun. It's going to be cool."
Will the former Patriots stars live up to the hype?
Now that their plan came to fruition, Tom Brady and Rob Gronkowski face an uphill battle in living up to the immense hype in Tampa. The former enters his age-42 season and certainly didn't look like the same quarterback we've grown accustomed to watching over the last 20 years. The latter just took a year off from football and now joins a new offensive system.
Plus, you can't overlook the durability factor. Gronkowski obviously had trouble staying healthy throughout his time in New England. Brady dealt with smaller, lingering injuries over the last few years and will now play for Bruce Arians, who doesn't exactly have a great reputation for keeping his quarterbacks upright in his downfield passing attack.
Still, the Buccaneers boast plenty of talent on offense to make a serious run at the NFC South title. They'll depend on the most dominant quarterback-tight end duo of time to lead them to Super Bowl glory. Let's just see if Rob Gronkowski and Tom Brady last all 16 games before we start talking titles.