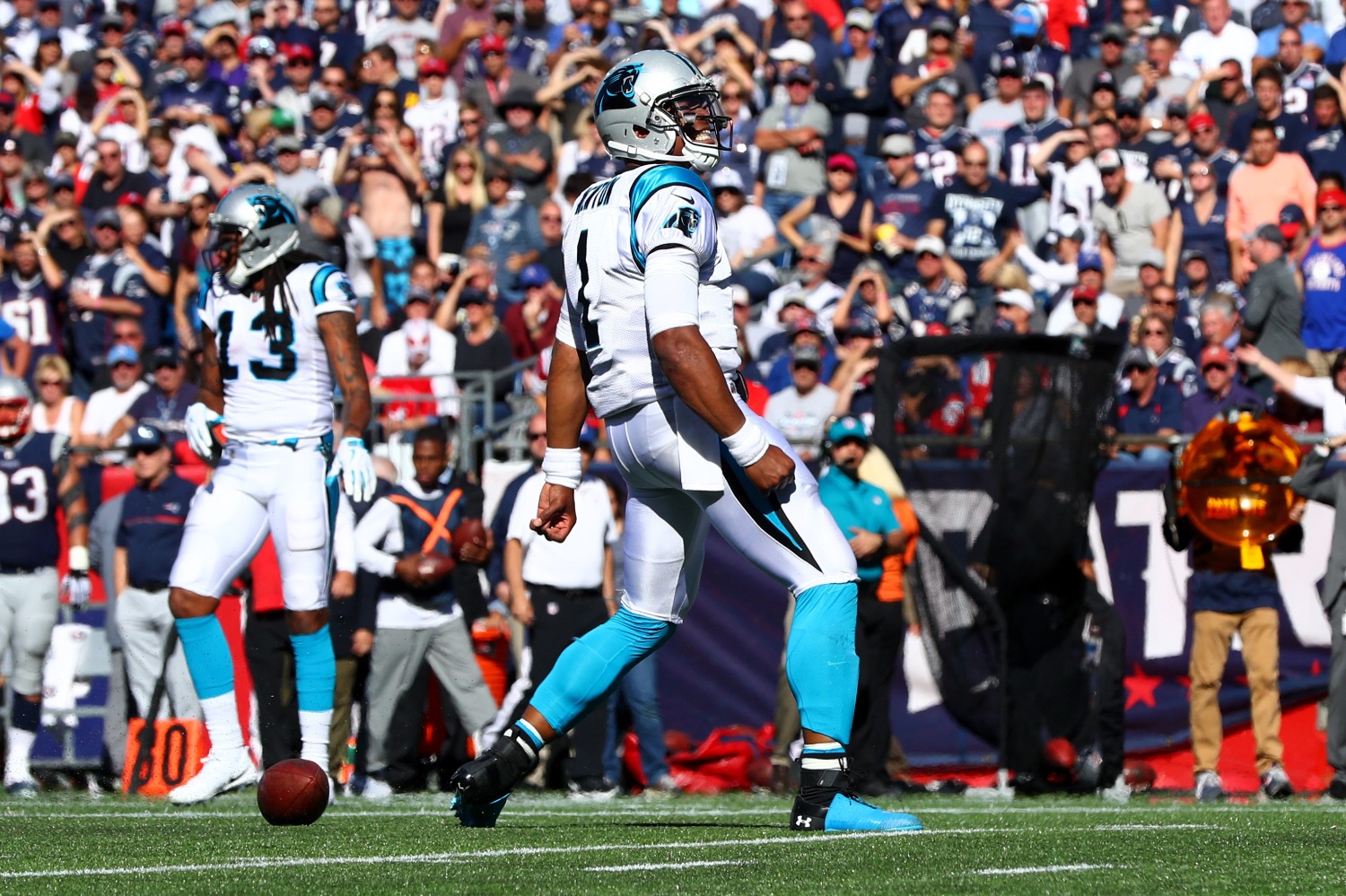 Cam Newton Just Sent a Terrifying Message About Replacing Tom Brady
Cam Newton just delivered a terrifying statement about replacing Tom Brady. Will the former NFL MVP resurrect his career in New England?
Cam Newton faces a tremendous challenge in replacing Tom Brady. It takes a special person to absorb the pressure of becoming the next starting quarterback for the New England Patriots following two decades of unparalleled success. Then again, Newton belongs in his own category of special.
Built like a defensive end but blessed with freakish athleticism, the former Carolina Panthers quarterback has a tremendous opportunity to resurrect his career playing for Bill Belichick and Josh McDaniels. And in a recent sit-down with Odell Beckham Jr., Todd Gurley, and Victor Cruz, Cam Newton sent a terrifying message about his plan to replace Brady.
Cam Newton has huge shoes to fill
For two decades, the Patriots enjoyed an unprecedented run of success. While the debate about whether Belichick or Brady played a bigger role may never get settled, there's no doubt that Robert Kraft wouldn't have six Super Bowl rings without either NFL legend. For all of Belichick's genius strategic moves, Brady got the job done on the field in the biggest moments.
Patriot Nation sadly said goodbye to the greatest quarterback of all time just a few months ago. And once Brady took his talents to Tampa, it appeared as though Jarrett Stidham had the inside track on replacing the three-time NFL MVP.
However, that all changed when Belichick stole Newton for pennies on the dollar. Of course, the process took a bit longer than the former Panthers QB probably expected. Newton remained unsigned well into the summer before the Patriots signed him to a one-year contract that carries a maximum value of just $7.5 million.
He now has the chance to resurrect his career with the greatest coach in NFL history and set himself up for a massive payday next offseason. And while most humans would display nervousness about replacing Tom Brady, that's not the case for Cam Newton.
Former NFL MVP sends terrifying message about replacing Tom Brady
Though Newton has failed to live up to his 2015 MVP campaign, he has not completely fallen off the map. In 2018, the 6-foot-5, 245-pounder played at a high level and showed impressive efficiency as a passer. Unfortunately, recurring shoulder injuries and a Lisfranc fracture derailed his value.
With a chip on his now-healthy shoulder, Newton understands the importance of the opportunity ahead of him. And during a recent conversation with Beckham Jr., Gurley, and Cruz posted on Beckham's YouTube channel, he sent a terrifying message about replacing Tom Brady, who he referred to as "the elephant in the room."
"You know who [you're] coming after? I'm like, yeah, great. What he was, what he is, is great, needs no even talking about it," Newton said. "But one thing about it, though: Coach [Josh] McDaniels, you're able to call some stuff that you ain't ever been able to call now."
Clearly Newton has no hesitation about stepping into Brady's shoes. Then again, he has plenty of motivation to prove his doubters wrong. He further backed that up with yet another scary message to the rest of the NFL.
"You're getting a dog. You're getting one of these ticked-off dogs too. And I'm looking at the schedule and I'm like, 'Who we're playing? That team passed on me! OK, that team passed on me. They could've came and got me.'"
Will Newton resurrect his career under Bill Belichick and Josh McDaniels?
Any team set to play the Patriots in 2020 should cower in fear over the potential carnage that a motivated Cam Newton can inflict. But opponents should be even more terrified that the former MVP will get to work with Belichick and McDaniels.
The two brilliant coaching minds have made magic together in New England. While Brady certainly played a huge role in the success of the offense, McDaniels deserves credit, too. When Brady served a four-game suspension to start the 2016 season, McDaniels adjusted the offense to cater to Jimmy Garoppolo and Jacoby Brissett.
Just as the quarterback alluded to, McDaniels can implement entirely new concepts now that he has a dual-threat quarterback on board. While Brady excelled as a pocket passer, Newton provides New England with a unique running threat. That could vastly open up the playbook and allow for more chunk plays after years of a dink-and-dunk attack.
Of course, Patriots fans will care most about whether Newton can win as many games as Brady. That represents a massive challenge for a quarterback with a career record of just 68-55-1. Will the former No. 1 pick experience a career renaissance working with Belichick and McDaniels?
At the end of the day, Cam Newton faces a tall task in replacing Tom Brady. But based on his terrifying message, it looks like he's all-in on showing the rest of the NFL that he is far from finished.