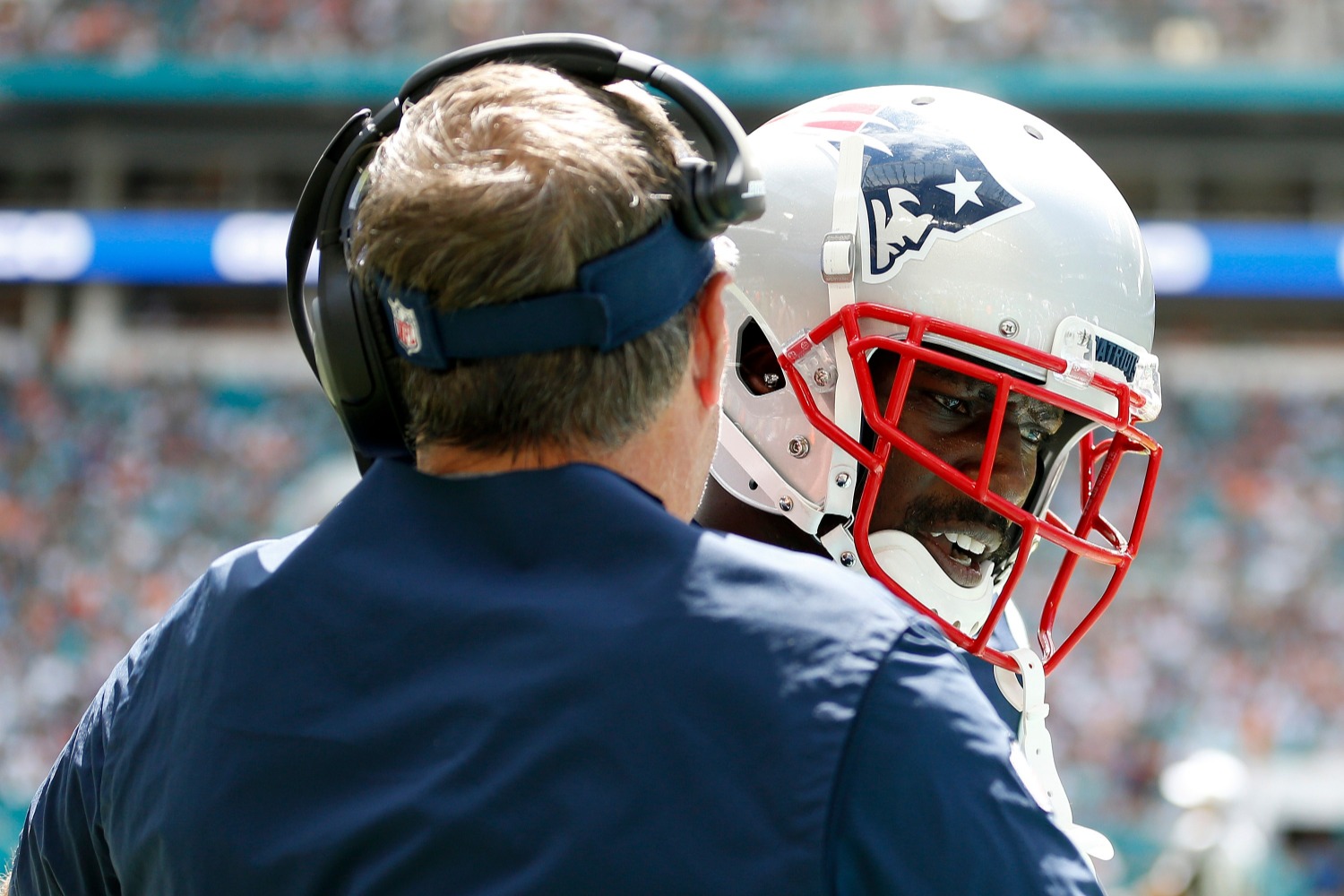 Antonio Brown Just Gave Bill Belichick $4 Million to Sign Jadeveon Clowney
The Patriots received a $4 million cap credit for Antonio Brown, which gives them the financial flexibility to sign Jadeveon Clowney.
Antonio Brown lasted just one game with the New England Patriots. Unfortunately, his effect on the franchise has carried over well longer than that. Because Bill Belichick had to terminate Brown's contract early, it left the Patriots in a dire financial situation. However, the perennial All-Pro just gave New England an additional $4 million. And what better way to utilize that newfound salary-cap space than to go after Jadeveon Clowney?
The Patriots have had little financial flexibility this offseason
Once the Patriots fell to the Tennesee Titans in the 2019 NFL playoffs, it kick-started one of the most interesting offseasons in franchise history. With several prominent players set to hit free agency, Belichick had to make some tough calls. Obviously, watching Tom Brady walk away cut deep into the hearts of Patriot Nation.
However, the team also lost a number of other impact players to free agency. Kyle Van Noy and Elandon Roberts took their talents to the Miami Dolphins. Jamie Collins and Danny Shelton joined forces with Matt Patricia in Detroit. Meanwhile, the Patriots essentially sat out most of free agency due in large part to their lack of financial flexibility.
Even though he now calls Tampa home, Brady still counts $13.5 million against New England's 2020 salary cap. Plus, the team had taken on another costly cap hit from releasing Antonio Brown. However, the team got a surprising bit of good financial news on Saturday.
New England received $4 million cap credit for Antonio Brown
When New England cut AB after just one game, it had massive trickle-down effects. On one hand, the offense lost its most talented target. That certainly played a large role in Brady's dissatisfaction for the rest of the year. He simply didn't have many weapons he could trust outside of Julian Edelman and James White.
From a financial perspective, cutting Brown also resulted in a substantial dead-money charge on the team's 2020 salary cap. At least, until Saturday rolled around. ESPN's Mike Reiss and Field Yates reported via Twitter that the franchise received $6.55 million in cap space as a result of settlements from compensation grievances.
Interestingly, the Patriots received $2.55 million from the Aaron Hernandez ordeal. More importantly, though, New England got $4 million in additional cap space from the AB fiasco. Armed with a nice chunk of change to spend, that should give Bill Belichick plenty of ammo to pursue Jadeveon Clowney.
Bill Belichick can now pursue Jadeveon Clowney
Like Cam Newton, Clowney surprisingly generated nearly zero buzz in free agency. The former No. 1 pick hasn't exactly lived up to the "generational talent" label he garnered coming out of South Carolina. Injuries have plagued Clowney throughout his career, and he has never developed into the devastating pass-rusher many expected.
That has left the former Seattle Seahawks edge defender without a home. While Clowney has been linked to a few teams, no one has managed to get the 6-foot-5, 255-pounder to put pen to paper.
Now seems like the perfect time for the physically-gifted outside linebacker to consider taking his talents to Foxborough. The fit makes total sense for both sides.
For Clowney, he has a chance to join forces with the greatest head coach in NFL history. Sure, he would have to take a cheap one-year deal. However, considering Belichick helped maximize Lawrence Taylor's strengths with the New York Giants, could you imagine what he could do with Clowney? No coach would utilize his skill set better than the man gunning for Don Shula's all-time wins record.
For the Patriots, bringing in a blue-chip talent like Jadeveon Clowney would go a long way toward offsetting the losses of Van Noy and Collins. It would give New England a versatile, potentially-dominant front-seven defender who could move all around the defense. Plus, a motivated Clowney should have every reason to elevate his game in pursuit of a massive 2021 payday.
And thanks to Antonio Brown, the Patriots now have an extra $4 million (plus the $2.55 million from Hernandez) to easily afford Clowney on a one-year, incentive-laden deal. Now let's see if Bill Belichick pounces on another undervalued asset. He's done it before, and if he can convince Jadeveon Clowney to come to New England, he will have done it again.