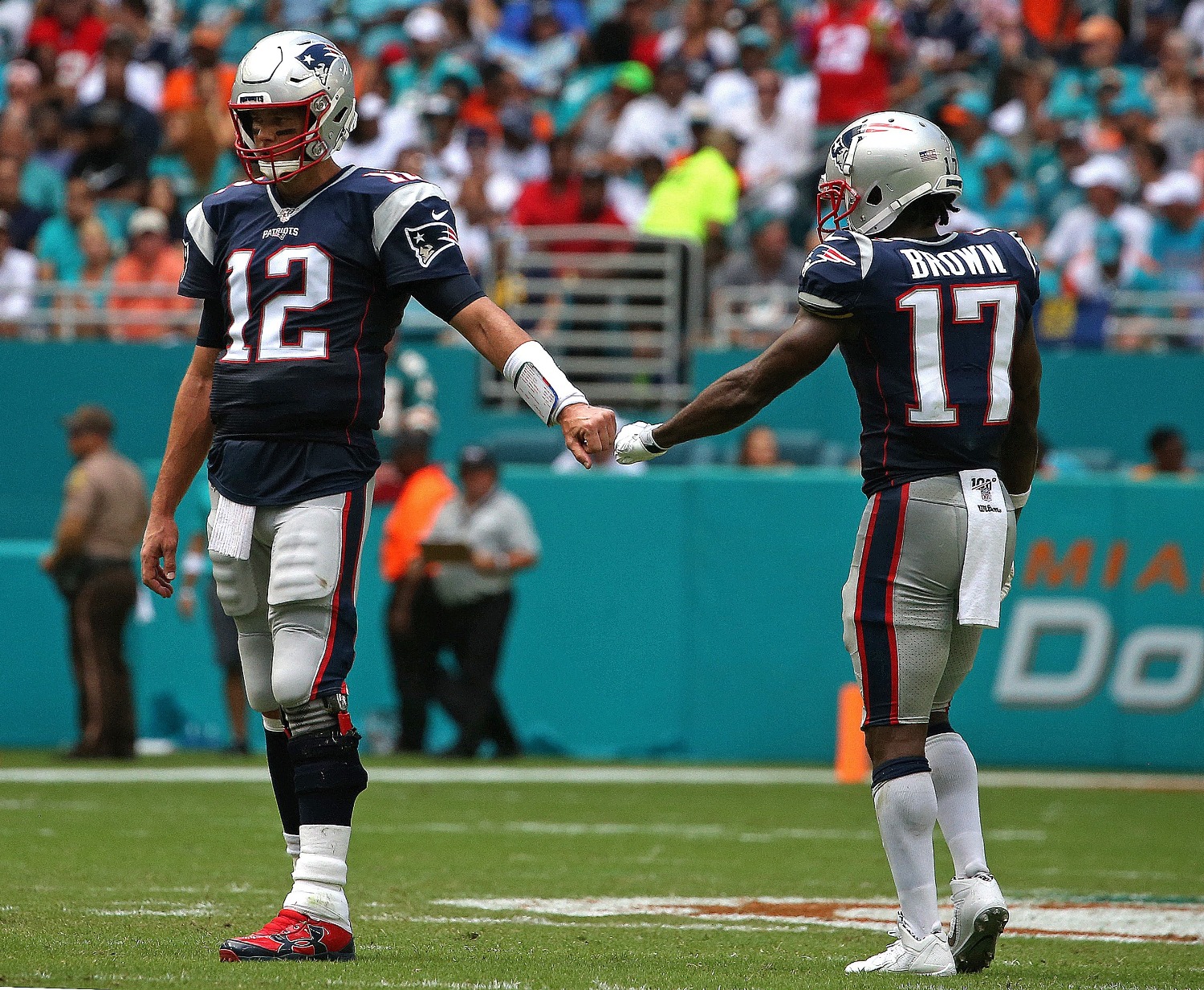 Antonio Brown and Tom Brady Could Be Reunited According to Bill Belichick's Trusted Acolyte
Antonio Brown and Tom Brady got a chance to play together on the Patriots. The duo could be reunited if the Buccaneers sign Brown.
For one glorious game, Antonio Brown and Tom Brady made magic together. Yet, thanks to Brown's off-field issues, his New England Patriots career lasted about as long as a Bill Belichick smile. In the blink of an eye, the All-Pro receiver found himself without a job.
Yet, when Brady took his talents to the Tampa Bay Buccaneers, rumors swirled about a reunion between the greatest quarterback of all time and the best receiver of this generation. While AB still doesn't have an NFL contract, that could change soon. In fact, Brady and Brown could finally see their wish of playing together come true.
Antonio Brown hasn't found an NFL home after getting cut by the Patriots
Antonio Brown's 2019 season couldn't have gone much worse. After forcing his way out of Pittsburgh, he landed a lucrative contract extension with the Oakland Raiders. Yet, the four-time first-team All-Pro wideout never played a down for Jon Gruden's team. Following a bizarre string of incidents, he got cut before Belichick swiped him off the market.
Joining forces with the GOAT should have given Brown plenty of motivation to stay on the right path. Unfortunately, after one game in a Patriots uniform, he once again found himself jobless. Of course, that one appearance included four catches for 56 yards and a touchdown.
Thanks to his legal troubles, Brown has waited for months to find a new NFL home. Teams rightfully have concerns about his maturity and culture fit. While a few franchises have been linked to AB, no one has pulled the trigger. However, that could be changing soon. And if the rumors prove correct, Tom Brady and Antonio Brown will see their wish come true.
Tom Brady and AB could see their wish come true of playing together again
When TB12 officially joined the Buccaneers, it seemed as if every player in the league wanted to come to Tampa. After all, the allure of playing alongside the greatest quarterback of all time will make you reconsider your current situation. Of course, one of the players heavily linked to the Buccaneers has been Antonio Brown.
Early on, head coach Bruce Arians shot down speculation that the Bucs may bring in Brown. But according to former NFL GM Michael Lombardi, who spent many years working for Bill Belichick, the tides may be changing in Tampa. In an appearance on The Pat McAfee Show, Lombardi offered some interesting insight into a possible reunion between TB12 and AB.
"I wouldn't be surprised if Tampa makes another move," Lombardi said. "I wouldn't be surprised now that New England got Cam (Newton), I wouldn't be surprised if Tampa made another move."
When McAfee asked specifically about the Bucs signing AB, the Belichick acolyte hinted that something could be in the works.
"I am thinking they are chipping away," Lombardi said. "You know how Andy (Dufresne) used to chip away at the wall at Shawshank? Chip, chip, chip. I think there's some chipping going on down there. I am just saying keep your antennas up."
To add even more fuel to the fire, Lombardi responded to a tweet from radio host JT The Brick and said he's "hearing the same thing" in regards to word out of Tampa that Brown may reunite with the three-time NFL MVP.
Should the Buccaneers take a gamble on Brown?
Buccaneers fans have enjoyed the best offseason in franchise history. Getting the GOAT to trade in his Patriots uniform for Buccaneers colors represented a monumental step toward winning a Super Bowl. Trading for Rob Gronkowski gives Brady a familiar face as he embarks on a journey with an entirely new cast of weapons.
But should the Bucs make their quarterback's dream come true and sign Antonio Brown? On paper, the move makes total sense. Why not add a premier weapon to a lineup that already features Gronk, Mike Evans, Chris Godwin, and O.J. Howard?
On the other hand, Brown brings a ton of baggage. His drama-filled 2019 season makes him untouchable in some circles. At this point, it's fair to question whether the upside outweighs the risk.
Ultimately, the Buccaneers would be best served to roll with their current lineup. Evans and Godwin topped 1,000 yards receiving with Jameis Winston as their quarterback. Can you imagine how much better life will be catching passes from Brady? Tampa also has a deep tight end group that should have no problem accumulating big numbers this year.
While Tom Brady and Antonio Brown have dreamt about reuniting, the Buccaneers should steer clear of the enigmatic receiver. Sorry, Tom. You'll just have to get it done with what you've got.