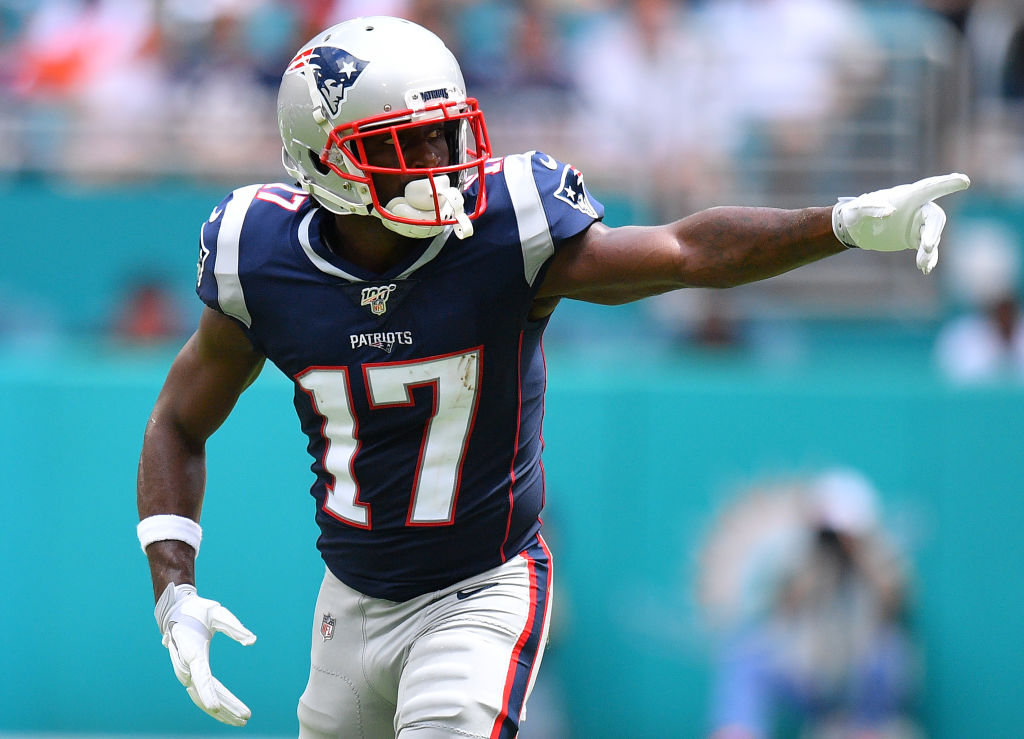 Antonio Brown's NFL Comeback Just Got a Big Legal Boost
Antonio Brown is still a free agent. But by avoiding jail time, his chances of making an NFL comeback this season just got a boost.
Antonio Brown caught his last NFL pass in September. Expected to be a top weapon for Tom Brady, his New England Patriots career lasted just one game. Since getting cut by Bill Belichick, Brown has gone from an NFL star to a league pariah.
But for AB fans, the four-time All-Pro just got some positive news that could affect his NFL comeback. Ironically, the court system could be the reason he's back sooner than later.
Antonio Brown's tumultuous 2019 season
To call Antonio Brown's 2019 season a disaster would be an insult to the word. First, he essentially forced the Pittsburgh Steelers to trade him. With a fresh start and a fat contract, Brown should have become the main attraction for Raiders fans. He did provide plenty of entertainment, just not on the field.
From freezing his feet to refusing to wear the team-issued helmet, Brown became a massive headache for Jon Gruden and Mike Mayock. He sacrificed a ton of money in fines for his erratic and unprofessional behavior. Ultimately, he never played a down for the Raiders.
Somehow, the Patriots swooped in and signed the talented wideout to a contract. In his only appearance in a New England uniform, Brown caught four passes for 56 yards and a touchdown. He found himself without a job after allegations of sexual misconduct emerged.
From a football standpoint, Antonio Brown couldn't have had a more disappointing year. His behavior away from the field didn't measure up, either.
All-Pro receiver will avoid jail time after pleading no contest
In April, AB made headlines after the state of Florida filed charges for felony burglary conveyance, misdemeanor battery, and misdemeanor criminal mischief. The charges came as a result of an alleged incident that took place between Brown, his trainer, and a delivery truck driver.
Facing potential jail time obviously represented a huge hurdle to a comeback. However, Cameron Wolfe of ESPN reported that Brown pleaded no contest to the charges on Friday, June 12.
Brown will face no jail time, though he will have two years of probation and 100 hours of community service as part of the plea. The free agent wide receiver will also have to undergo a mandatory psych evaluation and attend a 13-week anger management program as part of the plea. He was also ordered not to have contact with the victims in this case.

Brown will be allowed to travel around the United States for work. He must check in with his probation officer. Now the real question is: Where will Antonio Brown be working?
Where could Brown take his talents in 2020?
Any team that wants to sign AB must consider the risk-reward ratio. At his best, he's an unstoppable force. Unfortunately, it's been a while since we've seen that version of him.
On the other hand, Brown has displayed troubling behavior and decision-making over the last year or so. Teams with a young quarterback may elect to pass over the opportunity to add him to their roster. It's difficult to fault that logic considering Brown's potential to divide a locker room and destroy a young QB's confidence.
Assuming he lands with a playoff-caliber team, the Green Bay Packers could be an underrated destination. Aaron Rodgers certainly needs more help at receiver. Green Bay also has the cap space to take a one-year flyer on Brown. The San Francisco 49ers could also work, though Kyle Shanahan may not want to take away snaps from first-round rookie Brandon Aiyuk.
Antonio Brown still has a long way to go to get back in the NFL. But by avoiding jail time, his comeback chances got a big boost on Friday.