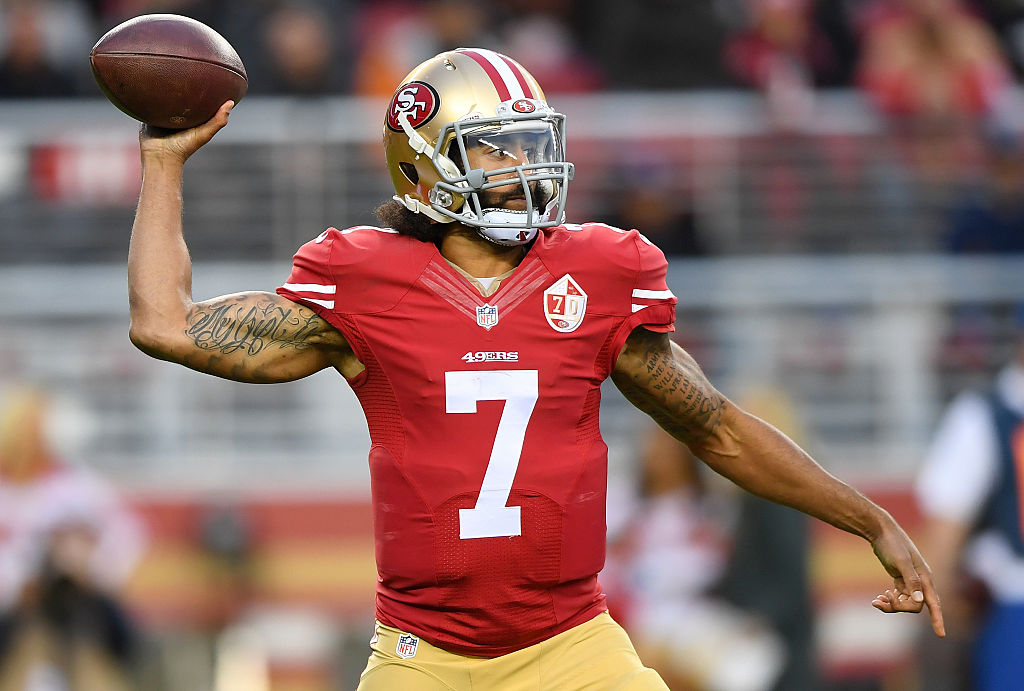 Colin Kaepernick Predicted His 49ers Future in Fourth Grade
Colin Kaepernick wrote a letter to himself in the fourth grade that predicted he would become a member of the 49ers or Packers one day.
Many kids grow up dreaming of becoming an NFL star. Colin Kaepernick was no different. But while many of us realize that becoming a pro athlete just isn't in the cards, the former San Francisco 49ers star turned his dream into a reality.
In fact, Kaepernick knew exactly where he'd end up as a fourth-grader. Unfortunately, nobody could have predicted that the football star would get blacklisted by the league he aspired to join in elementary school.
Colin Kaepernick became a star for the 49ers
Nearly a decade ago, the 49ers made Colin Kaepernick the 36th overall pick of the 2011 NFL draft. Blessed with rare athletic ability and a rocket right arm, the former University of Nevada standout spent his first year on the bench. By the middle of his second season, he took over the starting job from Alex Smith and led San Francisco to Super Bowl XLVII.
Unfortunately, Kaepernick and the 49ers lost a 34-31 shootout to the Baltimore Ravens. Despite coming up short, everyone knew that the dual-threat star had the ability to change the NFL. Over the next two seasons, the 6-foot-4, 225-pounder threw for 40 touchdowns and 18 interceptions while eclipsing 3,100 yards passing in both campaigns.
A scoring threat every time he had the ball in his hands, Kaepernick added another 1,163 rushing yards and five more TD. San Francisco went 20-12 in his two seasons as a full-time starter. Of course, becoming an NFL star shouldn't have been surprising based on Colin Kaepernick's own prediction.
He knew his football future in the fourth grade
Turn the clock back to your elementary school days. At some point, your teacher probably gave you an assignment to talk about your future dreams and goals. If you manage to dig up that letter to yourself, you'll probably laugh at how wrong you were. But for Colin Kaepernick, he couldn't have been more correct.
As a fourth-grader, he penned a letter that included an accurate prediction about his future height. Though he came up more than a few pounds short in the weight category, he absolutely nailed his football future.
"I hope to go to a good college in football Then go to the pros and play on the niners or the packers even if they aren't good in seven years."
It obviously took him more than seven years to reach the NFL, but Kaepernick predicted his eventual landing spot. However, the 11-year-old couldn't have imagined how his NFL career would turn out after he became a star.
Will Kaepernick ever play in the NFL again?
Colin Kaepernick somehow knew he'd become a 49er. But could he have predicted that he'd be out of football after just six seasons? That's been the case for the political activist. Kaepernick's last pass came on New Year's Day 2017. At that point, LeBron James still played in Cleveland. Tom Brady only had four Super Bowl rings. Patrick Mahomes hadn't even been drafted yet.
Somehow, Kaepernick been a free agent for almost as long as he played in the NFL. Politics aside, there's no doubt that he possesses the physical skills to play in the league. Yet, not a single NFL franchise has signed him as far-lesser talents have taken snaps under center.
Several intriguing teams could give Kaepernick a chance. The New England Patriots have never been afraid to take a chance on a controversial player. And considering their QB depth chart consists of Jarrett Stidham and Brian Hoyer, Bill Belichick would be smart to consider taking a flyer on the former 49ers star.
The Ravens would be another logical fit given Lamar Jackson's dual-threat skill set. But at the end of the day, it'll take a strong owner and head coach who are willing to deal with the public backlash of taking on a lightning-rod figure like Colin Kaepernick.