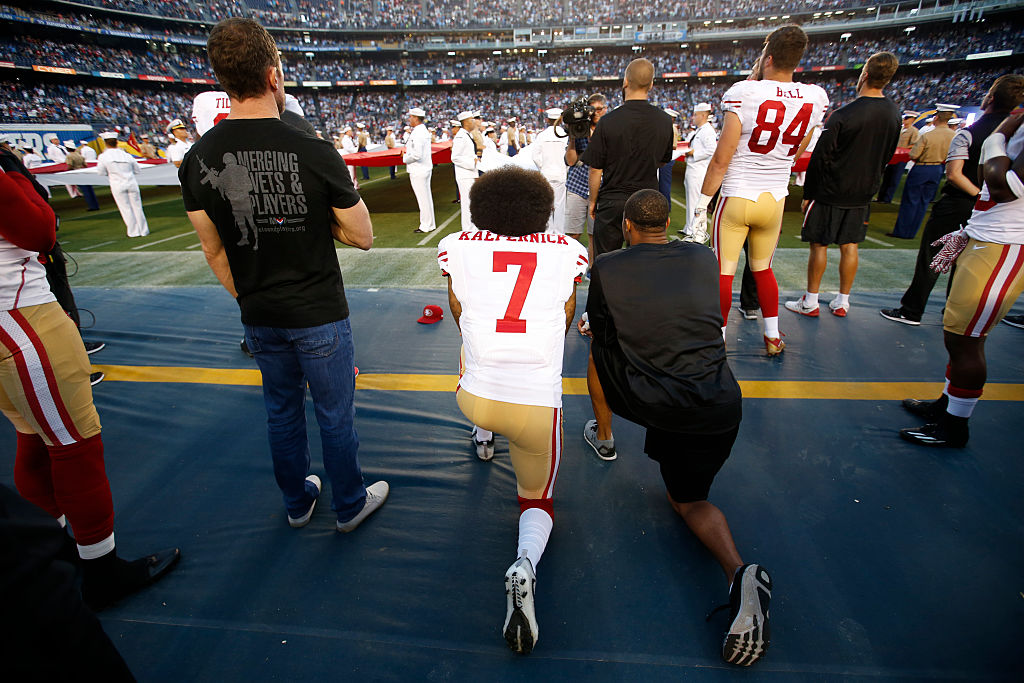 Why Former Green Beret Nate Boyer Convinced Colin Kaepernick to Kneel During National Anthem
Nate Boyer is an American hero. He served as a Green Beret in Iraq and Afghanistan. Some of his most important work was talking with Colin Kaepernick about why he should kneel during the anthem.
It all started with a letter. Former Green Beret and Seattle Seahawks player Nate Boyer penned an open letter to Colin Kaepernick on his protest that was published in the Army Times in August 2016. Kaepernick saw it, reached out to Boyer within hours, and just days later, the two men sat together for the first time. That meeting changed Kaepernick's stance and was the beginning of a national conversation on police brutality and social injustice that is the focus of a nation four years later.
Who is Nate Boyer?
Nate Boyer doesn't look like a football player. The 5-foot-10-inch, 185-pound Boyer also doesn't strike you as a warrior. But that's exactly what he was before he decided to play football. 
Boyer served a total of six years as a United States Army Green Beret on tours in Iraq and Afghanistan. At the end of his first tour in Iraq in 2009, he was awarded the Bronze Star for meritorious combat operations. In 2010, despite never playing organized football, Boyer walked on at the University of Texas as a 29-year-old freshman. 
His career didn't look promising after two seasons in Austin. After a redshirt his first season, he played one game on special teams the second year. Boyer, however, had a plan. While on summer deployments with the National Guard in Afghanistan, Boyer trained himself to be a long snapper, watching YouTube videos to learn the technique.
In 2012, he won the starting long snapper job and held the position for the next three seasons. During that same time, he excelled in the classroom and was Academic All-Big 12 each season. He graduated in May 2013 with a degree in physical culture and sports.
Colin Kaepernick reaches out to Nate Boyer
Nate Boyer signed as a free agent with the Seattle Seahawks in 2015. He played in a single preseason game against Denver before the team cut him. For Boyer, playing in an NFL game was memorable. Standing on the sidelines during the national anthem was meaningful. 
A year later and out of the game, Boyer learned about Colin Kaepernick's initial protest where he sat on the bench as the national anthem played during a preseason game on August 26. Four days later, Boyer penned an op-ed piece for the Army Times expressing his thoughts on Kaepernick's stance. He ended his letter by saying he was listening with an open mind.
Kaepernick saw the letter, and three days later he and Boyer met in San Diego in the team's hotel lobby before the 49ers matchup that night against the Chargers. During their more than hour-long conversation, both men discussed a variety of issues, including Kaepernick's thoughts on social injustice, police brutality and why he was protesting. Boyer talked about his time in the military and how sitting on the bench away from his teammates could be viewed as divisive and hurtful. 
The two men came up with a compromise. Kaepernick would take a knee. It would allow him to still protest, but it would be unifying because he would still be part of his team. And it would be respectful.
"Taking a knee, honestly, is a sign of respect," Boyer told Colin Cowherd in an interview. "People take a knee to pray. We would take a knee in front a fallen brother's grave. I saw that image, while still getting his point across, much more respectful."
Nate Boyer's views on what's happening today  
Four years later, Kaepernick's kneeling is now a focal point of discussion following the death of an unarmed black man, George Floyd, at the hands of Minneapolis police. Numerous athletes have invoked Kaepernick's name, reminding others of the quarterback's protest on police brutality years earlier.
Despite Kaepernick's original intent, some still view his kneeling as insulting and disrespectful, including New Orleans Saints quarterback Drew Brees. Brees generated a firestorm of controversy when he said, "I will never agree with anybody disrespecting the flag of the United States of America or our country." 
In an interview on Fox Sports Radio with "The Odd Couple with Rob Parker and Fred Roggin," Boyer said he believes Drew Brees is a good guy, does a lot of good in his community, but he was wrong for his comments.
"In this time, as a white person, we have come to a point, now more than ever, we need to listen… It seemed a bit tone deaf to a lot of people considering what's going on this week," Boyer said.
"I stand with pride every time I hear that song like Drew was saying. Not everybody feels that. If people don't feel like they count the same way, I would never expect someone to stand and put their hand over their hearts, saluting the flag out of obligation. That's not the kind of country I want to live in, and that's not what I fought for. I want people to feel the same way that I do, and if they don't, we gotta fight until they do."
Nate Boyer may be small in stature, but his guidance to Colin Kaepernick four years ago and his words now are powerful. He is a true American hero. And at this time, we need as many of those as we can find.