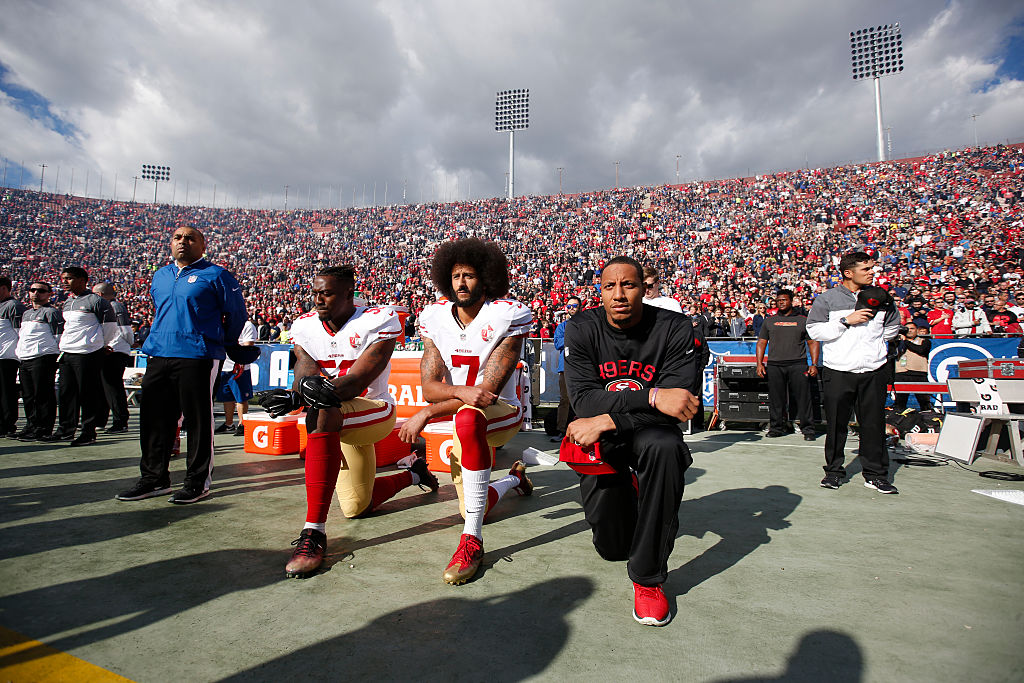 How Much Money Has Colin Kaepernick Donated to Charity Over the Years?
While Colin Kaepernick hasn't suited up for the San Francisco 49ers since 2016, the former quarterback has given plenty of money to charity.
When you think of modern socially-conscious athletes, Colin Kaepernick is one of the first names that comes to mind. The quarterback had a solid career going with the San Francisco 49ers before he started kneeling during the national anthem; after he opted out of his contract, he found himself effective blackballed. Kaepernick's activism, however, hasn't been limited to the football field.
Although he's no longer kneeling on the gridiron, Colin Kaepernick is putting his money where his mouth is and working to make the world a better place. How much money has the quarterback given to charity over the years?
Colin Kaepernick's time on the gridiron
When you hear the name Colin Kaepernick today, it's impossible to think of anything other than him kneeling during the national anthem. There was a time, however, when he seemed like the NFL's next big star.
Although he had enough talent to become an MLB draft pick, Kaepernick headed to the University of Nevada to play college football. With the Wolf Pack, he developed into a capable dual-threat quarterback; he piled up 10,098 passing yards, 4,112 rushing yards, and 141 total touchdowns during his time on campus and, after graduation, entered into the 2011 NFL draft.
Based on the quarterback's college resume, the San Francisco 49ers traded up to select Kaepernick early in the second round. He spent his first professional season backing up Alex Smith before taking over the starting job in 2012. He helped led the club to the Super Bowl; between his onfield play and bicep-kissing celebrations, the quarterback seemed destined for stardom.
That bright future, however, never panned out. While Kaepernick brought the 49ers back to the NFC title game in 2013 and signed a sizable contract extension during the following offseason, his play eventually tailed off. The quarterback opted out of his contract in 2016, choosing to hit free agency; he would never find an NFL job.
Taking a knee for something 'bigger than football'
The story of Colin Kaepernick's career, however, isn't those two seasons of success. The entire narrative changed during the 2016 campaign.
Before a preseason game, Kaepernick remained seated during the national anthem; after consulting with Nate Boyer, he began kneeling instead. Overnight, that peaceful protest thrust him into the national spotlight.
"I am not going to stand up to show pride in a flag for a country that oppresses black people and people of color," Kaepernick explained, according to NFL.com. "To me, this is bigger than football, and it would be selfish on my part to look the other way. There are bodies in the street and people getting paid leave and getting away with murder."
While other players began kneeling or staying in the locker room during the anthem, Kaepernick became the face of the protest. That reality, however, cost him his NFL career.
Colin Kaepernick has given plenty of money to charity
Although Colin Kaepernick hasn't suited up for an NFL team in a number of years, his activism hasn't stopped. In fact, we know that the quarterback has given more than $1 million to charity.
The bulk of that money came in the form of a million-dollar pledge the quarterback made in 2016. David Fucillo at Niners Nation charted where those donations went; the quarterback gave money to the Coalition to for the Homeless, Mothers Against Police Brutality, and countless causes in between.
In 2016, Kaepernick also founded the Know Your Rights Camp. Earlier this year, he pledged $100,000 to the camp's COVID-19 Relief Fund, as noted by USA Today.
There are also some additional efforts to be accounted for beyond those donations from the quarterback's own pocket. According to a St. Louis Tribune post on Kaepernick's Nike deal, the brand "contribute[ed] to his Know Your Rights charity" as part of their agreement; while that's not a direct donation from Kaepernick's pocket, it's still worth noting. Similarly, the quarterback got several celebrities to donate money alongside him during the tail end of his $1 million pledge. He's also recently set up a legal defense fund for Minneapolis protestors.
On an individual basis, we know that Kaepernick donated at least $1,100,000 since 2016, in addition to his work with the Know Your Rights Camp and other causes. If nothing else, he's been putting his money where his mouth is.
All stats courtesy of Sports-Reference and Pro-Football-Reference