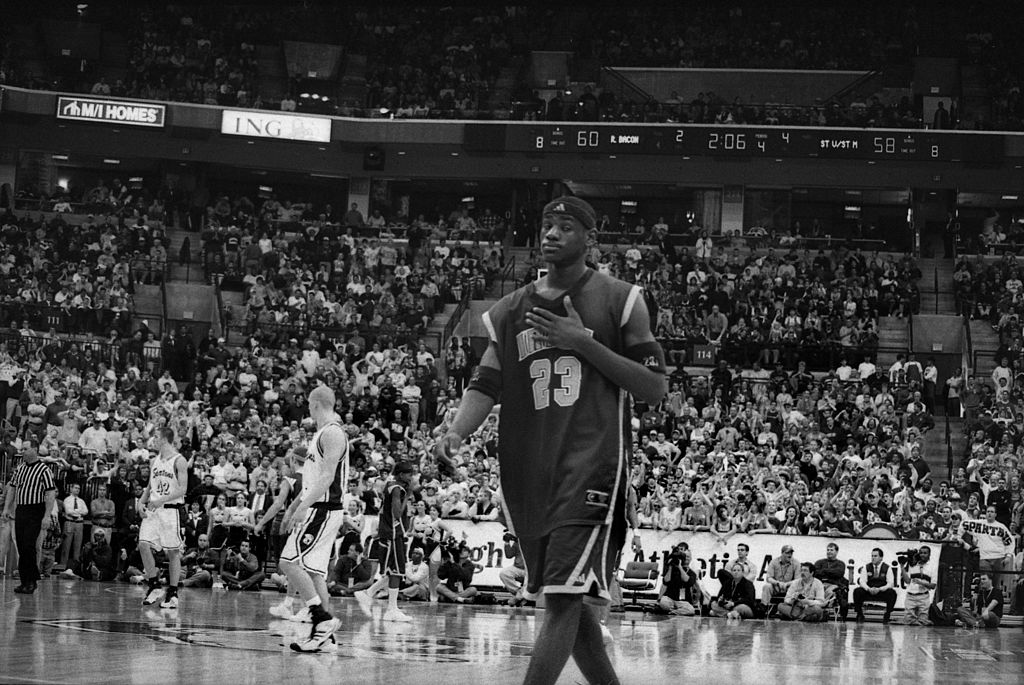 LeBron James Made the Best Decision by Turning Down $10 Million in High School
LeBron James faced a difficult decision as a teenager: Take $10 million from Reebok to not talk to other brands, or keep his options open.
LeBron James didn't become one of the richest athletes in the world by making bad business decisions. In fact, the Los Angeles Lakers star faced a situation that most high-schoolers could never dream of.
Yet, the strong-willed, strong-bodied teenager rejected an offer that would have made him an overnight millionaire. And that turned out to be an incredibly wise choice.
LeBron James was a superstar before he even got to the NBA
Before he ever stepped foot on an NBA court, everyone knew LeBron James had a chance to follow in Michael Jordan's footsteps. Supremely athletic, the multi-sport star dominated on both the football field and the basketball court. Ultimately, though, he made the right call to hang up his cleats.
Already a legend by his teenage years, the Ohio native starred for St. Vincent-St. Mary High. He averaged 21 points as a freshman, which only set the stage for future dominance. James earned the state of Ohio's Mr. Basketball award as a sophomore. By his junior year, everyone talked about him as the next MJ. And for good reason.
A physically dominant force, LeBron looked like a man amongst boys at the high school level. Viewers could watch him throw down thunderous dunks on national television. Simply put, the teenager lived up to his billing as "The Chosen One." And that made him an incredibly attractive prospect for major shoe companies seeking to capitalize off his impending NBA career.
Reebok's offer to an 18-year-old LeBron
Before he went No. 1 overall to the Cleveland Cavaliers in 2003, LeBron James already faced a ton of pressure on and off the court. A truly once-in-a-lifetime talent, he became a hot commodity due to his superstar status before he even graduated high school. According to Business Insider, that led to an unbelievable offer from Reebok that put the 18-year-old in a tough position.
According to James and Carter, when James was in high school he took a meeting with former Reebok chairman and CEO Paul Fireman. In the meeting, Fireman offered James $10 million upfront to sign with Reebok and not talk to Nike or Adidas. According to James, he was bewildered by the process.

LeBron said he was at loss for words initially. He knew the money would literally change his life, but ultimately he left the deal on the table.
"I started thinking, like, 'If this guy… if he's willing to give me a $10 million check right now, what is it to say if Nike or Adidas isn't willing to give me $20 or $30 [million] upfront.' Or to say if maybe the upfront money isn't the biggest thing. Maybe let's start thinking about the backend," James said.
James smartly partnered up with Nike
Turning down $10 million would be an impossible ask of any teenager. But even though he couldn't legally drink a beer yet, LeBron showed incredible wisdom and business acumen to reject Reebok's proposal. Let's just say he more than made up for that missed opportunity.
According to ABC News, the high-school phenom signed a $90 million deal with Nike. By exercising patience and betting on himself, the No. 1 pick scored an $80 million upgrade over Reebok's offer. The shoe deal represented just the first of many savvy business moves by The King. He eventually signed a lifetime deal with Nike that's reportedly worth about $1 billion.
Thanks to investments in Liverpool FC, Beats by Dre, and even his powerful financial reach through Instagram, LeBron James has an estimated net worth of $480 million, according to Celebrity Net Worth. Take that, Reebok.