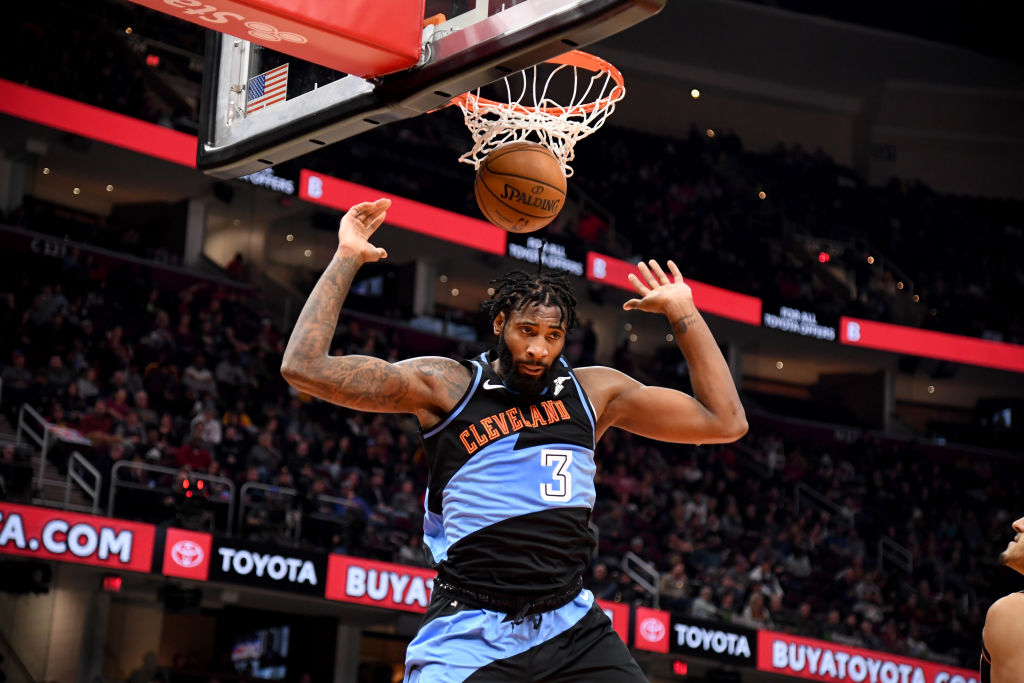 Cavaliers Star Andre Drummond Made a Waitress Cry With His Generous Tip
Cavaliers star Andre Drummond has made more than $100 million in his career. He left an unbelievable tip that brought a waitress to tears.
As restaurants begin to open in the wake of the COVID-19 pandemic, waiters and waitresses can finally begin to make up for lost wages. So when you're an NBA star like Andre Drummond, you can certainly afford to splurge when you dine out. The Cleveland Cavaliers center made sure that his waitress had an unforgettable day back on the job by leaving her an insane tip that will go a long way toward helping her pay the bills.
Andre Drummond's NBA career
Andre Drummond is a hero off the court. But when he's playing under the bright lights, he's an absolute animal. The Detroit Pistons drafted the big man with the ninth overall pick in the 2012 NBA draft. The former UConn star started just 10 games as a rookie. However, it didn't take him long to establish a reputation as a double-double force.
The league's most elite rebounder has pounded the glass for nearly a decade. Utilizing his massive 6-foot-10, 279-pound frame, he's bullied his way in the paint and developed into one of the NBA's best centers. A two-time NBA All-Star, he led the league in rebounding three times with the Pistons before getting traded to the Cavaliers this season.
In 548 starts, Drummond has averaged 14.5 points, 13.8 rebounds, 1.6 blocks and 1.4 steals. Considering the pounding he takes, that he rarely misses games. Excluding his rookie year, the powerful big man missed just 10 games in a six-year stretch. Achieving that level of productivity while staying healthy has made the New York native a wealthy man.
Cavaliers center has earned more than $100 million
Speaking of Andre Drummond's bank account, he parlayed his unique skill set into a massive payday. According to Spotrac, Cleveland's starting center has earned $109 million in his eight-year NBA career. He didn't start out making terrific money, though. In fact, in his first four NBA seasons, Drummond made less than $11 million. That's certainly not chump change, but it didn't put him amongst the league's elite earnings.
However, he broke the bank in the summer of 2016. Coming off his first All-Star selection, Drummond earned a five-year, $127 million contract from the Pistons. He went from making just $3.27 million in 2015-16 to a whopping $22.1 million in the first year of his new deal. Detroit paid Drummond almost $50 million combined over the next two years and was scheduled to pay him nearly $30 million this season.
Unfortunately, he didn't finish out his deal in Detroit. The Pistons traded him to the Cavaliers in February in a salary-dump move. Drummond averaged 17.5 points, 11.1 rebounds, and 1.4 blocks in eight games for the Cavs before the coronavirus pandemic put the NBA season on pause.
Drummond gave his waitress an unbelieve tip
With more than $100 million in career earnings, Andre Drummond has the ability to spend freely without worrying. Unlike other athletes who have wasted their fortunes on jewelry or expensive cable, the Cavaliers star decided to use his financial standing to turn a waitress's ordinary shift into the most unforgettable day of her life.
According to ESPN, the big man dined at Che Restaurant in Delray Beach, Fla. When the bill arrived, it totaled $164, which certainly isn't cheap. When his server, Kassandra Diaz, came back to collect the signed check, she couldn't believe her eyes. Drummond left a $1,000 tip.
"When I was given the checkbook, I went to put in the tip & information to close the table and I couldn't believe it," Diaz wrote alongside a picture of the receipt she posted on Instagram. "From a $160 check, the tip read $1,000. I was shaking and had tears of happiness after what he left me."

Diaz said that business has been slow since the restaurant re-opened. Fortunately, she scored an unexpected payday thanks to the kindness of Andre Drummond.