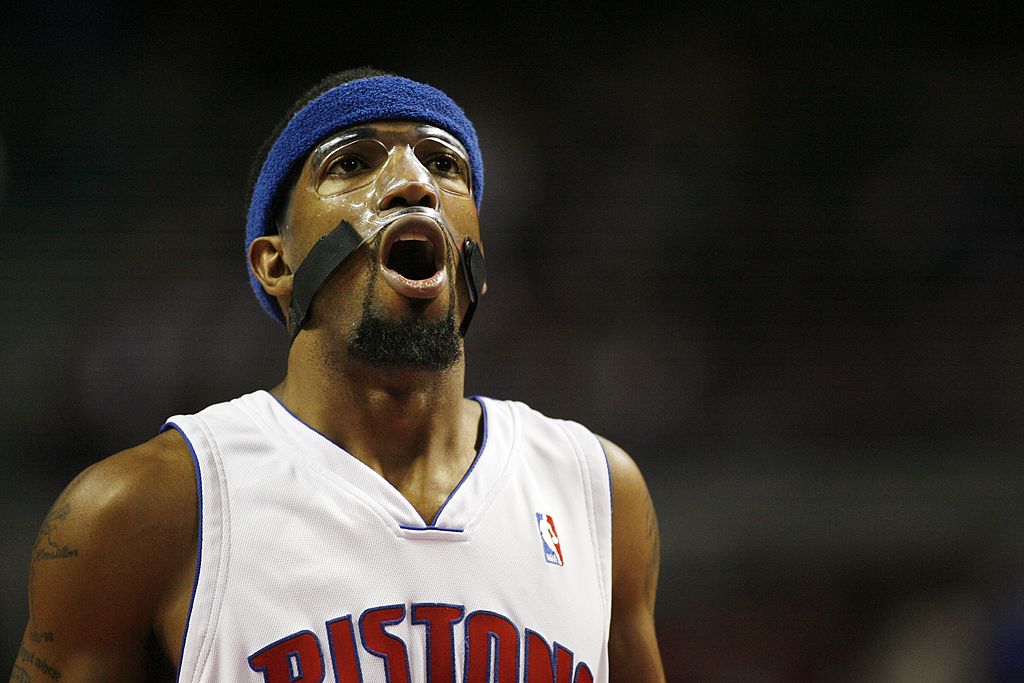 Why Did Rip Hamilton Wear a Mask?
Rip Hamilton became an integral part of the Detroit Pistons. The smooth-shooting scorer spent nearly his entire NBA career wearing a protective mask.
You can't talk about Rip Hamilton without mentioning his signature mask. The longtime Detroit Pistons star made a ton of buckets in his 14-year NBA career. Along the way, he earned three All-Star selections and helped the Pistons win an NBA title. He even got to play next to Michael Jordan for a few years.
The smooth-shooting Pennsylvania native began making a name for himself during a prolific college career at the University of Connecticut. And while his scoring touch made him one of the best Pistons players of all time, both casual and diehard NBA fans remember Hamilton for one distinct reason: his mask. Let's peel back the curtain and dive into why he spent nearly his entire NBA career behind a mask.
Rip Hamilton began his NBA career playing alongside Michael Jordan
While most fans remember Rip for his days in Detroit, he actually kickstarted his NBA career playing alongside Air Jordan in Washington. The Wizards selected Hamilton with the seventh pick in the 1999 NBA draft. He entered the league with a reputation as a go-to scorer after averaging 21.5 points in each of his final two seasons at UConn.
Ironically, the highly-skilled scorer landed in the same city as the greatest player of all time. Though Jordan's athleticism had faded, he still could drop 20 points easily on any given night. Hamilton and Jordan teamed up to average over 20 points together during the 2001-02 season. However, the Wizards went just 37-45. Though he looked like a key building block, Hamilton ended up getting traded to the Pistons in a package deal headlined by Jerry Stackhouse.
Pistons star required protective face mask after breaking his nose twice
After bringing in Hamilton, the Pistons also traded for Chauncey Billups and drafted Tayshaun Prince. Along with defensive stalwart Ben Wallace, the Pistons had the makings of a young, up-and-coming squad. Immediately, Hamilton became the team's go-to scorer. In his debut season in Detroit, he averaged a team-high 19.7 points and helped lead the Pistons to the Eastern Conference Finals.
However, the 2003-04 season is where everything changed. After already breaking in 2002, Hamilton broke it twice during the beginning of the 03-04 season. The budding star decided to don a protective mask in order to avoid needing nasal reconstructive surgery. While some players would be bothered by the apparatus, Hamilton took in stride. He actually referred to the mask as his "Superman cape", and he spent the rest of his NBA career wearing it.
Hamilton won only NBA championship in his first season wearing signature mask
Ironically, Rip's first year wearing the protective mask turned out to be a memorable one. The then-25-year-old led the Pistons in scoring (17.6 points per game) and set a new career-high in field-goal percentage (.455). Detroit also added All-Star forward Rasheed Wallace to the mix—a move that added toughness and another prime scoring option to the mix.
Detroit's starting five did not feature one standout superstar, but it did feature versatile, gritty players who valued defense tremendously. Detroit boasted the league's second-best defense, and with Hamilton and Billups providing a dynamic one-two punch out of the backcourt, the Pistons bullied their way throughout the playoffs.
After taking down the Milwaukee Bucks in the first round, Hamilton and the Pistons defeated the New Jersey Nets in a riveting seven-game series. To no one's surprise, Rip averaged a team-high 20.6 points and even shot 45.5 percent from three-point territory. In the Eastern Conference Finals, Hamilton led all scorers with 23.7 points per game.
However, he saved his best for last. Facing a daunting Los Angeles Lakers squad featuring Shaquille O'Neal and Kobe Bryant, the Pistons' top scorer showed why he's one of the most underrated players in NBA history. Hamilton paced the Pistons with 21.4 points per game, including a team-high 21 in the series clincher. It turns out that Rip Hamilton's only NBA championship ring came in his first season wearing his mask.