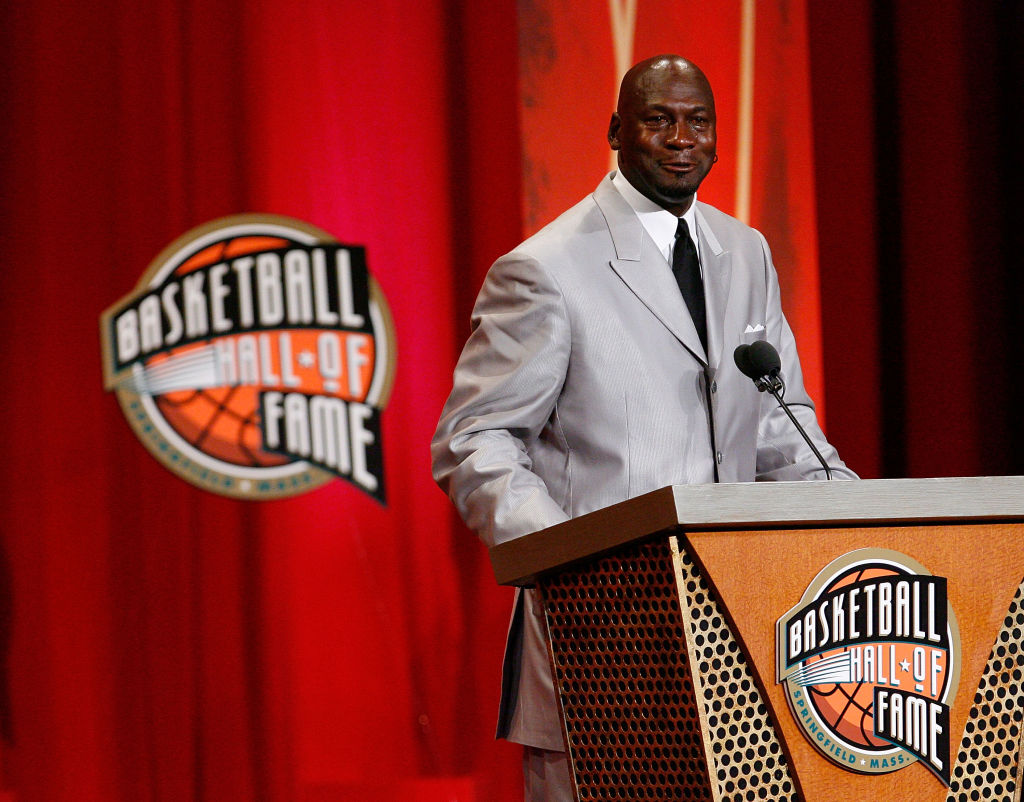 Michael Jordan Pulled the Ultimate Power Move When LeBron James Threatened His GOAT Status
Michael Jordan made sure he wouldn't lose his GOAT status to LeBron James by pulling the ultimate power move to stay atop his throne.
Michael Jordan didn't win six NBA championships by being a nice guy. And he certainly didn't earn GOAT status by taking it easy on opponents. Notoriously competitive almost to a fault, Jordan's attitude and dedication made him unstoppable in his prime. However, since retiring from the game, he's watched LeBron James go from an uber-talented kid to a worthwhile peer.
Younger NBA fans and even media members have constantly compared LeBron to MJ. No matter what side of the GOAT debate you fall on, there's no doubt that both NBA legends have impacted the game in so many ways. Yet, Michael Jordan made sure to stay atop his throne by pulling the ultimate power move when it appeared LeBron James had closed the gap on the GOAT debate.
Michael Jordan cemented his GOAT status with six NBA titles
Like Tom Brady, Michael Jordan cemented his GOAT status with clutch postseason play. That's not to say MJ didn't perform in the regular season. After all, you don't make the playoffs an annual habit without taking care of business across 82 games. Jordan led the NBA in scoring in seven straight years before he briefly retired to play baseball.
Once he returned, he picked up where he left off as the league's most unstoppable force. However, we don't discuss Michael Jordan as the GOAT because of his regular-season dominance. For the greatest competitor in team sports, it only mattered when the stakes were highest.
Jordan's 179 playoff games equal out to more than two full NBA seasons. Though the Bulls came up short in his first six postseason trips, everything changed when Scottie Pippen made the leap to superstar status. Together, the dynamic duo, along with Horace Grant, won three straight titles to kick off the decade.
Shining in the postseason became a staple of Michael Jordan's legacy. He actually averaged more points in the playoffs than he did during the regular season. He simply refused to accept defeat. The greatest player in NBA history permanently cemented his legacy by bringing three more championships to Chicago.
LeBron James finally brought a championship to Cleveland in 2016
Unlike Michael Jordan, LeBron James didn't benefit from playing with top-end talent in his first stint in Cleveland. Still, he carried the Cavaliers to five straight playoff appearances before famously taking his talents to South Beach. Though LeBron put up monster numbers, he didn't win a title until joining forces with Dwyane Wade and Chris Bosh. Critics could say that LeBron sold out in order to finally capture a championship.
So after four fantastic years in Miami, LeBron made the surprising decision to return home. This time, the two-time NBA champion enjoyed a better supporting cast. A young Kyrie Irving and in-his-prime Kevin Love gave LeBron two high-end partners with varying skill sets. In addition, J.R. Smith made an impact as a scorer.
The Cavaliers advanced all the way to the NBA Finals in LeBron's first year back. However, they fell to the Golden State Warriors in six games. That set the stage for an epic rematch in 2016. Finally, after years of criticism from fans and the media, LeBron James made Cleveland a city of champions.
Jordan's power move to stay atop his NBA GOAT throne
Getting that weight off his back meant everything to LeBron. At the same time, it gave him three titles to go along with four NBA MVP awards. All those haters suddenly had to consider that he did belong in the GOAT conversation alongside His Airness. Let's not pretend that the reigning king of the NBA didn't pay attention to that, either. In fact, according to Insider, Jordan's decision to greenlight The Last Dance came right when LeBron captured his third NBA title in 2016.
"Jordan never wanted it, and you know what I think happened is, the middle of the decade, especially after LeBron won that [Cavaliers] title, when things really started to shift and all of a sudden there was a Jordan versus LeBron argument, I think for the first time Jordan and his camp realized, 'Oh, we've got to protect our legacy,'" [Bill] Simmons said on "The Herd" with Colin Cowherd.

Ultimately, we'll never know why Michael Jordan decided to finally go forward with the documentary series. But it certainly wouldn't be surprising if the most competitive athlete to ever live did so in order to remind everyone why he, and not LeBron James, is the NBA's GOAT.