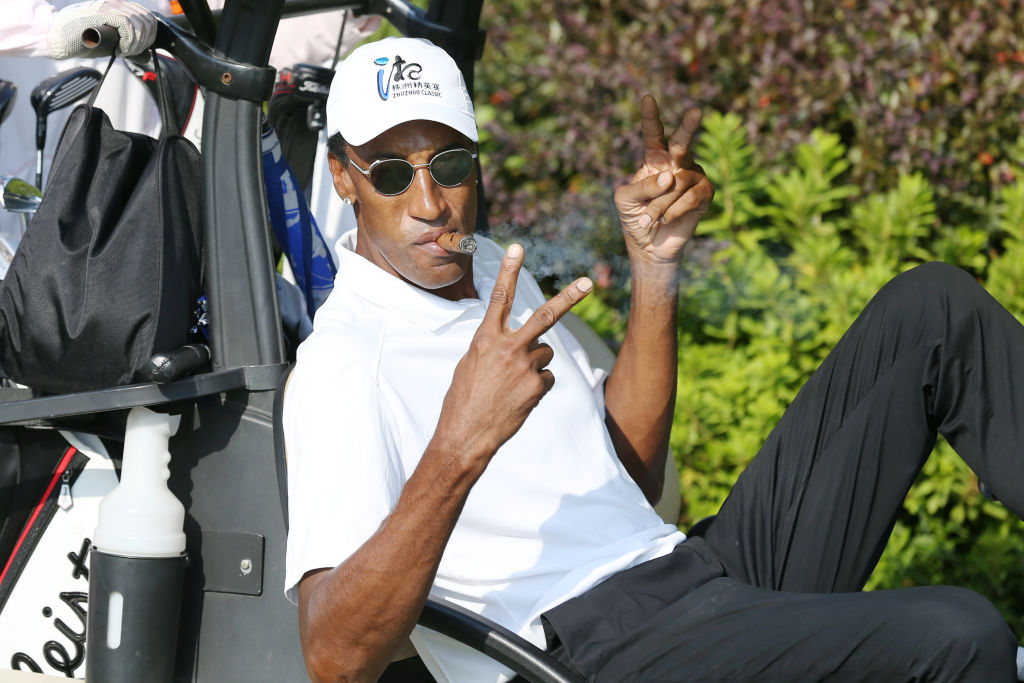 Scottie Pippen Blew $4.3 Million on a Plane That Couldn't Fly
Scottie Pippen became a well-paid legend with the Bulls. Unfortunately, he wasted $4.3 million on a plane that couldn't even fly.
Professional athletes like Scottie Pippen can afford a few financial failures. That's just part of the territory when you have tens of millions in the bank. However, like Knicks bust Eddy Curry, the Chicago Bulls legend managed to lose most of his NBA fortune on some truly bizarre investments. Instead of watching his net worth take flight, Pippen literally bought a $4.3 million plane that couldn't fly.
Scottie Pippen became a Bulls legend
A supremely talented small forward, Scottie Pippen played his college ball at the University of Central Arkansas. The Seattle SuperSonics selected the future Hall of Famer with the fifth overall pick in the 1987 NBA draft before sending him to the Chicago Bulls.
Despite playing in Michael Jordan's shadow, the 6-foot-8, 210-pounder proved to be the perfect complement to His Airness. By his third season, Pippen made his first All-Star team after averaging 16.5 points, 6.7 rebounds and 5.4 assists. More importantly, he provided a lockdown defensive presence capable of guarding opposing stars.
Pippen truly took his game to another level in 1991, when he made his first of six straight All-Star selections. His unique ability to score, rebound, pass and play defense made him an invaluable piece of Chicago's six NBA championships. The Jordan-Pippen duo truly revolutionized the game, and along with Dennis Rodman, the Bulls simply dominated the NBA in a manner that will never be seen again.
Hall of Famer made more than $100 million in NBA career
With the Bulls' dynasty ending, Chicago traded its longtime star to Houston. Pippen spent just one year with the Rockets before spending four years with the Portland Trailblazers. Though he was past his prime, the NBA legend still managed to average 11.4 points, 5.3 rebounds and 5.0 assists in 272 games. The Pippen addition even helped the Trailblazers advance to the NBA Western Conference Finals, where they fell short against the dominant duo of Shaq and Kobe. He made a brief return with the Bulls before retiring after his age-38 season.
In 17 seasons, the seven-time All-Star managed to do quite well for himself financially. Ironically, Pippen didn't truly begin banking until he left the Bulls. His highest salary in Chicago came in 1993-94 when he pulled in just north of $3 million. While Jordan brought in $63 million in his final two seasons in Chicago, Pippen's salaries totaled just $6 million.
However, he got a major salary boost thanks to a lucrative contract with the Trailblazers. Shockingly, more than half of Pippen's $109 million career earnings came from his four-year run in Portland. He took home a career-high $19.7 million in 2002 despite averaging just 10.8 points.
Pippen's failed $4.3 million flight attempt
For such a smart NBA player, Scottie Pippen surely made one of the dumbest financial moves of any athlete. In 2002, he spent a whopping $4.3 million on a Gulfstream jet. Perhaps his mega raise inspired him to splurge. Whatever his rationale, like his bank account, his dream of flying came to a crashing halt.
It turns out the Bulls legend dropped millions on a jet that couldn't even fly. Only later did Pippen discover that the plane needed roughly $1 million in repairs in order to become operable. Talk about a serious lack of due diligence.
The flight fiasco resulted in a major lawsuit. Like he did with the Bulls, Pippen came out on top. In 2010, he won $2 million judgment against the Chicago law firm he blamed for failing to properly monitor his plane purchase. A year later, he won a $2.37 million judgment against Miami businessman Craig Frost and CF Air. Ironically, the lawsuit involved another plane fiasco with the NBA legend's company Air Pip.
Because of a number of other failed investments, Scottie Pippen is worth about $30 million despite earning nearly four times that amount from the NBA.