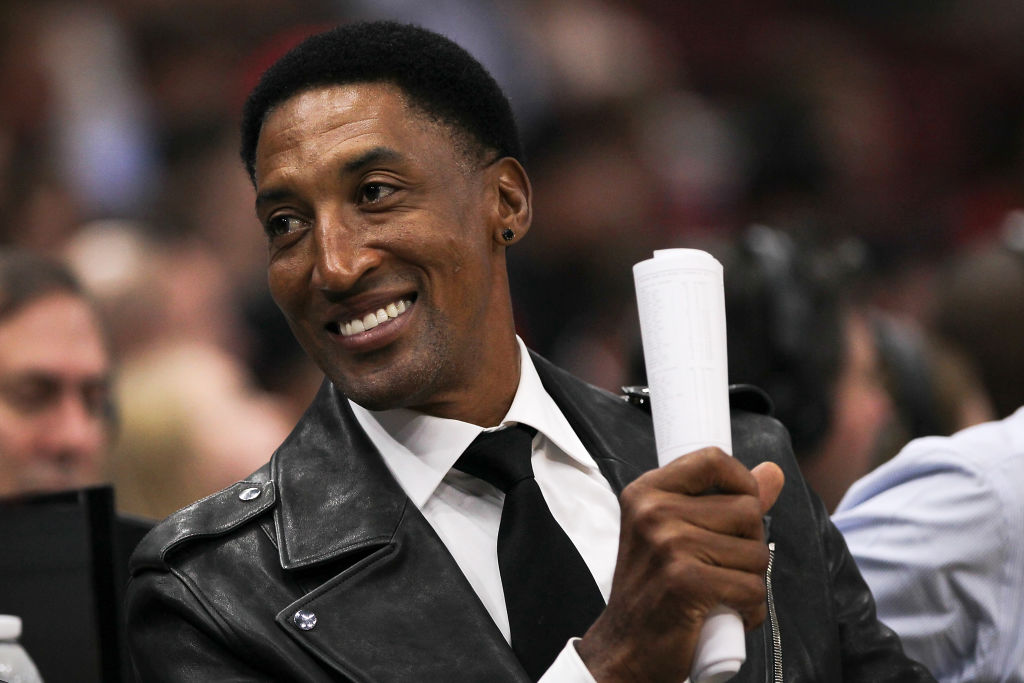 Scottie Pippen's Salary Didn't Even Crack the Top 5 on the Chicago Bulls During 'The Last Dance' Season
Scottie Pippen was vastly underpaid during "The Last Dance" season of 1997-1998 with the Chicago Bulls. Here's a look at his salary history.
Scottie Pippen cemented his status as one of the all-time greats in NBA history alongside Michael Jordan as the Chicago Bulls won six titles in eight years during the 1990s. He was just never paid like one during his time in the Windy City.
As a member of the Bulls, Pippen was a seven-time NBA All-Star, which included winning All-Star Game MVP in 1994, a seven-time All-NBA selection, a two-time gold medalist, and was named as one of the league's 50 greatest all-time players in 1996. And yet he was never given the big contract by Bulls ownership, constantly taking contracts well below market value.
In fact, during "The Last Dance" season of 1997-1998, the season in which Chicago won their sixth and final NBA title, did you know that Scottie Pippen didn't even make the top five in salary? And that's not in the NBA. That's on his own team.
Scottie Pippen was always vastly underpaid during his time with the Chicago Bulls
Scottie Pippen was clearly the second-best player for the Chicago Bulls during their championship runs but he was always paid well below market value. Take "The Last Dance" season of 1997-1998 for example. Michael Jordan was still the best player in the NBA at that time and was naturally paid as such, earning more than $33 million. As the second-best player on the team and still one of the best in the league overall, one would think that Scottie Pippen made at least half of that, right? Not exactly. Okay, at least one-third of that? Wrong again. In 1997-1998, Pippen made $2.775 million, good for 122nd in the NBA that season. To put that in perspective, the man he was traded for during the 1987 NBA draft, Olden Polynice, made $3.61 million that year, good for 75th. What's worse is that he wasn't even in the top five salaries on his own team. Here's what the top six salaries for the Chicago Bulls looked like that year.
Michael Jordan: $33,140,000
Toni Kukoc: $4,560,000
Ron Harper: $4,560,000
Dennis Rodman: $4,500,000
Luc Longley: $3,184,900
Scottie Pippen: $2,775,000
That's absurd. I'll never say that I feel sorry for anyone who made close to three million bucks for playing a game but that's just wrong. With all due respect to Luc Longley, who actually was vastly underrated as a player, but there's no way that he should be making more money than Scottie Pippen. But that's how it went for No. 33 in Chicago. Starting with the Bulls' first title season in 1990-1991, look how underpaid he was.
1990-1991: $765,000
1991-1992: $2,770,000
1992-1993: $3,425,000
1993-1994: $3,075,000
1994-1995: $2,225,000
1995-1996: $2,925,000
1996-1997: $2,250,000
1997-1998: $2,775,000
2003-2004: $4,917,000
Look at that last number. In Scottie Pippen's final year in the NBA, a sendoff season in 2003-2004 in which he averaged 5.9 points in 23 games, he earned more money with the Bulls than he ever did in his prime. That's insanity.
He made more in one year in Houston than he did during the entire Bulls' second three-peat
When the Chicago Bulls were disbanded following "The Last Dance" season of 1997-1998, Scottie Pippen found himself with the Houston Rockets, playing alongside former MVPs Hakeem Olajuwon and Charles Barkley. Barkley actually took a massive pay cut to open up salary-cap space for Pippen, making just one million dollars that season after signing a big contract ahead of the previous season.
While Pippen still wasn't the highest-paid player with the Rockets (that was Olajuwon), he still made $11 million, the biggest salary he'd ever had in his career. During the Chicago Bulls' second three-peat, Scottie Pippen made a combined total of just under $8 million. He easily passed that in one lockout-shortened season in 1999.
Scottie Pippen made more in Portland than he did anywhere else
Honestly, Scottie Pippen didn't start making big-star money until his career was on the decline. He was never the top option for the Portland Trailblazers from 1999-2003 but he was sure paid like one. Here's what he made during his run with the Blazers.
1999-2000: $14,795,642
2000-2001: $13,750,000
2001-2002: $18,083,564
2002-2003: $19,727,524
In his final season with the Blazers, he made more money than he did in the six seasons in which he won titles in Chicago…combined. It's certainly not a wonder why Scottie Pippen always seemed to be a bit unhappy with Bulls management.