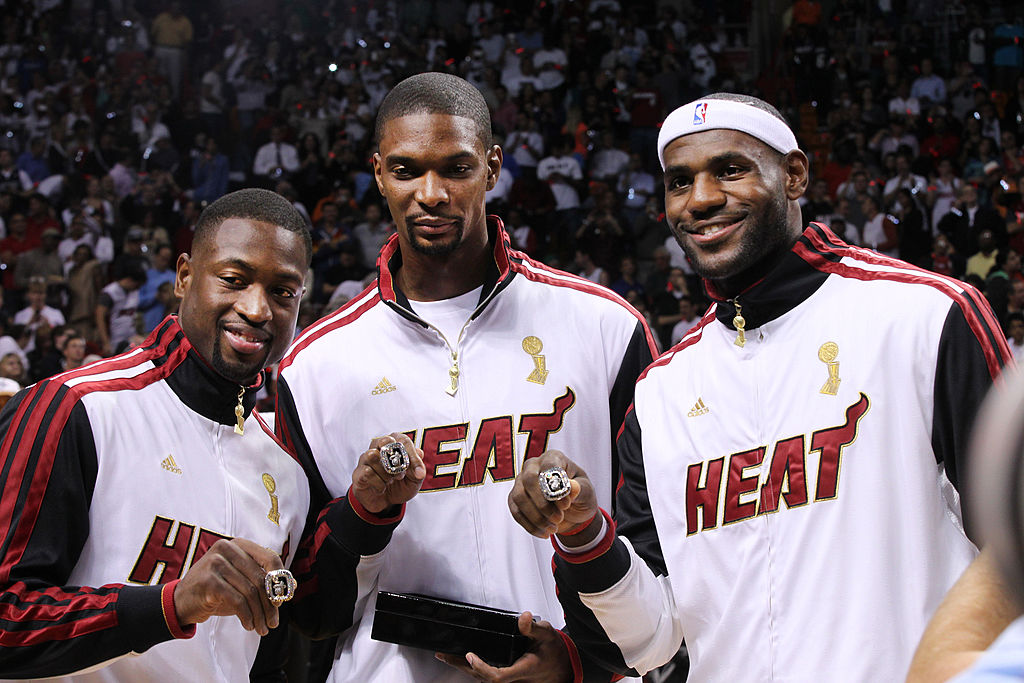 LeBron James and His Heat Teammates Racked Up an Insanely Expensive Bar Tab While Celebrating Their First NBA Title Victory
LeBron James and the Miami Heat celebrated their first championship in the only way King James could with a $200,000 bar tab.
LeBron James spent the first half of his NBA career searching for a championship. The former high school prodigy certainly did everything in his power to bring a title to Cleveland. But after years of individual dominance, he famously made "The Decision" and took his talents to South Beach. Teaming up with Dwyane Wade and Chris Bosh, the Miami Heat boasted one of the best trios in league history. Their individual skill sets meshed so well that the Heat advanced all the way to the NBA Finals.
But with Jason Terry's tattoo powering the Dallas Mavericks to a title upset, LeBron and his teammates had to lick their wounds and plot their revenge. And the next season, the league's best player finally got his coveted championship. And in typical South Florida style, LeBron James and his mates went all out celebrating their title. When it came time to pay the check, the Heat had racked up an insane $200,000 bar tab.
LeBron James' path to the Heat
From the moment he stepped foot on an NBA court, LeBron demanded everyone's attention. From opposing players to teammates to media members, everyone paid attention to and often criticized the budding star's every move. As a 19-year-old rookie, he averaged 20.9 points, 5.5 rebounds and 5.9 assists while helping the Cavaliers increase their win total from 17 to 35.
Over the next six seasons, King James ascended past his contemporaries to become the best player in basketball. A hybrid between Magic Johnson and Michael Jordan, he mixed vicious dunks with incredible passes while transforming Cleveland into a legitimate title contender. However, his supporting cast routinely fell short in the playoffs. And after falling short in the Eastern Conference Semifinals for the second straight season, the two-time NBA MVP decided he'd had enough.
In the most famous and heavily criticized free-agency decision of all time, LeBron announced on live TV that he was taking his talents to South Beach. The Cavaliers' fan base reeled over losing their homegrown star. But for the Heat, the prospect of adding the best player in the world to a core that already featured a former NBA Finals MVP in Wade represented the beginning of a new era.
Miami made up for its NBA Finals loss in the second season of The Big Three
With LeBron and Bosh on board, the Heat wasted no time asserting their dominance over the rest of the Eastern Conference. In his first year in Miami, LeBron averaged 26.7 points, 7.5 rebounds and 7.0 assists while earning his seventh All-Star selection. Wade, who was at the peak of his powers, averaged 25.5 points and remained the face of the franchise.
Bosh, on the other hand, watched his individual numbers take a step back. Of course, that was bound to happen after he went from being the guy in Toronto to the third fiddle in Miami. Still, the Heat managed to advance all the way to the NBA Finals. The Dallas Mavericks boasted a solid trio of their own in Dirk Nowitzki, Jason Terry and Shawn Marion. Surprisingly, the Mavericks took down the Heat in six games.
Determined to right that wrong, LeBron, Wade and Bosh led the Heat right back to the championship round. This time, they ran into Oklahoma City's equally talented but inexperienced trio of Kevin Durant, Russell Westbrook and James Harden. After dropping Game 1 to the Thunder, LeBron and Co. stormed back with four straight wins. LeBron finally won his first NBA championship after coming up short for nearly a decade.
LeBron and the Heat celebrated in style
When you're worth hundreds of millions of dollars, you can afford to pop expensive bottles of champagne. But when you're LeBron James, a few bottles won't suffice. After capturing his long-awaited NBA title, LeBron and his Heat teammates took their partying talents to Fountainbleu's LIV nightclub. Let's just say the club's owner had a highly profitable night.
According to Complex, "LeBron and company rack up a $200,000 bar tab that includes 33 bottles of Cristal, a magnum of Grey Goose, and a $25,000 6 L of Dom Perignon."
Talk about an expensive night out on the town. Of course, the Heat's insanely expensive championship celebration was just a drop in the bucket for LeBron James. The Los Angeles Lakers superstar has an estimated net worth of $480 million.