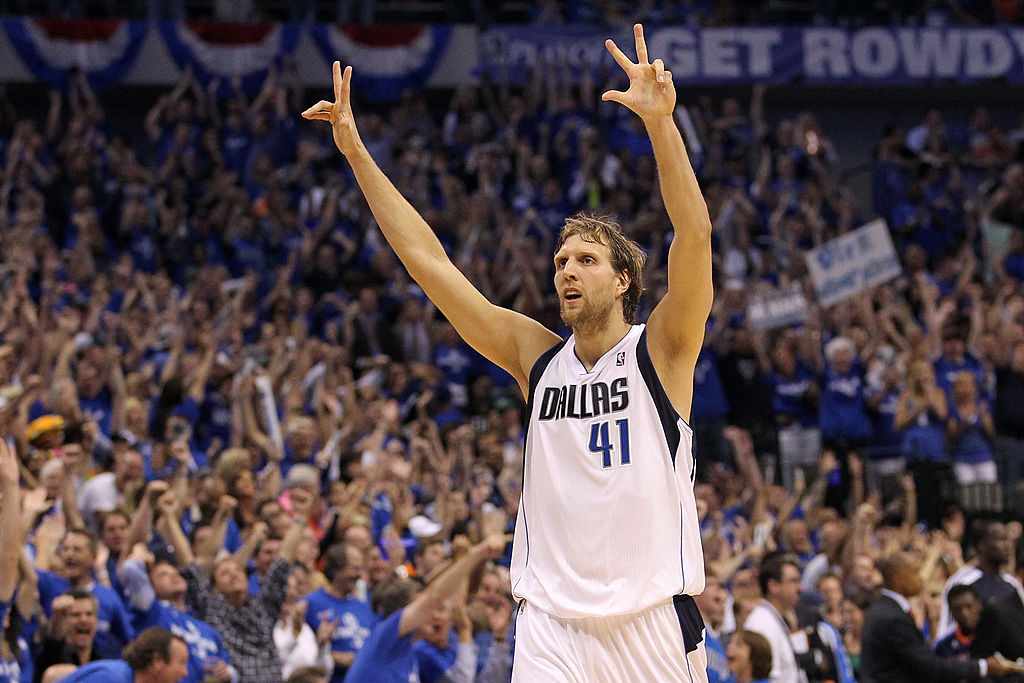 Dirk Nowitzki's Loyalty to the Dallas Mavericks Could've Cost Him More Than $200 Million
Dirk Nowitzki may have sacrificed more than $200 million in his career as he remained loyal to the Dallas Mavericks.
Although he was drafted by the Milwaukee Bucks, Dirk Nowitzki played his entire 21 years in the NBA with the Dallas Mavericks. Nowitzki made himself plenty of money playing basketball for a living, but he could've been nearly $200 million richer had he left the Mavericks.
Dirk Nowitzki's legendary career
Playing in Germany, Dirk Nowitzki was a relatively unknown player heading into the 1998 draft. He had drawn some comparisons to Larry Bird, but his overall game was in question due to the level of competition he was up against.
Nowitzki, a 7-footer with a strong outside game, was selected by the Milwaukee Bucks with the ninth overall pick in the 2018 NBA draft, but was immediately drafted in a package deal involving Robert 'Tractor' Traylor who was taken by the Mavs at No. 6.
Nowitzki went on to play 21 seasons in the NBA – all for the Mavericks – and was a 14-time NBA All-Star. He was the league's MVP in the 2006-07 season when he averaged 24.6 points and 8.9 rebounds per game. In the 2010-11 season, he led the Mavs to the NBA title where he was also named Finals MVP. In his career, the sure-fire future Hall of Famer averaged 20.7 points and 7.5 rebounds per game.
Nowitzki stayed loyal to the Dallas Mavericks
Throughout his career, Nowitzki showed that being comfortable in a situation and being loyal were more important than making as much money as possible. He proved that to be the case when he became a free agent in 2014.
In July of 2014, Nowitzki hit the free-agent market and was heavily pursued. It was widely reported that both the Los Angeles Lakers and the Houston Rockets offered Nowitzki maximum contracts, but he turned them down instead to accept a deal worth $25 million over three years. Marc Stein of ESPN reported Nowitzki took much less to help keep the Mavericks competitive and to help Chandler Parsons ink a three-year deal worth $46 million.
In 2017, Nowitzki did it again, agreeing to a two-year deal worth $10 million to remain in Dallas. According to a 2017 article in Business Insider, Nowitzki agreed to an extension in 2006 with two years left on his deal. Had he not done that, he would've been able to ink a max deal for $158 million in 2008 as a 10-year veteran. Had he not opted out of that max deal, he could've been eligible for another max deal in 2014 worth up to $239 million. Instead, he took much smaller deals and made $220 million-plus in his career as opposed to roughly $440 million.
Mavericks owner Mark Cuban returns the loyalty
In 2019, Dallas Mavericks owner Mark Cuban met with Dirk Nowitzki, who had been recently retired. The two have a very strong relationship and during Nowitzki's retirement ceremony, Cuban had promised to Nowitzki would have a job for life with the Mavs and he would also put "the biggest, most badass statue ever" of Nowitzki in front of the arena.
Cuban also said he didn't speak specifically about what type of role his former player would have with the team. Cuban has previously told Nowitzki that the possibilities were numerous. "That didn't come up because I've already told him it's an open door, whatever he wants. So he's still trying to figure that out."
For 21 years, Nowitzki helped Cuban, the Mavericks and the city of Dallas with his unselfishness. That favor is about to get returned to the big man.