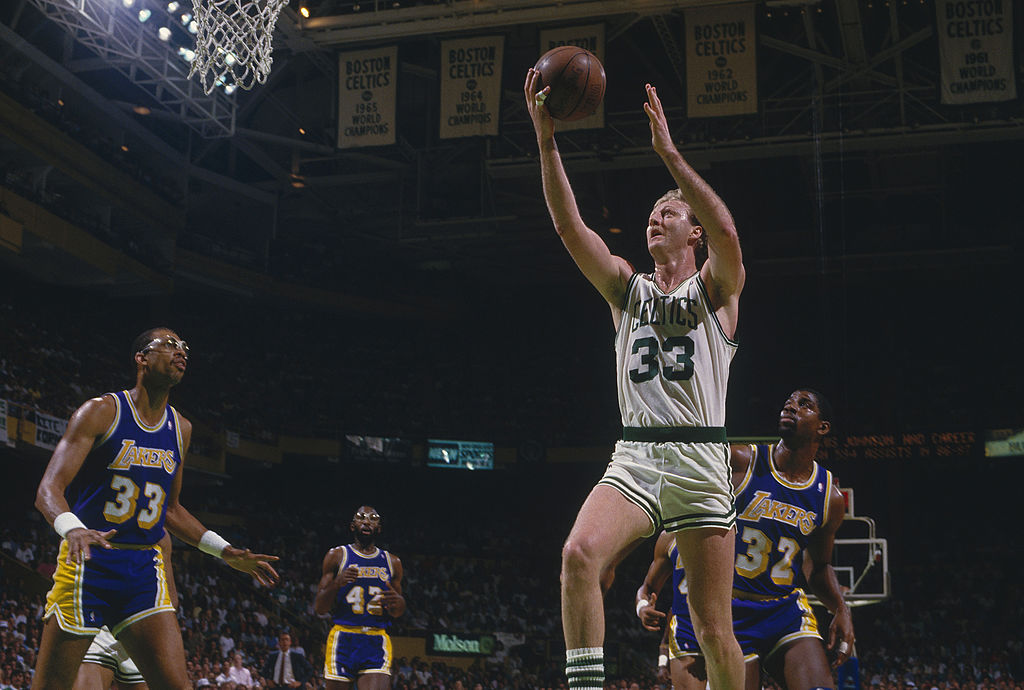 Larry Bird May Have Stayed a Garbage Man If Not for a Man Named Bill Hodges
Boston Celtics legend Larry Bird may have remained a garbage man in college if it wasn't for a man named Bill Hodges.
Larry Bird made a name for himself on the basketball court, but it was his time off the court as a youngster that really made Larry Bird. Bird used basketball as an escape from real life. In college, he nearly gave up the sport until a man named Bill Hodges came to the rescue.
Larry Bird's basketball career
Larry Bird put himself on the basketball map in college when his Indiana State team met Magic Johnson and Michigan State in the NCAA title game in 1979. From there, his career took off. Bird was actually drafted sixth overall by the Boston Celtics in the 1978 NBA draft, but Bird elected to play out his final year at Indiana State and re-enter the draft in 1979. The Celtics had Bird's rights until the 1979 draft kicked off and the two were able to hash out a deal.
Bird went on to play all 13 of his NBA seasons with the Boston Celtics. He was an NBA All-Star in 12 of those seasons and he helped guide the Celtics to three NBA titles. In his first year, Bird played in all 82 games and averaged 21.3 points and 10.4 rebounds per game. Bird was named the NBA's Rookie of the Year.
Bird averaged a double-double in points and rebounds for the first six years of his career. A tremendous free-throw shooter, he led the league in shooting percentage from the foul line in four seasons. He finished his career with a shooting percentage of .886. Bird also made the NBA's All-Defensive Team three times. He was elected to the Naismith Memorial Basketball Hall of Fame in 1998.
Bird's tough teen years
Larry Bird was raised in French Lick, Indiana, which was among the poorest towns in the state. Bird's mother Georgia was a waitress and worked multiple jobs to support Larry and his five siblings. Bird's father Joe was a heavy drinker. His parents divorced when he was in high school and then Joe made good on a threat to kill himself. Joe Bird committed suicide when Larry was 18.
In high school, Bird averaged 30.6 points and 20 rebounds per game. He was recruited by several schools, but ultimately decided to stay in-state and play for Bobby Knight at Indiana University. Bird lasted 24 days at the school as he was overwhelmed by the size. He returned to French Lick and briefly attended a junior college.
Bird also was involved in an unhappy marriage at the time. Bird had a daughter after the marriage had broken up and in order to support himself and his daughter, he left school and worked for the city. He drove a garbage truck, a job he later told Sports Illustrated that he loved. "I loved that job," he said. "It was outdoors, you were around your friends. Picking up brush, cleaning it up. I felt like I was really accomplishing something. How many times are you riding around your town and you say to yourself, Why don't they fix that? Why don't they clean the streets up? And here I had the chance to do that. I had the chance to make my community look better."
Bill Hodges to the rescue
Bill Hodges was coaching at the much smaller Indiana State University and he fought hard to try and get Larry Bird to play basketball at his school. He recalled the day when he made the decision to visit Bird at his mother's house at the time he was driving a garbage truck. Hodges remembered Bird talking about a buddy who could really play ball, but nobody knew about him because he never went to college.
"I said 'Yeah, Larry they're going to say that about you someday','' Hodges said. "I got up and left. It's like being a salesman. You know when you've made the sale. I just left and let him think about things.
"When I went back two days later, he'd made up his mind,'' Hodges continued. "I had all the papers ready. All he had to do was sign and put it in the mail. I'd already put a stamp on it. Of course, giving a kid a stamp would probably be illegal today.''