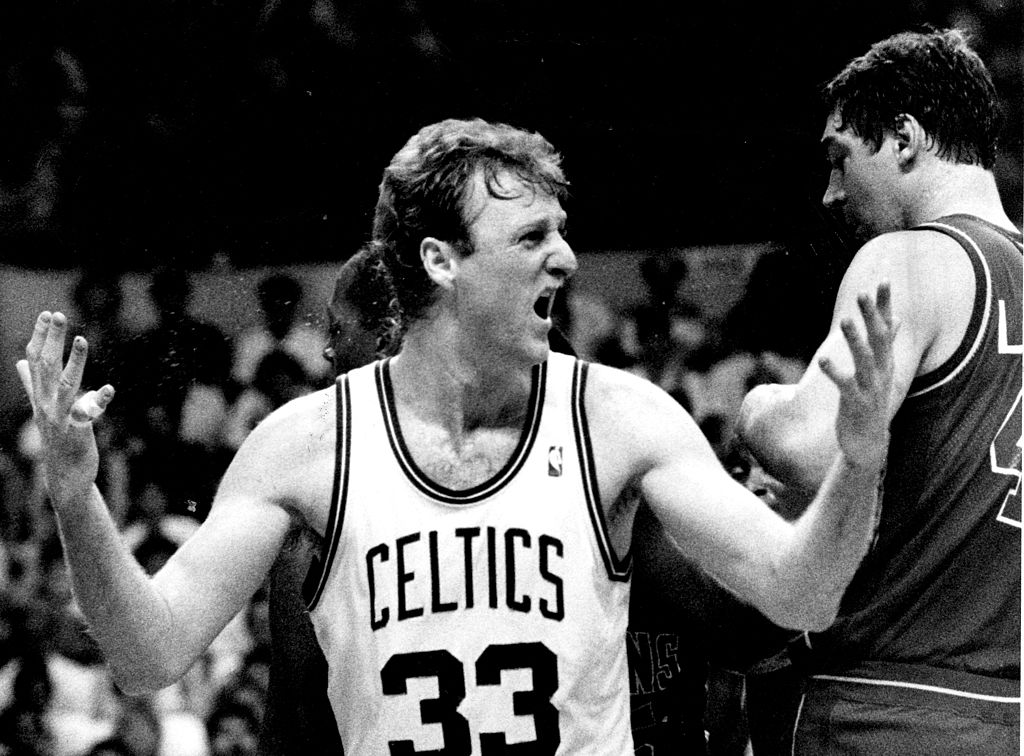 Larry Bird Still Carries His Strong Dislike for Bill Laimbeer Off the Court
Boston Celtics legend Larry Bird still carries his strong dislike for Bill Laimbeer off the basketball court.
It's no secret there was no love lost between Boston Celtics and the Detroit Pistons in the 1980s. Detroit's Bad Boys, made up of Bill Laimbeer, Dennis Rodman, and Isiah Thomas, were always battling Boston's Big 3 of Larry Bird, Robert Parish, and Kevin McHale in the Eastern Conference playoffs. Those meetings were intense and some of them got downright ugly.
Boston Celtics vs. Detroit Pistons was a heated rivalry
From 1985-91, the Boston Celtics and the Detroit Pistons met in the playoffs with two of those matchups being in the Eastern Conference Finals. In 1987, the Celtics outlasted the Pistons in seven games to reach the NBA Finals, while the Pistons got revenge the next year in the ECF, winning 4-2. That was the first of back-to-back NBA Finals appearances by the Pistons.

During the 1987 Eastern Conference Finals, the Pistons used their physical play, oftentimes called dirty play, and intimidation against the Celtics. In Game 3 of the series, play began to get ugly when Laimbeer took down Bird with a hard foul. A fight ensued and both Bird and Laimbeer were ejected.

Game 5 was the turning point as the Pistons were ahead by a point with five seconds remaining and were taking the ball out of bounds. Bird stole the inbounds pass from Isiah Thomas and hit Dennis Johnson for the game-winning layup that gave the Celtics a 3-2 lead in the series. Earlier in the game, Celtics center Robert Parish was ejected for punching Laimbeer and was suspended for Game 6. The Celtics went on to win the series in seven games.
Bill Laimbeer's reputation
Bill Laimbeer was arguably the NBA's most hated player. He carried the label of being a dirty player. Back when he was playing, he felt like opposing players and coaches were out to get him and he felt his bad-boy reputation was unwarranted.
"I truly believe that because of the reputation I've had attached to me, other coaches and general managers tell their players to stand up to my aggressive play," Laimbeer said in 1989. "A lot of players don't know how to do that, other than by hitting, swinging and elbowing.
"Guys are coming at me to fight, where normally if it was someone else, they wouldn't. I don't want to fight, but I have to protect my well-being. If that's not a Catch-22 situation, I don't know what is."
Laimbeer's former teammate Isiah Thomas even said, "If I didn't know Bill Laimbeer, I wouldn't like him either."
Larry Bird still doesn't like Bill Laimbeer
To this day, Larry Bird still doesn't have any respect for Bill Laimbeer, even off the court. In an interview with Bill Simmons, formerly of ESPN, Simmons asked Bird if he ever liked Laimbeer in any social situation. Bird was extremely quick to answer no.
"It's because he was a dirty player," Bird continued. "He had to do what he had to do and I understand that, but you take like (former Piston) Ricky Mahorn, he'd hit you and you knew you were going to get hit. He didn't try to maim you. Bill tried to hurt you.
"He was one of them guys when you tried to shoot a jumper, he would try to slide his foot underneath your ankle so you'd twist your ankle."
Apparently the no-love feeling is mutual. Laimbeer was once asked during a radio interview if Larry Bird was sitting next to you, what would you say to him.
"I'd probably go to a different table," Laimbeer said.