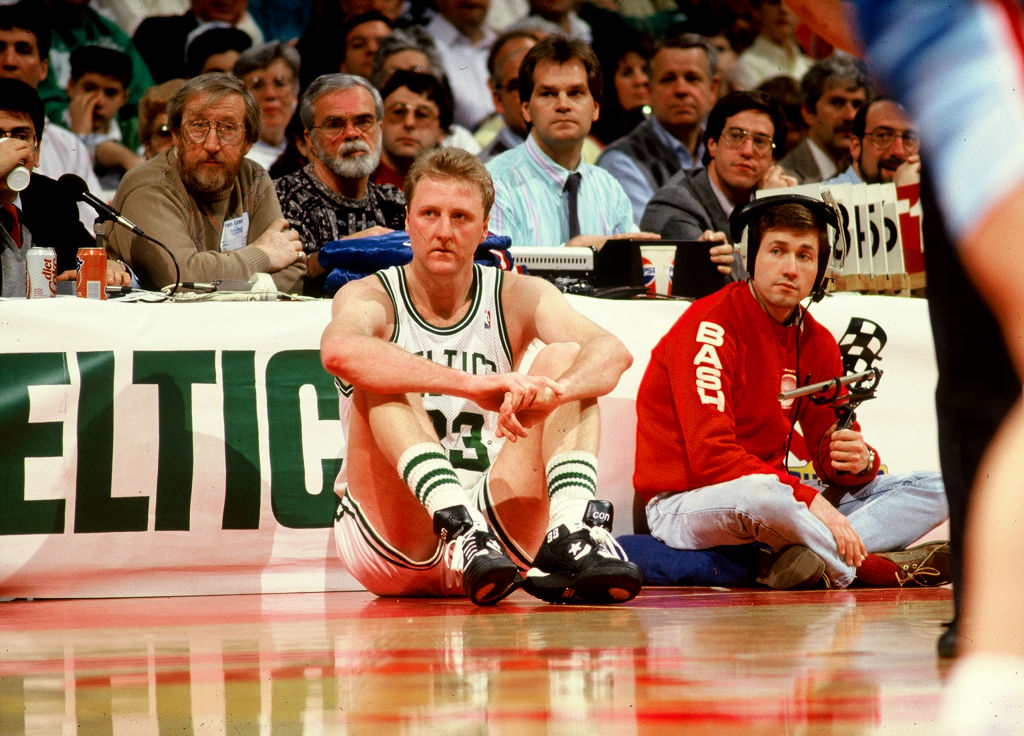 Larry Bird Once Ate Way Too Much Ice Cream and Wedding Cake After Having Surgery
Toward the end of Larry Bird's NBA career, he had season-ending ankle surgery. The forward responded by eating way too much cake and ice cream.
Under ordinary circumstances, professional athletes follow incredibly strict diets. Former Patriots quarterback Tom Brady, for example, avoids carbs, dairy, caffeine, and sugar whenever possible. There's an exception to every rule, though. Just ask Boston Celtics legend Larry Bird.
Toward the end of his playing career, Bird spent almost an entire season on the shelf after undergoing Achilles surgery. While sitting at home, however, he indulged in an unbelievable diet of wedding cake and ice cream.
Larry Bird's legendary basketball career
When a player's nickname is literally "legend," it's a safe bet they had a great career. Unsurprisingly, Larry Bird still maintains a place in basketball history.
After starring in high school, Bird earned a scholarship to the University of Indiana; he didn't feel comfortable on campus, however, so he left the team before preseason games even began. After sitting out a season, the forward headed to Indiana State University and carried the Sycamores to national prominence.
On the back of Bird's collegiate success, the Boston Celtics selected him sixth overall in the 1978 NBA draft. After extended contract negotiations, the forward finally took the floor and didn't miss a beat; he averaged 21.3 points, 10.4 rebounds, and 4.5 assists per game en route to Rookie of the Year honors. Bird, however, would only continue to improve.
The forward would spend his entire career with the Celtics, playing 897 games over 13 seasons. When all was said and done, Bird averaged 24.3 points, 10 rebounds, 6.3 assists while winning three NBA titles, three MVP awards, and two NBA Finals MVP awards.
Larry Bird's post-surgery diet of cake and ice cream
While Larry Bird had a legendary career, it was far from perfect. The forward struggled with injuries for several seasons; while a bad back eventually ended his career, Bird also needed surgery to remove bone spurs from both of his heels.
That procedure caused Bird to miss most of the 1988-89 NBA season. With nothing to do but sit at home and recover, the forward found a new way to pass the time: eating.
"I was so bored, I'd set around the house, drive my wife crazy, and eat and eat. In two and a half weeks I was off I ate ten gallons of ice cream and seven weddin' cakes," Bird explained in Jack McCallum's Unfinished Business. "Why [wedding cakes]? I ate weddin' cakes 'cause you knew they was gonna be good. I mean, who would f–k up a weddin' cake?"
Neither injuries nor diet could keep him away from basketball, though
Despite his unconventional rehab diet, Larry Bird did manage to return to the NBA. He played 75 games the following season and kept scoring at an impressive rate; he would suit up for two more injury-shortened campaigns before calling it a career.
That wasn't the end of Bird's time on the hardwood, however. The forward spent several years as a special assistant to the Celtics before joining the Indiana Pacers as their head coach. While he didn't have any experience on the bench, Bird promptly led the club to the Eastern Conference Finals, earning NBA Coach of the Year honors in the process.
After a few seasons on the bench, Bird headed upstairs, taking over as the Pacers' President of Basketball Operations. Since 2017, he's served as an adviser to the club's front office.
From his time in college to his more recent executive work, Larry Bird has had quite a basketball career. Even an obscene amount of cake and ice cream couldn't keep him down.