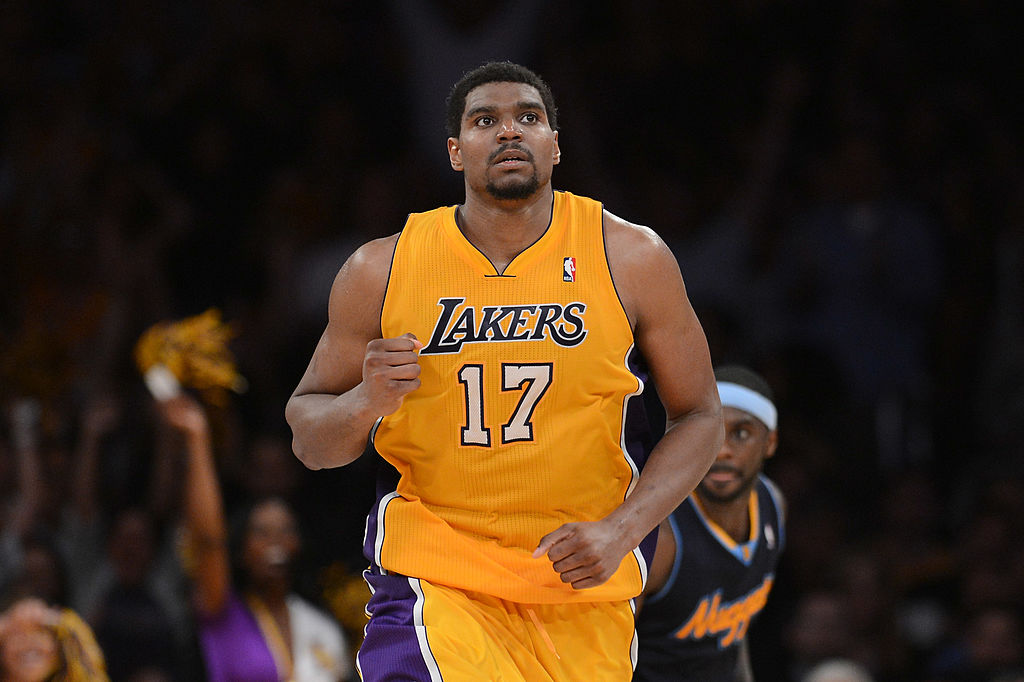 The Rise and Fall of Former Los Angeles Lakers Star Andrew Bynum
A look at the career of former NBA star Andrew Bynum, who was an All-Star and two-time champion before disappearing from the league in 2014.
Andrew Bynum became the youngest player to ever appear in an NBA game when he debuted for the Los Angeles Lakers in 2005. These days, he's still just 32 years old, but the former All-Star and two-time champion hasn't donned an NBA uniform in more than six years, which begs the question: What happened to Andrew Bynum?
Andrew Bynum's early days with the Lakers
In the final year that high school players were allowed to jump straight to the NBA, the LA Lakers selected Andrew Bynum with the 10th overall pick of the 2005 NBA draft. Bynum had been a McDonald's All-American his senior year at St. Joseph High School in Metuchen, New Jersey, averaging 22.4 points, 16.8 rebounds, and 5.3 blocks per game. He had originally intended to go to UConn but instead opted for the NBA.
When the Lakers drafted Bynum, they were coming off their first season since 1996 without Shaquille O'Neal on the roster, having traded the three-time NBA Finals MVP in the summer of 2004 to the Miami Heat to essentially give control of the franchise to Kobe Bryant. While Bryant thrived, the Lakers did not and finished with a 34-48 record, missing the playoffs for the first time in 11 years.
Bynum struggled his rookie season, appearing in just 46 games, averaging 1.6 points and 1.7 rebounds in a little more than seven minutes per night. In 2006-2007, the only season he appeared in all 82 games, Bynum saw his minutes go up, and his averages obviously went up as a result to 7.8 points and 5.9 rebounds.
However, Bynum struggled to gain the respect of Kobe Bryant. As his play improved, teams began to explore acquiring Bynum in a trade. The Nets were extremely interested in sending Jason Kidd to LA, a trade that obviously never happened. But Bryant was certainly wishing it had gone down. An amateur video surfaced that showed Kobe bashing Bynum left and right, wishing he'd be shipped out of town. But the Lakers chose to stay with Andrew Bynum, a decision that would eventually pay off.
Andrew Bynum comes into his own
Although knee injuries that had plagued Andrew Bynum since he was 12 years old continued to surface, the youngster was getting better each and every year. In his third season, he averaged 13.1 points and 10.2 rebounds. He suffered a season-ending injury in January, which prompted the Lakers to trade for Pau Gasol, whose addition did nothing but help Andrew Bynum with his development. The Lakers went to the NBA Finals that season but lost to the Boston Celtics.
Bynum returned for the 2008-2009 season with a new four-year, $58 million contract, but another knee injury limited him to 50 games. But he was now considered one of the top big men in the league, arguably second to only Dwight Howard. Bynum averaged 14.3 points and eight rebounds as the third option in the LA offense as the Lakers went on to win the NBA title. Bynum was an even bigger piece of the puzzle when the Lakers won their second consecutive title in 2010, staying mostly healthy and averaging a then-career-high 15 points per game. Two years later, Bynum enjoyed the best season of his career, earning his first and only NBA All-Star nod, averaging 18.7 points and 11.8 rebounds. But concerns over his maturity and attitude became a problem, and his career would spiral from there.
He was shipped out of LA in 2012
The 2011-2012 season would be the peak of Andrew Bynum's career in the NBA but also his last with the Los Angeles Lakers. He was benched by Mike Brown after waking up one day and deciding that he wanted to shoot threes. He reportedly was constantly disrespectful to his teammates and the coaching staff, and his desire to play the game came into question, which is something that certainly doesn't sit well when Kobe Bryant is on your team.
The Lakers shipped Andrew Bynum, who was still just 24 at the time, to the Philadelphia 76ers in August 2012 in the four-team deal that brought Dwight Howard to LA. The truth is that the Orlando Magic didn't want Bynum in a straight-up deal as they were concerned with his knee issues and the fact that he'd soon be a free agent. Those concerns were validated when Bynum missed the entire 2012-2013 season and never once suited up for Philly after having yet another knee surgery. He signed with the Cleveland Cavaliers ahead of the 2013-2014 season, the season that would prove to be his last in the NBA.
He was out of the NBA at 26
Andrew Bynum would play just 24 games for the Cavs before being suspended in December 2013 for conduct detrimental to the team, which stemmed from his shooting the ball every time he touched it at practice, no matter how far he was from the rim. He was traded to the Chicago Bulls in January 2014 and immediately waived to clear salary-cap space. He was picked up by the Indiana Pacers but played just two games as a backup to Roy Hibbert before yet another knee injury ended his season and, ultimately, his career at just 26 years of age.
In the years since Andrew Bynum last played in the NBA, there have been numerous reports of a comeback attempt. But nothing has ever gotten very serious. His inability to stay healthy and concerns about his desire and mental health and attitude have always been there. Many think he never put enough effort into rehabbing his injuries, which may be why they kept happening. But we'll really never know. He had the chance to be an elite player and it really never happened, even with the one All-Star selection and the two titles. Andrew Bynum is, unfortunately, just one more "what if" story.