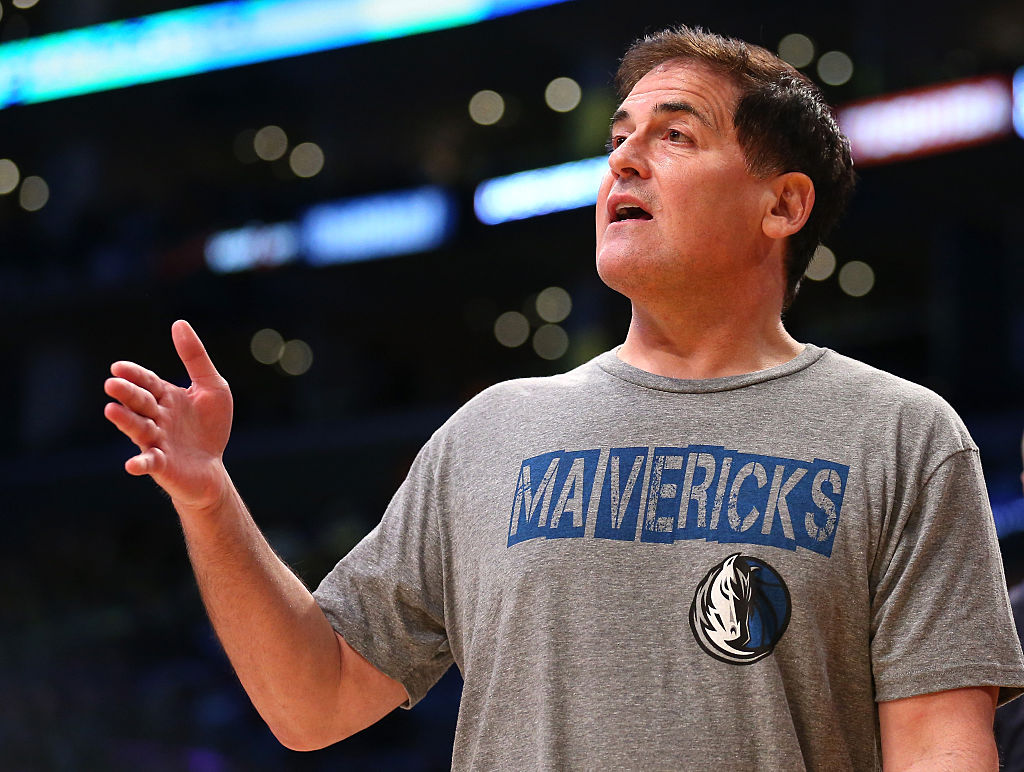 Mark Cuban to Help Hourly NBA Workers Cope With Lost Wages From Suspended Games Due to Coronavirus
Dallas Mavericks owner Mark Cuban hoping to help NBA's hourly workers after league suspends season due to coronavirus.
Dallas Mavericks owner Mark Cuban is showing that having boatloads of money doesn't equate to greed.
Cuban, who was stunned Wednesday night to learn that the NBA season has been suspended the rest of the season due to the coronavirus concern, is laying out a plan to help workers who will be affected by the loss of games played. He is hoping his fellow owners will follow suit.
Mark Cuban's plan still in early stages
Cuban's plan is in its early stages since the NBA suspended its season less than 24 hours ago, but he is hoping to help replace lost wages to hourly workers (concession workers, ushers, etc.) affected by the sudden suspension of games.
Cuban, an owner of the Dallas Mavericks since 2000, was stunned Wednesday when the NBA announced its plan to suspend the season. Utah Jazz center tested positive for the coronavirus prior to Wednesday's game against Oklahoma City. Gobert's teammate Donovan Mitchell has since tested positive for the virus.

"It seems more out of a movie than reality. It's really not about basketball and money. Literally, this thing is just exploding where all of a sudden players and others have it, you think about your family, you want to make sure you're doing this the right way. Now it's much more personal."


Mark Cuban


While Cuban and other NBA owners could stand to lose millions of dollars if games were canceled, the Mavs owner was still thinking of the little guys who might not be able to afford to lose a paycheck. Cuban said he would like to find a way to have those Mavericks workers get paid and would consider asking them to do some volunteer work in exchange.
"I reached out to the folks at the arena and our folks at the Mavs to find out what it would cost to support, financially support, people who aren't going to be able to come to work," Cuban told reporters on Wednesday night. "They get paid by the hour, and this was their source of income. So, we'll do some things there. We may ask them to go do some volunteer work in exchange, but we've already started the process of having a program in place.
Cuban isn't alone in assisting NBA's hourly workers
Like Mark Cuban, the Golden State Warriors are also hoping to find a way to help their hourly employees as well. Warriors GM Bob Myers said, although teams are expected to lose a lot of money if these games are eventually canceled, it's the low-income worker he's concerned about.
"We feel for the workers mostly, the low-income wage earners that count on working our games," Warriors general manager Bob Myers told reporters. "If you're going to have empathy, have it for them, not for us. We play basketball. It's a big business, but we're just playing basketball."
Warriors president Rick Welts threw out some alarming numbers on the team's financial losses if the games were never played. "Multi-million dollars for one game," Welts said.

The Warriors have 1,500 part-time employees at Chase Center suddenly out of work. "We're going to be supportive in any way we can," Welts said. "We have a business model that depends on hosting live events.

Cuban doesn't expect the NBA season to be canceled
Mark Cuban said he doesn't expect the NBA's season suspension to turn into a cancelation. Cuban said he could see the games just being postponed and the season being extended, possibly all the way into August.
Hopefully this virus runs its course during the next 60 days or so," said Cuban as a guest of ESPN's Get Up. "At that point we can start making plans about the NBA, what our schedule looks like, how we progress from there."


As of now, the NBA season is suspended until further notice.