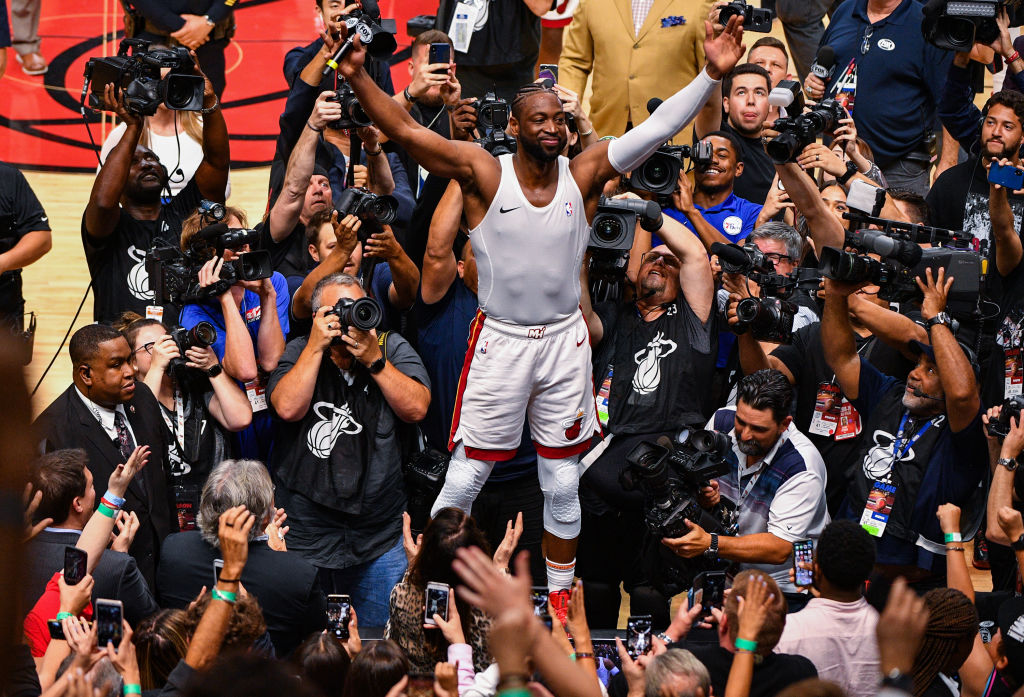 Dwyane Wade Made Almost $200 Million in the NBA and Gave Away Ten Percent of It
While some professional athletes may be underpaid compared to their teammates, they all take home a nice chunk of change. What everyone does with that money, however, differs. Some guys, like Shaquille O'Neal, put it to good use making investments; others, like Danny Granger, spend it on outlandish purchases. Formey Miami Heat guard Dwyane Wade …
While some professional athletes may be underpaid compared to their teammates, they all take home a nice chunk of change. What everyone does with that money, however, differs. Some guys, like Shaquille O'Neal, put it to good use making investments; others, like Danny Granger, spend it on outlandish purchases. Formey Miami Heat guard Dwyane Wade did something much different.
During his NBA career, Wade made almost $200 million. The guard took 10 percent of that, which amounts to $20 million, and simply gave it away.
Dwyane Wade's well-paid NBA career
Growing up in Chicago Dwyane Wade, saw Michael Jordan lift the Bulls to the NBA's highest heights and decided that he wanted to do the same thing. His road to the top started at Marquette; despite being academically ineligible to play as a freshman, the guard eventually developed into a star.
After an impressive showing in the NCAA Tournament as a junior, Wade entered the 2003 NBA draft. The Miami Heat snagged the guard with the fifth overall pick; he immediately made an impact in South Florida. While he fell short of the Rookie of the Year crown—there's no shame in finishing third behind LeBron James and Carmelo Anthony—Wade carried the Heat into the second round of the playoffs. That, however, was only the beginning.
In 2006, Wade helped the Heat win their first NBA championship, winning NBA Finals MVP in the process. He would the battle some early injury issues, but rebound to take home the 2008-2009 scoring title. Wade then became part of the infamous "Big Three;" while they fell short of LeBron James' initial predictions, the group did win two titles.
Wade spent brief spells with the Bulls and Cavaliers before returning to Miami and closing out his career with the Heat. He played 17 seasons in the Association, averaging 22 points, 4.7 rebounds, and 5.4 assists per outing while winning three championships.
A $200 Million NBA career
It goes without saying that better NBA players earn larger salaries. Based on that reality, Dwyane Wade made a pretty penny during his NBA career.
As a rookie, the Miami Heat guard took home a bit more than $2.5 million; that rose to more than $13 million after Wade led the team to the NBA championship and peaked at $23.2 million player option in 2016. By the time the guard called it a career, he had earned a little over $196 million in salary alone.
The top athletes, however, still make plenty of money away from the basketball court. Wade, for example, has his own clothing line and a lifetime deal with Chinese sporting goods company Li-Ning. While the numbers have surely changed a bit since he's retired, Forbes estimated that Wade was making $14 million in endorsements as recently as 2018.
Dwyane Wade gives away 10 percent of his money
While Dwayne Wade made a nice salary from the NBA, he didn't blow all his cash on bad investments or luxury purchases. The Heat guard actually gave 10 percent of it away.
In the Bible, there are various references to a tithe, setting aside 10 percent of crops, animals, or war spoils, for the church. While the concept has changed over the years, virtually every religion preaches the importance of giving money to charity.
Wade, however, stuck to the 10 percent principle, giving that share of his playing salary to his church. While that shook out to nearly $20 million over his entire NBA career, the guard didn't bat an eye.
I'm a firm believer in the Bible," Wade explained to Chad Bonham in comments published on Beliefnet. "I believe everything in there. I'm given so much, so giving 10 percent back to God is nothing to me. That's why I do it, and I don't think twice about it."