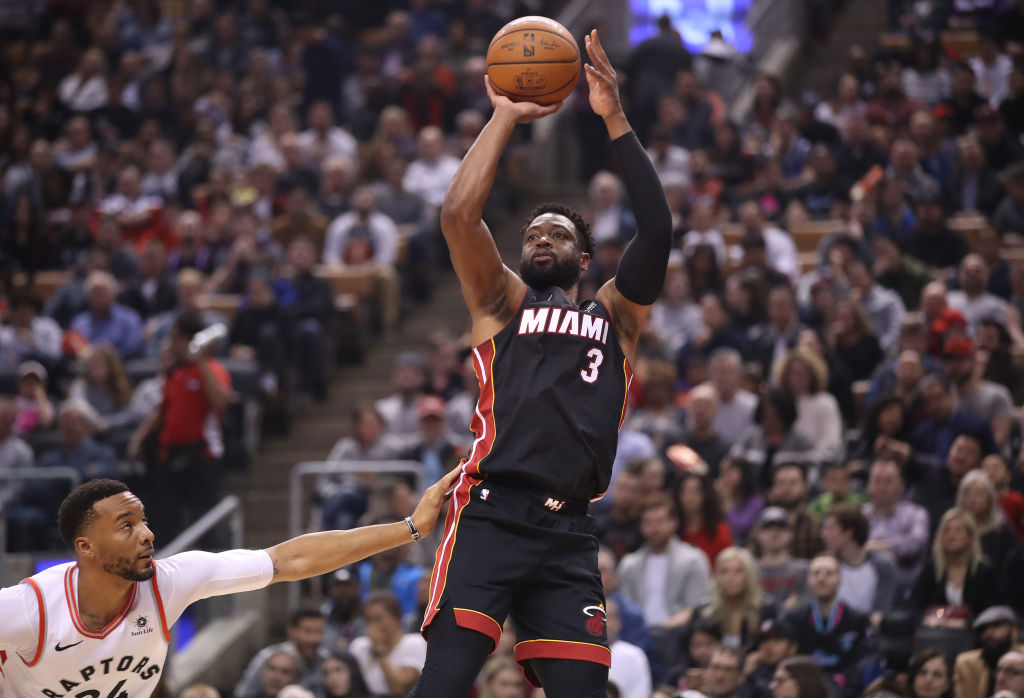 Michael Jordan's Historic Dominance Inspired Dwyane Wade's $196 Million NBA Career
Dwyane Wade was one of the top players in recent NBA history. His career, however, could have been much different if not for Michael Jordan.
Retrospectively, it's hard to overstate Michael Jordan's impact on the game of basketball. During his time in the NBA, His Airness changed everything, from on-court style to the global status of basketball. He was even responsible for creating the next generation of NBA stars, like Dwyane Wade.
During his time with the Miami Heat, Wade became a legitimate star and a three-time NBA champion. If it wasn't for Jordan, however, modern basketball history could have looked much different.
Dwyane Wade's impressive basketball career
After playing his high school basketball in the suburbs of Chicago, Dwyane Wade headed to Marquette. His time in Wisconsin didn't get off to a great start, however, as he was academically ineligible to hit the court in his freshman year.
Wade's grades improved by the following fall, though, and the guard made his NCAA debut as a sophomore. He posted a solid campaign but truly burst onto the national stage as a junior. The guard averaged 21.5 points, 6.3 rebounds, and 4.4 assists per outing and led Marquette to the Final Four; after the season ended, he declared for the NBA draft.
The Miami Heat selected Wade fifth overall in the 2003 NBA draft, and he immediately made an impact. In his third season in the league, the guard led his team to a championship, taking home the NBA Finals MVP award; after some injury issues, he would win two more titles as part of the "Big Three." During his 17 seasons in the league, Wade averaged 22 points, 4.7 rebounds, and 5.4 assists per outing, earning just under $200 million in the process. When you needed a big play at either end of the floor, he was your man.
It all happened thanks to Michael Jordan
Since Dwyane Wade hails from Chicago, it's only natural that he grew up as a fan of Michael Jordan. The entire course of NBA history, however, could have been different if Wade never watched His Airness play.
During a recent AMA on the Bleacher Report app, Wade was asked to name his pick for the NBA's GOAT. While many expected him to pick LeBron James—the two were teammates and are close friends—he instead highlighted his childhood hero.
"Michael Jordan," Wade explained. "I watched him win 6 titles. My biggest takeaway is the first one they won in '91 Being a 9-year-old kid, seeing the Chicago Bulls do that … that gave me the vision to say, 'Ok, that's what I want to do for the rest of my life.' That's the feeling I want to bring to this city and my family."
While it's impossible to know what might have happened, that 1991 NBA championship made an impact. If the Bulls had lost that series, maybe Wade would have focused on football instead of hitting the hardwood.
It's safe to say Dwyane Wade lived up to Michael Jordan's legacy
During his childhood in the Windy City, Dwyane Wade saw Michael Jordan change the face of basketball forever. While the guard might not have revolutionized the NBA in the same way, he had a similar impact on the city of Miami.
During his time in Miami, Wade emerged as a dominant force. Even before LeBron James and Chris Bosh arrived in town, he willed the heat to their first title in franchise history. He grew up in South Florida, going from, as Jorge Sedano explained, a "young man trying to create a legacy to someone whose legacy is so cemented, he'll likely get a statue built outside the arena."
In the world of sports, there's only one Michael Jordan. In Dwyane Wade, however, His Airness indirectly gave another NBA franchise their own hero.