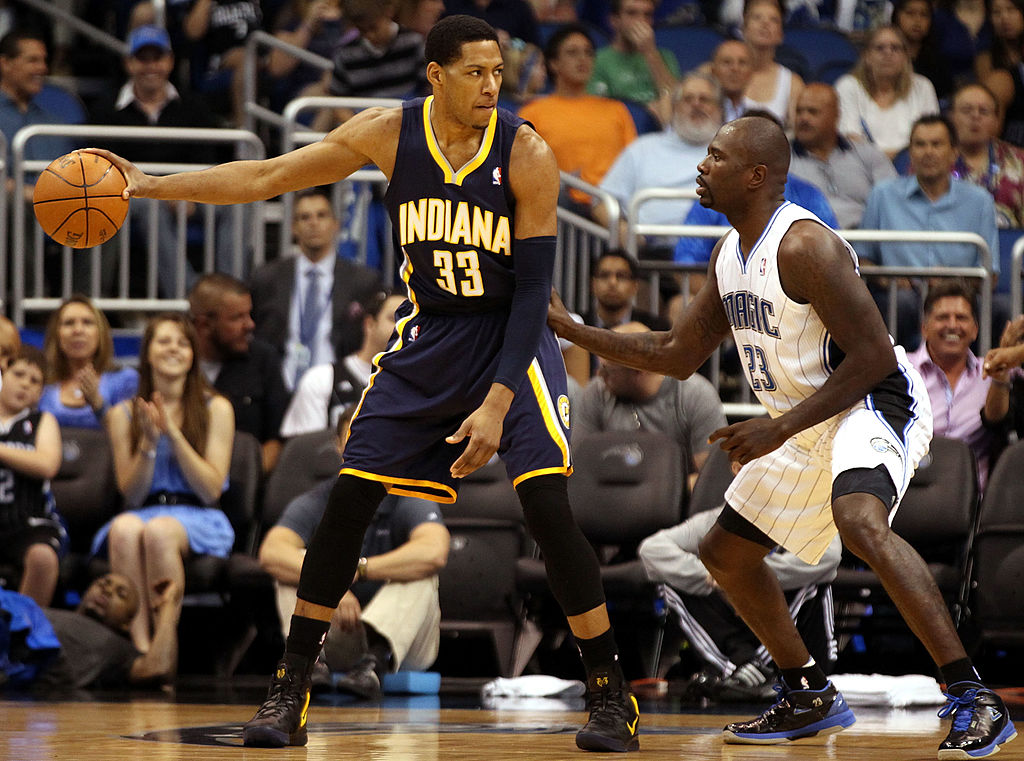 Danny Granger Made so Much Money in the NBA He Built His Own Underground Batcave
Danny Granger didn't spend his NBA wealth on expensive cars or fancy jewelry. His big investment was much more unique.
Danny Granger played 11 seasons in the NBA and earned a whopping $68 million during his career. Most athletes who become multimillionaires splurge on houses, cars, jewelry, or even exotic pets, but Granger went a different route. He used his massive wealth to build his own underground Batcave, inspired by the original Batman film with Michael Keaton.
Danny Granger earned almost $70 million in the NBA
Granger was never a superstar in the NBA, but you wouldn't know it from his wallet. The longtime Indiana Pacer earned $68.8 million in 11 seasons as a pro.
Granger only made one All-Star Game, but he had an effective stretch with the Pacers in the late 2000s. He averaged over 19 points in four consecutive seasons with Indiana from 2007-2011.
In 2008-09, Granger was fifth in the league in scoring at 25.8 points per game. He edged out stars such as Kevin Durant, Carmelo Anthony, and Chris Paul in that category. Granger also won the NBA Most Improved Player award the same season.
His time in Indiana netted him over $50 million. The rest of his NBA wealth came from smaller contracts with the 76ers, Clippers, Suns, and Heat. Today, Granger's net worth is still $45 million.
Granger is a huge comic book fan
Ever since he was a child, Granger loved superheroes, comic books, and sci-fi. It started with a pair of Superman shoes he owned when he was five years old. His mother tried to throw them out but Granger cried to save his favorite possession.
Granger is a huge fan of Star Wars and Lord of the Rings. He's seen both series' countless times. In addition to fantasy movies, he's also a video game connoisseur. When Granger wasn't on a basketball court in his playing days, he was online playing multiplayer games.
In 2008, Granger did an in-depth interview with NBA.com and revealed his nerdy plans for his newfound wealth.
"I think when I build a house a couple of years down the line, I was telling my fiancée I wanted to have – once again with the superhero thing – you know how Batman drives into a hidden cave? I'm serious," Granger said. "I even met with like a builder and ask if this would be possible — have a secret entrance to my house that no one knows about. Make it look like whatever, but have a secret way I can get to my house that I could drive my car in. It would probably cost way too much money but I really may think about doing that. Like seriously. I'm dead serious."
Granger was serious about building a Batcave
A few years after stating his intention to build an underground Batcave, Granger actually pulled it off. He bought a mansion in Albuquerque, NM. with the money earned from his contract with the Pacers and decided to add a special touch.
Granger hired a builder and constructed an underground "cave" complete with a spinning platform for his cars, just like Batman had. He even had a moat put in.
"It's based on the Batcave from the first set of Batman movies — starting with Michael Keaton," Granger told Sports Illustrated in 2011. "It will have a few aspects from the Christian Bale movies, like a drive-in pathway or tunnel that lights up as you drive through it. It'll also have this kind of circular island, where you park your car on this big circle, and the circle spins so that you never have to back the car out."
Granger got paid superhero money in the NBA, so it's only right he gets to live like a superhero in retirement.