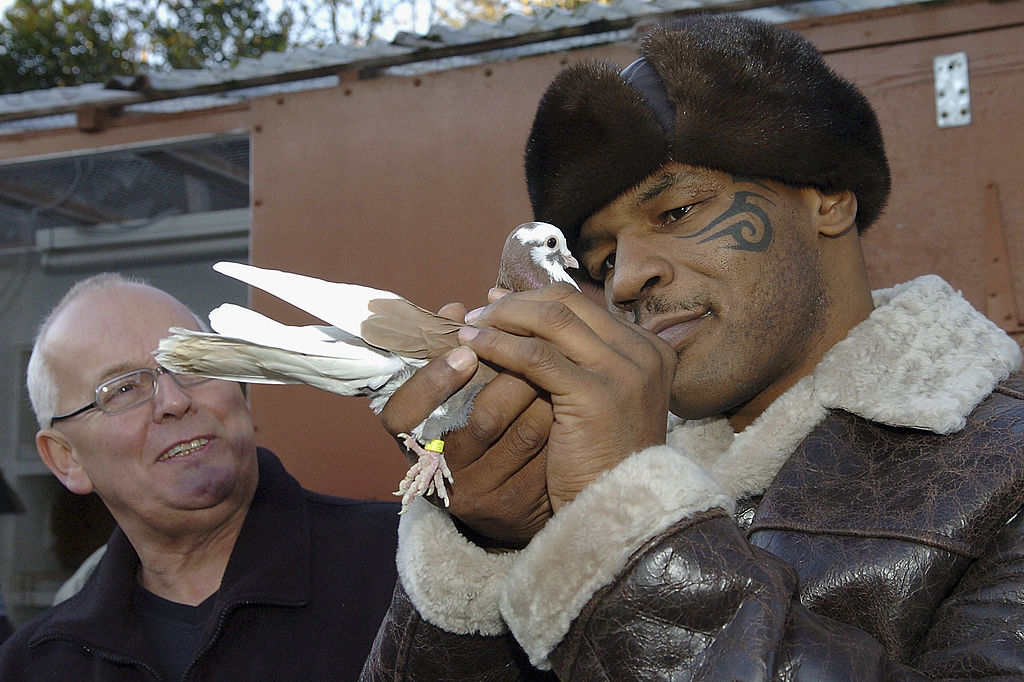 Mike Tyson Spends an Obscene Amount of Money on His Pet Pigeons
Despite his tough exteriors, Mike Tyson loves his pet pigeons. He's also spent a pretty penny to ensure his birds are the best of the best.
During his boxing career, few men were as intimidating as Mike Tyson. Barring a shocking defeat at the hands of Buster Douglas, Iron Mike seemed like an unstoppable force of natural destruction. In retirement, though, things have been a bit different. Tyson, for the most part, has mellowed out and spends a good deal of his time with his beloved pet pigeons.
We're not just talking about a few humble birds in a cage. In reality, Mike Tyson has spent more than a few dollars on his pigeons.
Mike Tyson's legendary boxing career
Growing up in Brookly, Mike Tyson found himself in constant trouble. During a stint in the Tryon School for Boys, an upstate New York reform school, the teenager caught Bobby Stewart's eye. The former boxer saw something in Tyson; before long, he introduced him to Cus D'Amato. The veteran trainer would take Mike under his wing, serving as a much-needed father figure.
Under D'Amato's tutelage, Tyson started climbing the ranks and made his professional debut at age 18. He quickly developed a reputation as a promising fighter; while he was a solid defensive fighter, he also had the pure punching power to knock out any opponent. That deadly combination helped him claim the unified heavyweight title in 1988.
After that, however, Tyson's career went off the rails. He was famously upset by Buster Douglas; he then spent time in prison on rape charges. While he would eventually regain the heavyweight title, Tyson became as much of a sideshow as anything else. He still had plenty of talent, but he also bit Evander Holyfield's ear, threatened to eat Lennox Lewis' children, and got a bizarre face tattoo.
Boxing's baddest man has a long love affair with pigeons
Despite his aggression in the ring and his famous pet tigers, Mike Tyson has a soft spot for a much more humble animal. The former heavyweight champ loves pigeons.
Tyson's affinity for the birds dates back to his childhood in Brooklyn. When he was bullied for his appearance, lisp, or lack of money, a young Iron Mike would retreat to the rooftops and spend time with the birds.
"As a child, I was very awkward and never felt as though I fit in (anywhere). On the roof, none of my insecurities mattered," Tyson wrote in the New York Times. "My birds never judged me or made me feel inadequate. I was actually the most important relationship that they had. They were totally dependent on me for food and shelter, and I felt honored to be needed, and this made me feel wanted and relevant."
Pigeons are were also responsible for Tyson's boxing career. As a teenager, he saw a bully kill one of his beloved birds. Iron Mike knocked him out on the spot, foreshadowing his career in the ring.
Mike Tyson has spent some serious cash on pigeons
While most of us might associate pigeons with city streets and public squares, Mike Tyson isn't interested in any ordinary bird. The former heavyweight champ prefers racing pigeons; those birds can cost a pretty penny.
According to a 2016 report from Norway, Tyson struck up a deal with Roy Bø to purchase three Janssen pigeons. While that name might not mean much to your average person, connoisseurs know that breed is "without question the number 1 racing pigeon strain in the world." Tyson was willing to pay 140,000 kroner at the time; today, that converts to a little over $20,000.
While it's impossible to know exactly Tyson has spent on his birds—he obviously owns more than those three Janssen pigeons, and has to care for all of them—it's well worth the cost.
"They are highly intelligent animals, and arguably the most loyal," Tyson concluded in the New York Times. "Make a pigeon your friend and you'll never be lonely."