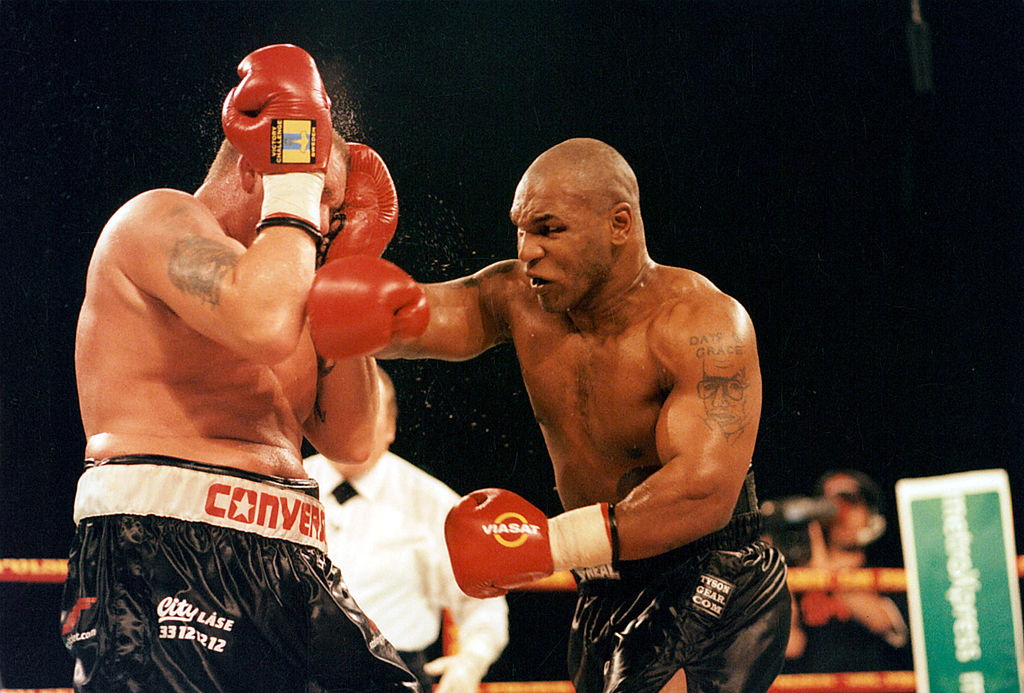 Here's Exactly How It Would Feel to Get Punched by Mike Tyson
Mike Tyson is known as one of the hardest punchers in history. So just how awful would it feel to be on the receiving end of a Tyson punch?
Mike Tyson was one of the most fearsome and dominant heavyweight champions in boxing history. While Tyson may not be the GOAT, or greatest of all time at boxing, he's still great at one thing, and that's having powerful punches. Here's a brief look at just how powerful Tyson's punches could be.
Mike Tyson's long history of knockouts
Tyson fought in the heavyweight division, so naturally, he had a lot of power in his hands. That said, while heavyweights generally are powerful people, Tyson had power that few heavyweights could match. As a result of that, Tyson was able to claim 44 wins by knockout out of his 58 total fights. With that said, Tyson did start to get fewer knockouts at the end of his career. 
At his peak form in the late '80s though, Tyson held an undefeated record of 37 wins, 33 of which came by knockout. The early career of many boxers tend to have a lot of easy fights, but Tyson also knocked out a lot of respected heavyweights in his time. For example, Tyson was able to knock out men like Larry Holmes in the fourth round and Michael Spinks in the very first round.
In his 38th fight, however, Tyson met his match and he was knocked out by Buster Douglas. Tyson rebounded and racked up eight wins in a row, with six of those wins by knockout. At this point in time, however, Tyson got convicted and sentenced for rape, and so he served some years in jail for that. Not long after he served his time, Tyson would eventually slowly decline into retirement.
How hard did Mike Tyson hit?
Unfortunately, it's hard to tell. Tyson never measured his punching power while in his prime, so Thrillist came up with a different way to measure it. Frank Bruno was a boxer whom Tyson had knocked out twice, and Thrillist says that Bruno did get his punching power estimated at the peak of his boxing career. 
Bruno punched with 1,420 pounds of force and Thrillist simply assumed that Tyson could punch the same. This is a fair assumption to make since again, Bruno fought Tyson twice, and Tyson knocked Bruno out twice. Thrillist crunched the numbers, and if Tyson did have that amount of power, then his punches would generate 1,178 lb-ft of force which is equal to 1,600 joules of energy.
According to Thrillist, that amount of force is equal to American Idol judge Simon Cowell running you over on a Vespa while traveling at 9 MPH. It'd also be equal to a dorm fridge that's full of beer hitting you after falling out of a second-story window. Weird comparisons to be fair, but not any that we'd volunteer for.
Who else could do this?
While those comparisons seem scary, Mike Tyson's probably not alone. George Foreman was a heavyweight boxing champion who was also renowned for his punching power. Foreman had powerful punches in his prime when he was fighting Muhammad Ali, as well as when he was in his forties when he was a relatively slow boxer. 
Modern heavyweight boxers, most of whom are much larger than Tyson, also probably have similar punches. Men like Deontay Wilder, Anthony Joshua, and Wladimir Klitschko are taller and heavier than Tyson was while also having very high knockout rates. 
Outside of boxing, other combat sports probably have fighters who can punch just as hard as Tyson could punch. For example, UFC fighter Francis Ngannou is as tall and muscular as heavyweight boxers are and like heavyweight boxers, he can knock anyone out. In fact, Ngannou's punching power was measured, and it was equivalent to getting hit by a Ford Focus.