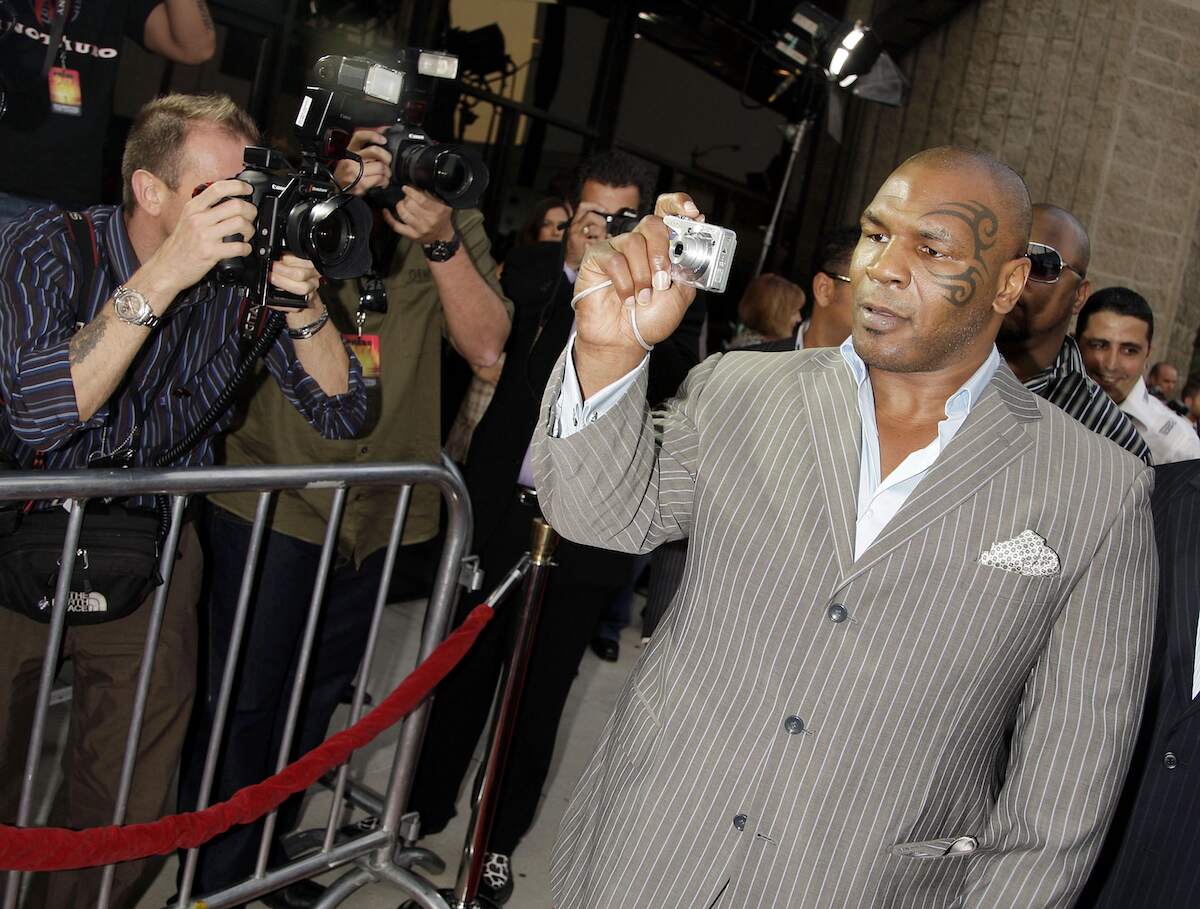 Mike Tyson On Being Labeled 'Iron Mike': 'That Guy's Dead'
Former heavyweight champion Mike Tyson doesn't like to talk about his glory days as the boxer known as 'Iron Mike."
At one point in his life, people considered Mike Tyson the baddest man on the planet. He was in trouble with the law, and he was making millions of dollars by knocking people out en route to becoming the youngest heavyweight champion of the world.
Today, Tyson doesn't like to be called 'Iron Mike,' the name given to him during his days as the most dominant boxer in the sport. "That guy's dead," Tyson said years later.
The early days of Mike Tyson
Growing up in the Brownsville section of Brooklyn, New York, Tyson always found himself in trouble. He lived in an area of high crime, and he got into the action himself. Tyson was arrested numerous times before he was a teen. He spent much of his youth in a detention center.
Tyson spent some time at the Tryon School for Boys after his numerous arrests. There, he met Bobby Stewart. Stewart was a juvenile detention center counselor and a former boxer. Stewart taught Tyson how to box and eventually set him up with legendary trainer Cus D'Amato.
Tyson's mother died when he was 16, and D'Amato became Tyson's legal guardian. D'Amato got Tyson on the right track and helped launch Tyson's boxing career. D'Amato died when Tyson was 19 years old and 11-0 as a pro.
A force in the boxing ring
After Tyson's trainer, D'Amato, died, Tyson rattled off 26 more consecutive victories to run his record to 37-0. He was the most dominant fighter in the game. His powerful punches earned him the nickname "Iron Mike" Tyson.
Tyson's first 19 victories of his professional career were by knockout. Twelve of those knockouts came in the first round. At 20 years old, Tyson became the youngest heavyweight boxing champion. Tyson suffered his first loss against James "Buster" Douglas on Feb. 11, 1990, shocking the world. Douglas knocked Tyson out.
Tyson finished his career with a 50-6 record. He ended with 44 knockouts. His boxing career was interrupted by a three-year prison sentence. Tyson is a member of the International Boxing Hall of Fame and the World Boxing Hall of Fame.
Tyson doesn't acknowledge 'Iron Mike'
Mike Tyson was a recent guest on IMPAULSIVE, a podcast co-hosted by Logan Paul. Paul is the YouTuber scheduled to fight Floyd Mayweather in an exhibition match in February. Boxing was, of course, a topic of conversation. Co-host Mike Majlak was bringing up how tough Tyson was in the ring, saying, "Iron Mike, let's talk about it."
Tyson shrugged it off. "That guy's dead," he said. "Let's go somewhere else." Tyson went on to speak about "Iron Mike" in the third person and as if he no longer existed. Paul told Tyson he remembered Tyson as having that killer mentality and wanted to know where it went. Tyson would not acknowledge 'Iron Mike.'
"The man you were talking about before didn't have any self-respect, self-love," Tyson said. "So he said anything. His ego was just so whacked out. It was perfect for the time. I don't look at him like you look at him. He was a very scared little boy. Does that make sense to you? The energy of that scared little boy was so ferocious. Nothing could stop it."