Mike Tyson on What He Sees When He Looks in the Mirror: 'I See a Little Boy That Tricked the World'
Mike Tyson is a completely different person now that his life of boxing is over.
Mike Tyson admits he's a new man. When the former heavyweight boxing champion hung up his gloves for good in 2005 after a loss to Kevin McBride, things changed.
Retirement was a relief for the baddest man on the planet. Now he could be himself. During his most recent episode of his Hotboxin' With Mike Tyson podcast, Tyson sat down with his therapist, Seano McFarland, and explained how he once "tricked the world."
Mike Tyson got serious on his latest podcast episode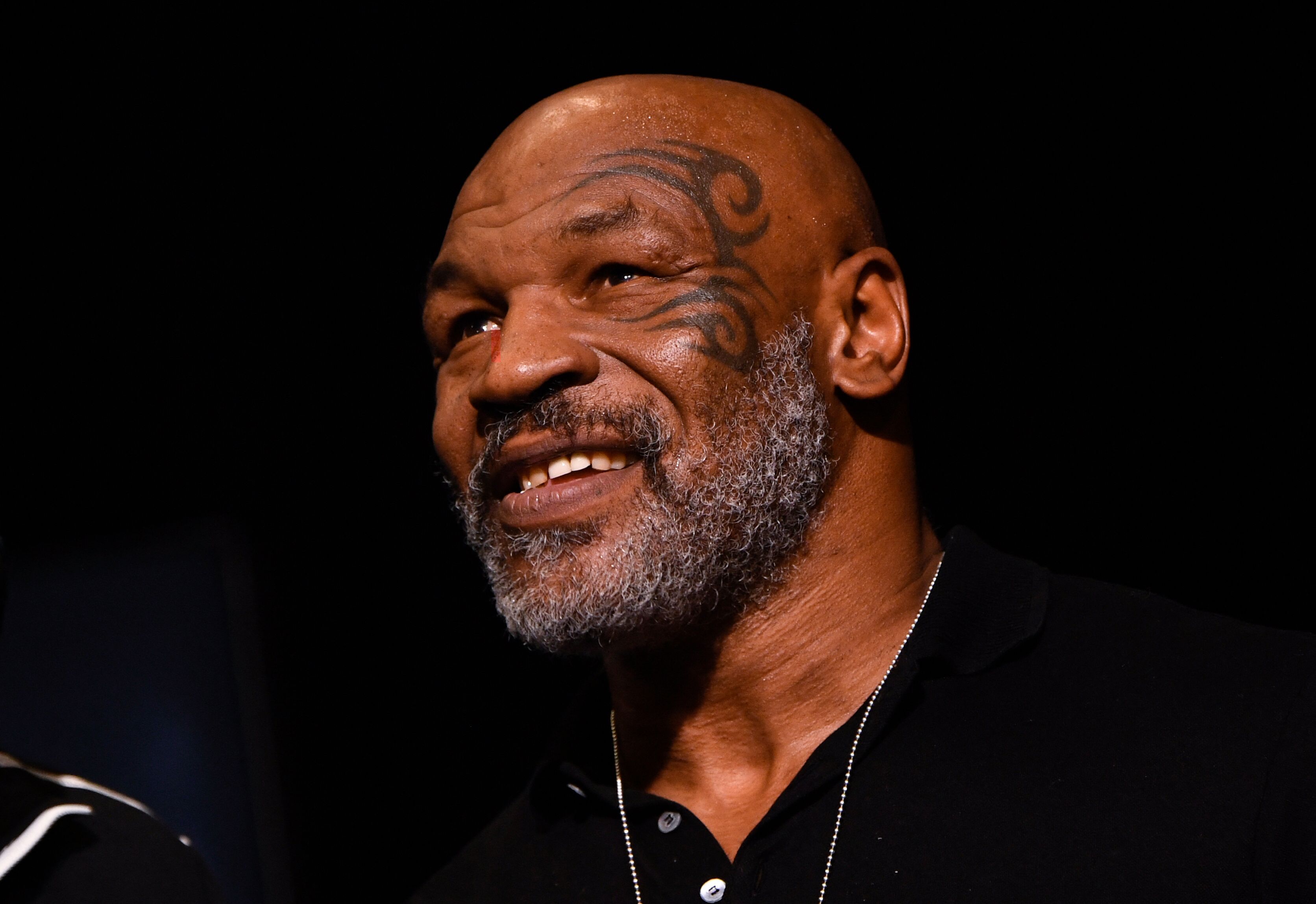 Tyson is viewed by many as a tough guy, someone you don't want to mess around with. McFarland, his good friend and therapist, told a different story as the two sat next to each other during Tyson's latest episode of Hotboxin' With Mike Tyson.
"You're a scared little boy sometimes," McFarland said as the two opened up about mental health. "Let's talk about trust. I've known Mike in a lot of variations. There was a time in life where Michael wasn't as happy and as accomplished, and he wasn't being kind to his body."
McFarland went on to talk about how Tyson didn't like being the center of attention. But when you're the youngest heavyweight champion of the world, you're going to be in the spotlight.
During the peak of his career, Tyson was known as "Iron Mike" because of his powerful punches that led to him winning the first 19 of his pro fights by knockout.
During a December appearance on IMPAULSIVE, a podcast co-hosted by Logan Paul, Tyson was referred to as "Iron Mike." He said that guy no longer exists.
"That guy's dead," he said. "Let's go somewhere else.
"The man you were talking about before didn't have any self-respect, self-love. So he said anything. His ego was just so whacked out. It was perfect for the time. I don't look at him like you look at him. He was a very scared little boy. Does that make sense to you? The energy of that scared little boy was so ferocious. Nothing could stop it."
Tyson said he sees 'a little boy that tricked the world' when he looks in the mirror today
Both Tyson and McFarland became emotional as they spoke on the podcast. When DJ Whoo, also sitting in on the set, asked Tyson what he sees today when he looks in the mirror, Tyson didn't hesitate when answering.
"I see a little boy that tricked the world to believe that he's the killer when he's really a scared little boy," Tyson said. "That's what I look in the mirror and see.
"I'm a great actor. I want people to love me, and I want people to care about me. That's the way I became ferocious — no one loved or cared for me.
"I was programmed that way, nobody cares about you. It's only your family and (legendary trainer) Cus (D'Amato). That's how somebody gets ferocious and vicious."
Tyson said he had to hit rock bottom to get better.
"You have to hit rock bottom," he said. "Rock bottom is beautiful. The struggle of coming back is beautiful. It doesn't appear to be beautiful when you're going through it because you're being tested, and without a test, there's no testimony."
Like Sportscasting on Facebook. Follow us on Twitter @sportscasting19 and subscribe to our YouTube channel.