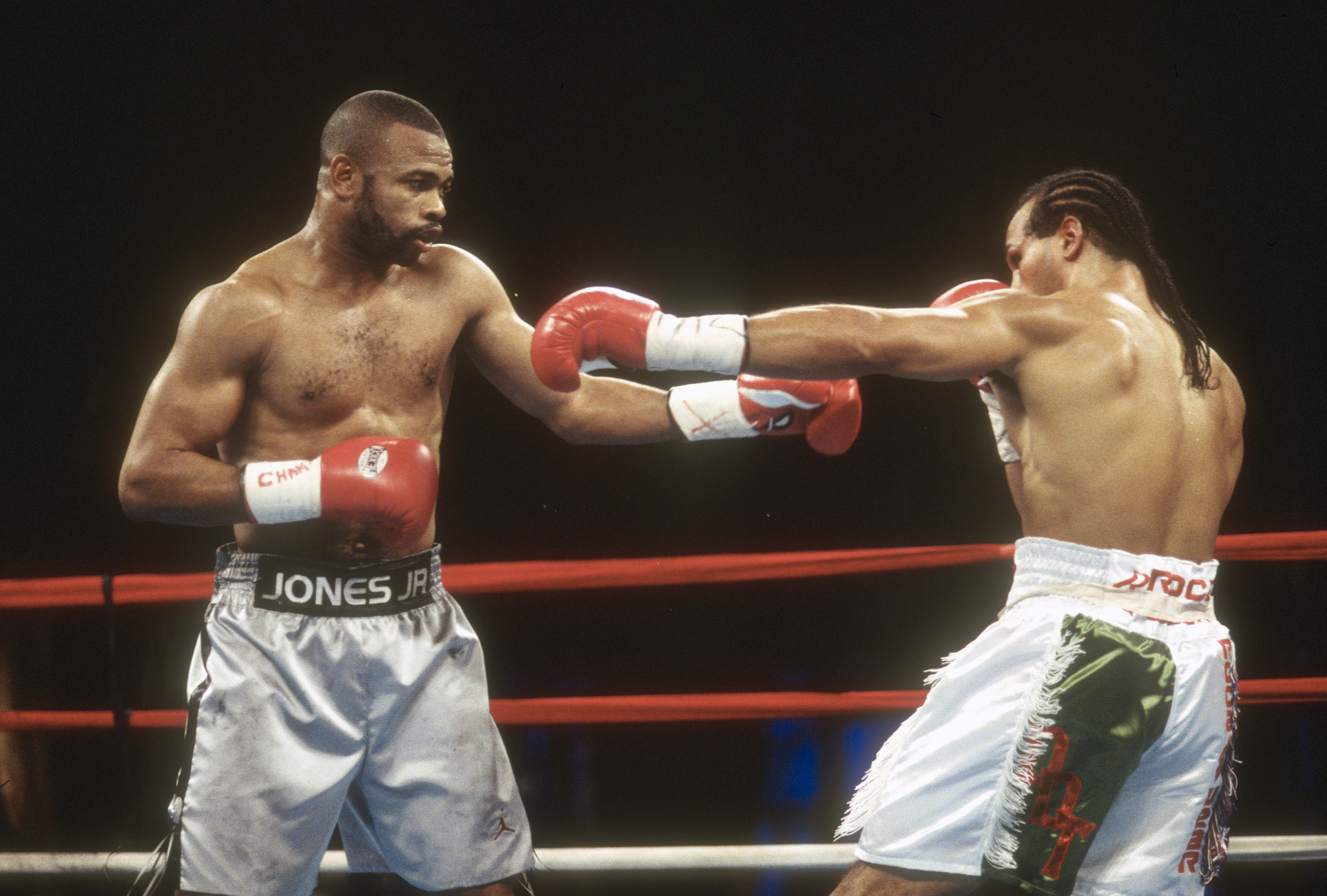 Roy Jones Jr. Says Mike Tyson Could Compete for the Heavyweight Title Today
Roy Jones Jr. says Mike Tyson has one quality that would allow him to be able to compete for the heavyweight title today at age 54.
Roy Jones Jr. will be stepping back into the boxing ring next month against a boxer who was the most feared fighter during his day. Jones Jr. will battle it out with Mike Tyson in an eight-round exhibition match on Nov. 28. During his legendary career, Tyson was dominant. Of his 50 victories, 44 were by knockout. Jones Jr. said Tyson possesses one quality that he believes would allow him to compete for the heavyweight title today at the age of 54.
Mike Tyson was the most dominant boxer of his time
The legitimate question is how dominant would Mike Tyson really have been had he not gone to prison? Tyson was a force inside the boxing ring during the 1980s. He became the youngest heavyweight champion of the world when he was 20.
Tyson won the first 37 fights of his professional career. His first 19 fights were won via knockout with 12 of them coming in the first round. Tyson took his 37-0 mark into a fight with James 'Buster' Douglas on Feb. 11, 1990, and suffered his first loss in shocking fashion. Tyson was knocked out in the 10th round.
Tyson rebounded from the loss and won his next four fights. In 1991, he was convicted of rape and sent to prison for three years. Tyson returned to boxing upon his release and just wasn't the same. He won four straight bouts but then went 5-5 in his last 10 decisions, finishing his career with a 50-6 mark.
Roy Jones Jr. to fight Mike Tyson on Nov. 28
Mike Tyson will be taking on Roy Jones Jr. on Nov. 28 in an eight-round exhibition match. Jones Jr., 51, was one of the top boxers of his time after claiming titles in four different weight classes. Tyson, 54, remains a feared man. He is so feared that Jones Jr. said he might have made a mistake agreeing to get into the ring with him.
"He's still Mike Tyson, he's still one of the strongest, most explosive people who ever touched a boxing ring," Jones Jr. said to Sky Sports. "If anything, I made a mistake going in with him. He's the bigger guy, he's the explosive guy. He's going to have all the first-round fireworks, not me. I do have first-round fireworks, but he's known for more first-round fireworks than anybody to ever touch boxing, other than maybe George Foreman.
Jones Jr. isn't backing out of the fight, he's just unsure what he's getting himself into, given Tyson's unpredictability. "When it comes time to fight, we're going to fight," Jones Jr. said. "If it comes down to bite, we're going to bite. Whatever has to happen, is going to happen, that's just what it is."
Jones Jr. believes Tyson could still compete for a title today at 54
Mike Tyson has posted videos of himself working out in preparation for his comeback against Roy Jones Jr. Some have said Tyson still has the speed and power to compete with the younger boxers of today. During an interview with Fight Hub TV, Jones Jr. was asked if he, too, thought Tyson could hang with the younger boxers of today.
"I know he can because he has one thing that most of them don't have, except Deontay Wilder, which is tremendous punching power," Jones Jr. said. "Anytime you get a guy with tremendous punching power like Mike got, he got a chance because he can end most fights in under three rounds. All you got to do is get to their chin and you got 'em.
"If he got himself in shape and took care of himself for real for like a six-month period, he definitely could cause a problem in the heavyweight division right now. It's his explosive punching power."