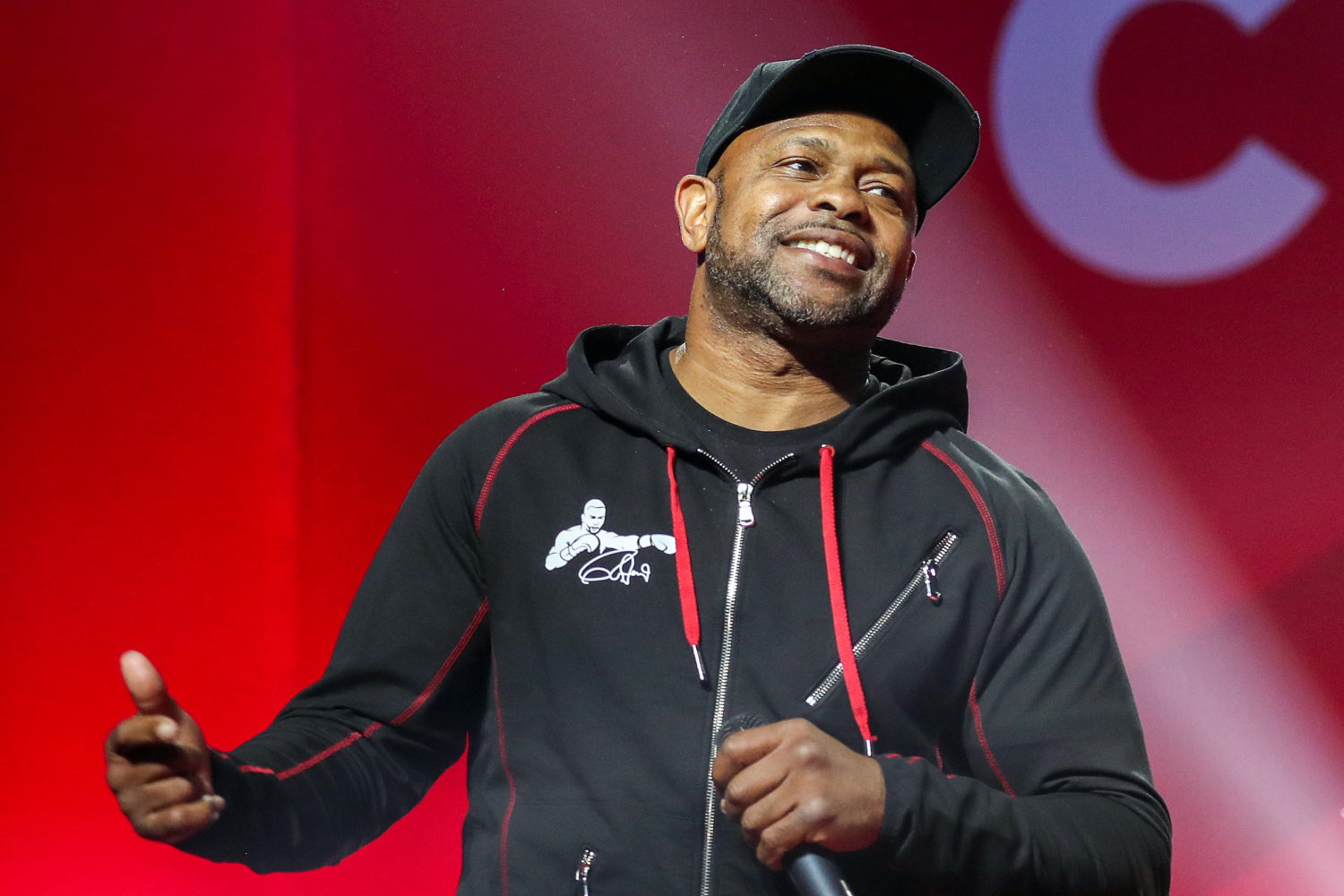 Roy Jones Jr. Was Beyond Petrified of Roy Jones Sr. While Growing Up
Roy Jones Jr. was petrified of his father when he was growing up after dealing with excessive mental and physical abuse.
With him, his father was relentless. Roy Jones Jr. couldn't take it much longer. As a child, he was on the verge of suicide. He became a daredevil because he didn't care about dying. The life that scared the heck out of Roy Jones Jr. also made him into the fierce boxer he became when he went 66-9 at a pro. Jones Jr. is now back in the spotlight as he is scheduled to face Mike Tyson in an eight-round exhibition match on Sept. 12.
Roy Jones Jr.'s boxing career
Statistically, the careers of Roy Jones Jr. and Mike Tyson are similar. Both opened their professional careers with 30-plus win streaks with many via knockouts. Jones won his first 34 fights, the first 17 of them coming by knockout or TKO. Tyson won his first 37 pro fights with 19 of those coming via the knockout route.
Jones captured titles in four different weight classes. He is the lone boxer to begin his pro careers at the junior middleweight level and fight as a heavyweight. The Boxing Writers Association of America named Jones the Fighter of the Decade for the 1990s. Jones suffered the first loss of his pro career at the hands of Montell Griffin in March of 1997. Jones was disqualified after hitting Griffin after knocking him down.
After the loss to Griffin, Jones rebounded well. He reclaimed his WBC light heavyweight title by quickly knocking out Griffin in a rematch five months later. That began a string of 15 straight wins. He didn't lose against until May of 2004 when Antonio Tarver beat him. Jones won 47 of his 66 victories by knockout.
Jones' troubled relationship with his father
Roy Jones Sr. had a strong boxing background and he began as the trainer for his son. The mental and physical abuse of young Jones Jr., however, became too much. Sure, the training made him tough tough, but it went too far. According to Sports Illustrated, when Jones Jr. was 5, it all began. Jones Sr. would taunt his son, pushing him well beyond the limits.
The article stated that Roy Sr. would be on his knees, slapping his son and saying, "What's wrong? Gettin' tired? Told you you were too little. Told you you weren't quick enough. Oh, here we go. You cryin' again? Little girlie-girlie cryin' again?" And that was just the beginning. It went on and on.
Jones Sr. owned a gym where he would train other young boxers. He was good with them. He was fair. But when it came to his own son, it became frightening. His father would set up junior with fights with boys much older and much bigger. Senior gave junior a shotgun for Christmas when he was 6 years old. He was having him drive a tractor at 7. "Thought I'd pass out cold when I saw that," Roy Jr.'s mother, Carol, said.
Jones Jr. was so scared, he thought of killing himself
Sometimes Roy Jones Jr. would run to his mother for comfort and that didn't sit well with Jones Sr, according to Sports Illustrated. "You're too much like your mother," Big Roy would grumble when Little Roy ran into her arms. "You'll never do nothin' if you're scared."
Jones Jr. said eventually he didn't care anymore. He didn't care if he died. Maybe that was what Jones Sr. was trying to do, make his son fearless. Instead, it nearly drove his son to suicide.  "After a while I didn't care about gettin' hurt or dyin' anymore," he said. "I was in pain all day, every day, I was so scared of my father. He'd pull up in his truck and start lookin' for something I'd done wrong. There was no escape, no excuse, no way out of nothin'. Every day it was the same: school, homework, farmwork, trainin.' 
"Gettin' hurt or dyin' might've been better than the life I was livin'. So I turned into a daredevil. I'd do anything. Didn't make much difference. Used to think about killin' myself anyway." In 1992, Jones Jr. broke away from his father and the two haven't had much of a relationship since.