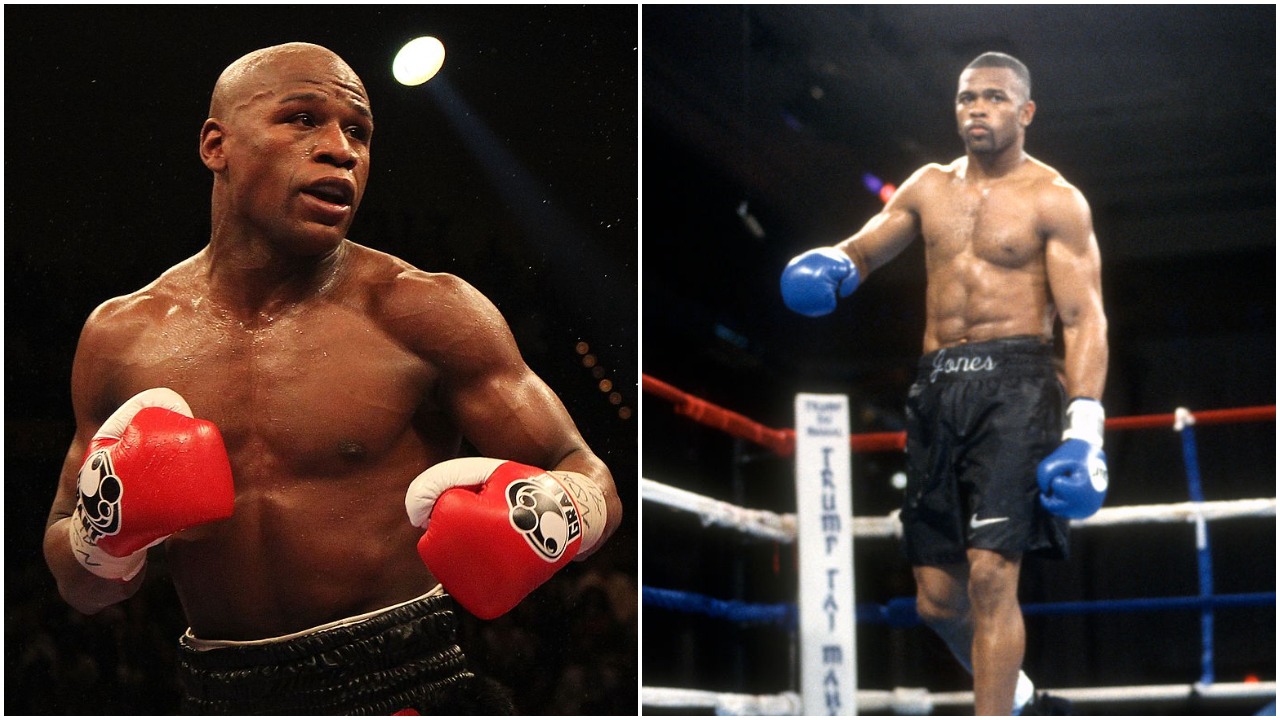 Why Roy Jones Jr. Was a Superior Fighter to Floyd Mayweather
A comparison of Floyd Mayweather and Roy Jones Jr., considered by many to be two of the greatest pound-for-pound boxers of all time.
Floyd Mayweather certainly has no problem telling people that he's the greatest pound-for-pound fighter of all time. After all, he retired (we'll see if that sticks) with an undefeated 50-0 record and has beaten some of the all-time great boxers like Oscar De La Hoya, Manny Pacquiao, and Sugar Shane Mosley, right? Isn't that what he himself and Mayweather defenders usually go with?
Mayweather was certainly a fantastic fighter. Nobody can deny that. But the best ever? Not so much. Some would say that he couldn't compete with the likes of Sugar Ray Leonard or Roberto Duran back in the day and don't even pretend he's better than Sugar Ray Robinson. But instead of looking at boxers from past eras, let's look at one whose career actually overlapped with Mayweather's: Roy Jones Jr. Jones was clearly the superior fighter and there are plenty of reasons why.
Floyd Mayweather's undefeated record is irrelevant
Let's just go ahead and get this one out of the way since this is the biggest argument that Floyd Mayweather defenders have. Okay, he's 50-0 and that's nothing to scoff at. But it's irrelevant. And let's not pretend that 50th win was even a real one as Conor McGregor had never had a professional boxing match in his life. Let's also not pretend that Mayweather won his first fight with Jose Luis Castillo in 2002. Anyone who has ever watched that fight knows that Mayweather was completely dominated so let's go ahead and say that "Money May" was 49-1, which he was and you know it.
By the same token, Roy Jones Jr. was also 49-1 in his first 50 fights, his first loss coming in controversial fashion in 1997 to Montell Griffin when Jones struck Griffin while he was down in the ninth round and was disqualified. In the rematch a few months later, Jones knocked out Griffin in the first round.
What makes Jones' first 50 fights more impressive than Mayweather's was his level of competition. Look at Roy Jones Jr.'s biggest wins and Floyd Mayweather's biggest wins and it's clear to see that Jones fought more good fighters in their prime than did Mayweather. The names mentioned above, Oscar De La Hoya, Manny Pacquiao, and Sugar Shane Mosley were all past their prime when Mayweather beat them, as was Miguel Cotto. And Canelo Alvarez wasn't yet ready for the spotlight. Throw those two in the ring today and see what happens.
As for Roy Jones Jr., his biggest wins came against Hall of Famers in their primes. When Jones dominated Bernard Hopkins in 1993, Hopkins was 22-1, having only lost his professional debut. Hopkins wouldn't lose again for 12 years. James Toney had zero professional losses in 46 fights when he fought Roy Jones Jr. in 1994. He left the ring that night with one. Virgil Hill once held the light heavyweight title for a decade and was 43-2 when he met Jones in 1998. Jones took him out with one shot…to the body.
And let's not forget the history that Roy Jones Jr. made.
Roy Jones Jr. and Floyd Mayweather both won titles in multiple divisions
Both Floyd Mayweather and Roy Jones Jr. won championships in multiple divisions (Mayweather in five, Jones in four) but it was Jones' jump to the heavyweight division that gives him the slight edge here. In the 49th fight of his career, Jones made the leap from light heavyweight to heavyweight to challenge WBA champion John Ruiz in 2003, who once split three fights with Evander Holyfield (one win, one loss, one draw). Giving up 43 pounds, Jones dominated Ruiz for 12 rounds (116-112, 117-111, 118-110) and became the first former middleweight champion to win a heavyweight title in 106 years.
That's not taking anything away from Floyd Mayweather. Winning titles in five divisions isn't easy. But Jones' accomplishments are just more impressive.
Roy Jones Jr. had a superior skill set but just hung on too long
As far as actual skill is concerned, the edge goes to Roy Jones Jr. there as well. While some argue that Floyd Mayweather was harder to hit, it's simply because he often chose not to fully engage in a real fight, which is why so many Mayweather fights were boring, especially later in his career when he was simply choosing opponents he knew he could beat. Jones had much quicker hand speed, more power in both hands, was a better finisher, was a much better body puncher, and had quicker feet in his prime. It's just a little unfortunate that Jones hung on way too long, his final fight coming just two years ago as he approached the age of 50.
Ahead of his final fight in 2018, Roy Jones Jr. spoke with The Telegraph and made it clear that there's really no comparison between himself and Floyd Mayweather.
"When me and Mike Tyson were around we played king of the hill. Whoever comes to the hill, you get your behind whooped. We don't pick and choose.

"Mayweather was TBE – The Best Ever – at making money, but look at his highlights and look at mine. You can't pretend it's the same. People say 'oh he was the most talented boxer ever'. Bull crap."

Roy Jones Jr. on Floyd Mayweather
Roy Jones Jr. is correct. Mayweather promoted himself probably better than anyone in the history of the sport and became a billionaire doing it. And good for him. But when it comes down to it, at their respective bests, Jones was the better fighter and it's really not even that close.