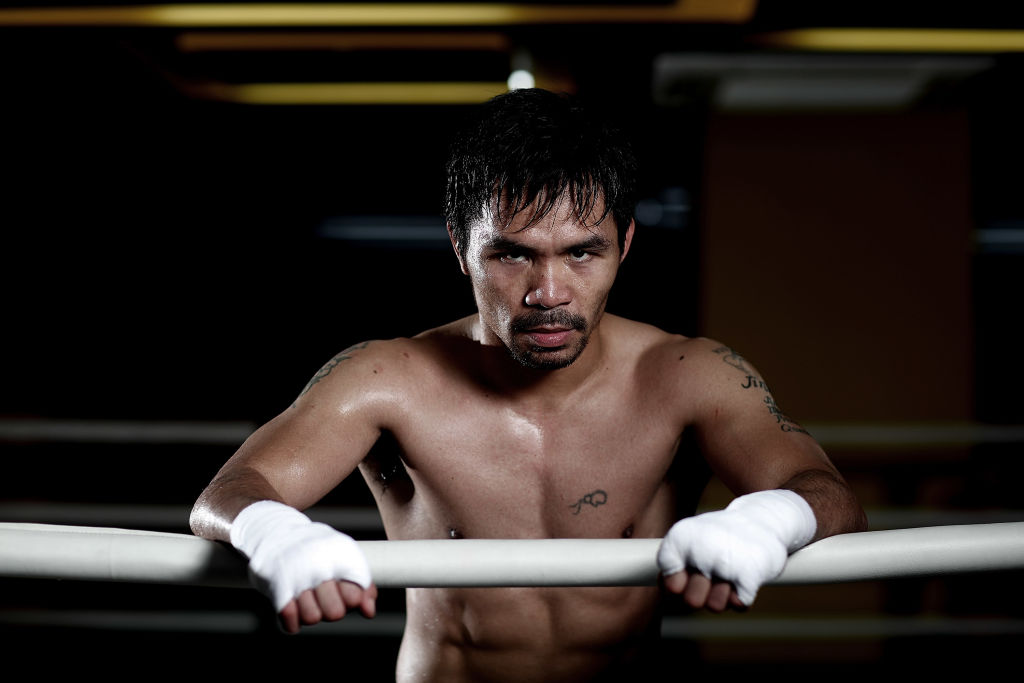 Since When Did Manny Pacquiao Become a Member of the Boston Celtics?
Since when did 5-foot-6 legendary boxer Manny Pacquiao become a 'member' of the Boston Celtics basketball team?
Manny Pacquiao has certainly made his name as a tremendous boxer, compiling 62 wins against seven losses and a pair of draws in his career. Pacquiao was named Fighter of the Decade for the 2000s and in 2016 was ranked No. 2 in ESPN's top pound-for-pound boxers in the last 25 years. He reached the peak of his boxing career when he fought Floyd Mayweather in a hyped-up bout in 2015. Pacquiao has also shown to be well-rounded outside the ring as he is currently serving as a Senator of the Philippines since 2016. He also played basketball professionally in the Philippines and also is a 'member' of the Boston Celtics.
Manny Pacquiao's professional basketball career
One year before his huge boxing match with Floyd Mayweather, Manny Pacquiao was selected in the 2104 Philippine Basketball Association draft. He was selected with the 11th pick by the Kia Motors basketball team as a player/coach.
On October 25, 2015, Pacquiao made his first professional field goal in the PBA during a 108-94 loss to the Rain or Shine Elasto Painters.  On August 21, 2016, Pacquiao, all of 5-foot-6, scored a career-high four points by making a 3-pointer in a 97-88 victory against the Blackwater Elite.
Pacquiao's professional basketball career lasted three years after he played out his three-year deal. In 2017, Kia Motors elected to not renew his contract. In 2018, Pacquaio officially announced his retirement from the league.
Pacquiao once scheduled a fight around a Celtics playoff game
Manny Pacquiao has always been a big fan of the Boston Celtics and that became perfectly clear in June of 2012.
Pacquiao was scheduled to fight Timothy Bradley on the same night the Celtics were playing the Miami Heat in a deciding Game 7 of the NBA Playoffs. The fighter was not about to enter the ring before the basketball game was over, prompting fight promoter Bob Arum, to push back the fight.
"I'm not waiting for Manny's request on this one," said Arum, who issued a statement indicating that the Saturday night main event between Pacquiao and Bradley in Las Vegas would not begin until after the C's-Heat game concluded.
"Now Manny, the Heat, the Celtics and sports fans watching the basketball game won't have to make a choice between events," said Arum, who added that the undercard fights would begin at 9 p.m. "They will be able to watch both."
The delay didn't shock then-Celtics coach Doc Rivers. "He's a Celtics fan. What do you expect?" Rivers said. "Pretty cool, though. That's cool."
Manny Pacquiao's relationship with the Boston Celtics
Manny Pacquiao had always been a Kevin Garnett fan and his love for the Boston Celtics hit an all-time high when Garnett at the C's won the NBA title in 2008.
Just before one of Pacquiao's bouts in June of 2008 – just after the Celtics were crowned champs – many of the Celtics players gathered in Las Vegas to watch his fight at the Mandalay Events Center. Pacquiao won his fourth world title that night in front of the Boston Celtics which was a dream come true for the boxer.
"Before I fought and after the Celtics won at the NBA finals, I was hoping that I could invite the Celtics," he said. "It so happened that they were in Las Vegas, so I invited them and they agreed to watch my fight. I was so happy my idols watched my fight."
On Wednesday, March 10, 2010, Pacquiao delivered a slew of autographed boxing gloves to the Boston Celtics. When the team got to the arena, the players each had one glove at their locker.
"Pacquiao's obviously a huge Celtics fan," said Celtics coach Doc Rivers, who also got a glove. "He tried to get to our shootaround before we played the Lakers and he couldn't make it. So instead he just sent that to us, and it's nice. Good gesture."
That same season, the Boston Celtics presented the boxer with a customized Boston Celtics jersey and named him an honorary member of the team.