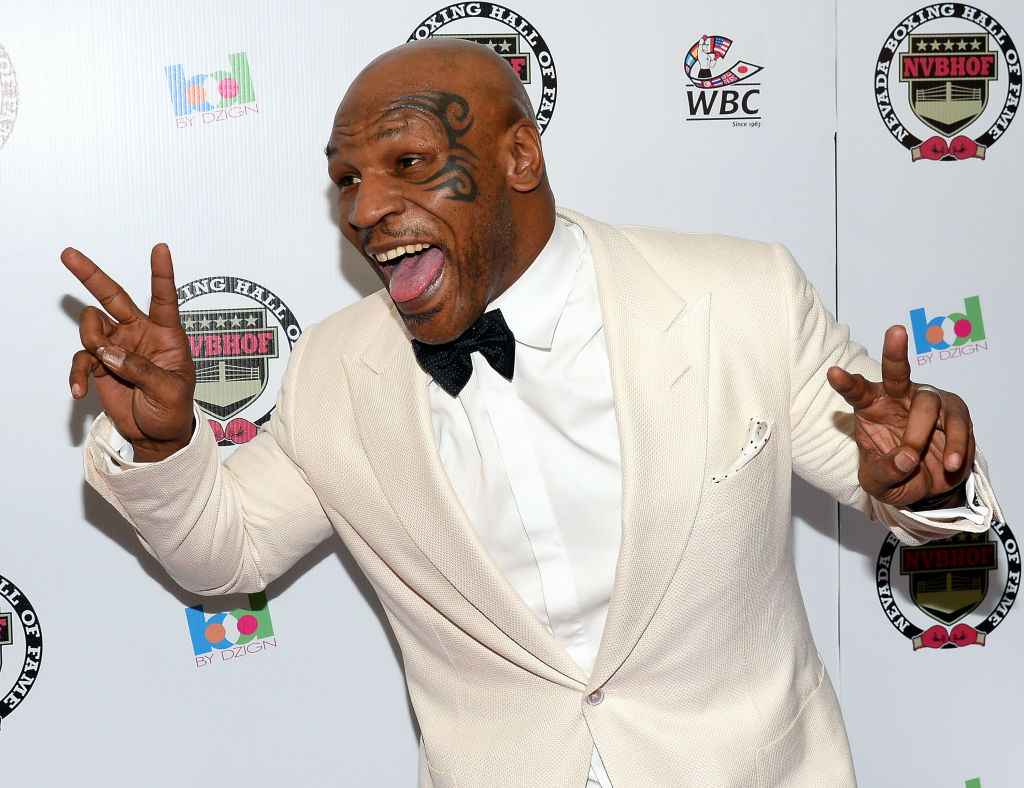 Emotional Mike Tyson Breaks Down During Podcast with Sugar Ray Leonard, Says 'I'm Nothing' Anymore
Former Heavyweight boxing champion of the world Mike Tyson gets emotional during a recent podcast, saying he's 'nothing' anymore.
Mike Tyson was once considered the baddest man on the planet.  The hard-hitting boxer is still the youngest fighter to ever be crowned heavyweight champion of the world. He accomplished the feat when he was 20 years old. Today, Tyson is 53. Although he recently has mulled a return to the ring, he realized he's not that same feared boxer he once was. That realization came to light during a recent Hotboxin' podcast where he and Sugar Ray Leonard were discussing their boxing lives. Tyson broke down in the middle of it and said, "I'm nothing" without boxing.
Mike Tyson outside the boxing ring
Mike Tyson had a difficult upbringing that was filled with learning to cope with the death of his mother, dropping out of high school, and being arrested 38 times before he was 13 years old. Tyson struggled to find himself as a youngster and it's something he still hasn't been able to do as an adult.
In a USA Today article way back in 2005, Tyson revealed he was battling mental health issues and never felt comfortable with himself despite having been one of the premier professional boxers in history. As an adult, he dealt with financial issues and prison sentences. He called himself pathetic. "I'll never be happy," he said in 2005. "I believe I'll die alone. I would want it that way. I've been a loner all my life with my secrets and my pain. I'm really lost, but I'm trying to find myself. I'm really a sad, pathetic case.
He had been divorced and battled drug addiction. He was hurting inside. People just saw the knockouts inside the ring, but he was beating himself up inside. He said he struggled with people looking at him as a hero. "People put me so high," he said "I wanted to tear that image down. My whole life has been a waste — I've been a failure."  

Mike Tyson inside the boxing ring
Where people saw Mike Tyson was in the boxing ring. That's also where he did his best work. Boxing fans loved the power and the speed Tyson used to knock out his opponents at an alarming rate. At 20 years old, Tyson became the youngest boxer ever to become heavyweight champion of the world.
Tyson struck fear into his opponents. He backed down from nobody. He won 50 fights in his professional career and 44 of them were won via knockout. His first 19 fights were won by knockout and 12 of those came in the first round. He won his first 37 professional fights before he was upset by James 'Buster' Douglas.
His life inside the ring is well documented. He was fierce and he was well-respected inside the ropes. Time has caught up with the former heavyweight champ now. He's 53 years old and he's not the same person he was when he was boxing and that scares him.
Tyson goes on an emotional rant during the podcast
In a March episode of the podcast Hotboxin', Sugar Ray Leonard and Mike Tyson were discussing all things boxing. Leonard was speaking about his career and how boxing made him into the man he is today. Not 15 minutes into the podcast, Tyson, sitting to Leonard's right, began to cry. He got very emotional and got down on himself. His mental health came into question once again. He began rambling about how he used to be a warrior.
"I'm a f***ing student of war,' said Tyson. "I know all the warriors. From Charlemagne to Achilles, the number one warrior of all warriors, and then Alexander and Napoleon. I know them all. I read about them all. I studied them all. I know the art of fighting, I know the art of war, that's all I ever studied."
He began to cry when he realized he was talking about the past. "Now those days are gone. It's empty, I'm nothing. I'm working on the art of humbleness. That's the reason I'm crying because I'm not that person no more, and I miss him. But sometimes I feel like a b**ch because I don't want that person to come out because if he comes out, hell is coming with him. It's not funny at all."