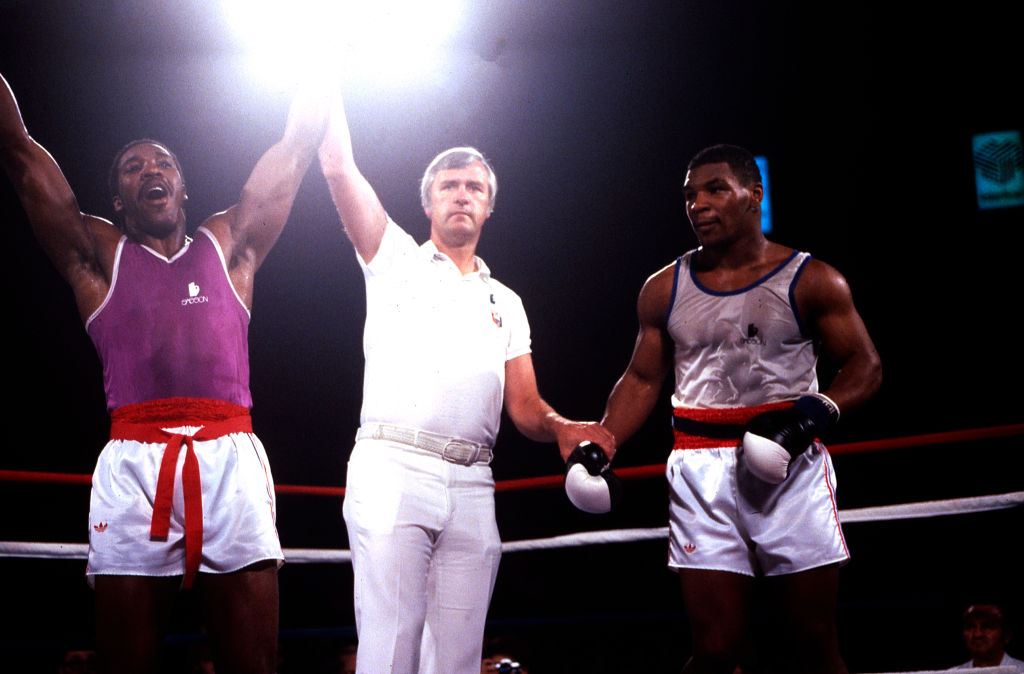 Mike Tyson Wasn't Allowed to Box in the 1984 Olympics, Then He Got His Revenge
Legendary boxer Mike Tyson wasn't allowed to participate in the 1984 U.S. Olympics, but soon after he got his revenge.
Before Mike Tyson went on to have an outstanding professional boxing career, he had a dream. He had hopes of making the U.S. Olympic team back in 1984. That dream, however, was shattered when the hard-punching Tyson dropped a pair of bouts that prevented him from making the boxing team.
Mike Tyson's legendary boxing career
Mike Tyson didn't let his failed attempt at making the U.S. Olympic Boxing Team back in 1984 derail his quest for reaching the top of the professional boxing ranks. Tyson's pre-pro boxing days were littered with speed bumps which included the death of his mother and sister at early ages and several arrests by the time he was 13.
Boxing was a way to help Tyson cope with his problems. He boxed often and he boxed well. He made his professional boxing debut in 1985 and quickly rose to stardom by winning his first 37 fights. Not only was he winning, he was striking fear int his opponents. Of his first 28 fights, he won 26 of them by knockout.
Tyson went on to become the youngest boxer to ever win the heavyweight title when he was 20 years old. Tyson eventually became the lone heavyweight boxer to capture the WBA, WBC and IBF boxing titles and hold them at the same time. He finished his career with a 50-6 record, winning 44 by knockout.
Tyson's failed bid to make the Olympics in 1984
As an amateur fighter, Mike Tyson secured gold medals in 1981 and 1982 in the Junior Olympics and had visions of earning a spot on the U.S. Olympic Boxing Team in 1984. There as some serious competition, however, with names such as Pernell Whittaker and Evander Holyfield also vying for spots.
The U.S, Olympic trials were held in Fort Worth, Texas in 1984, and Tyson was up against Henry Tillman, another kid who had a criminal history and who had learned to box while in prison. Tillman won a 5-0 decision. Tyson was then chosen as Tillman's 'most worthy' opponent for the Olympic box-offs at Caesars Palace a month later. Tyson would have to defeat him twice to make the Olympic cut. If Tillman won the first bout, it was over for Tyson.
Tyson lost a 4-1 decision. He stormed out of the pavilion and began taking his frustrations out on a tree. While Tyson was crying, his trainer Cus D'Amato consoled him. Tillman advanced and went on to win the gold medal in the Olympics.
Tyson exacts his revenge
Mike Tyson made his professional debut on March 6, 1985, as an 18-year-old and cruised to a first-round TKO against Hector Mercedes. Tyson went on to win his next 36 fights before losing in a stunner to James 'Buster' Douglas on Feb. 11, 1990.
In Tyson's next bout after the loss, on June 16, 1990, Tyson went face-to-face with Tillman in their first meeting since the Olympic trials. Tyson didn't hold back against the man who prevented him from reaching his Olympic dreams. He knocked Tillman out in the first round in 2:47. Tillman wound up being a decent pro, going 25-6 in his career.
Tillman reflected on his time as a boxer, saying it was tougher to be an amateur than a pro. "I think amateur boxing is harder than in the pros," Tillman said. "Where you fight every two or three months as a pro, amateur boxers fight as much as five times in tournaments." He then said Tyson was better suited to be a pro. "Mike was a beast, period," Tillman said. "He could fight at an early age. Some guys are great amateurs but didn't do well as pros. It all depends on their styles and Mike's was more suited for the pros."