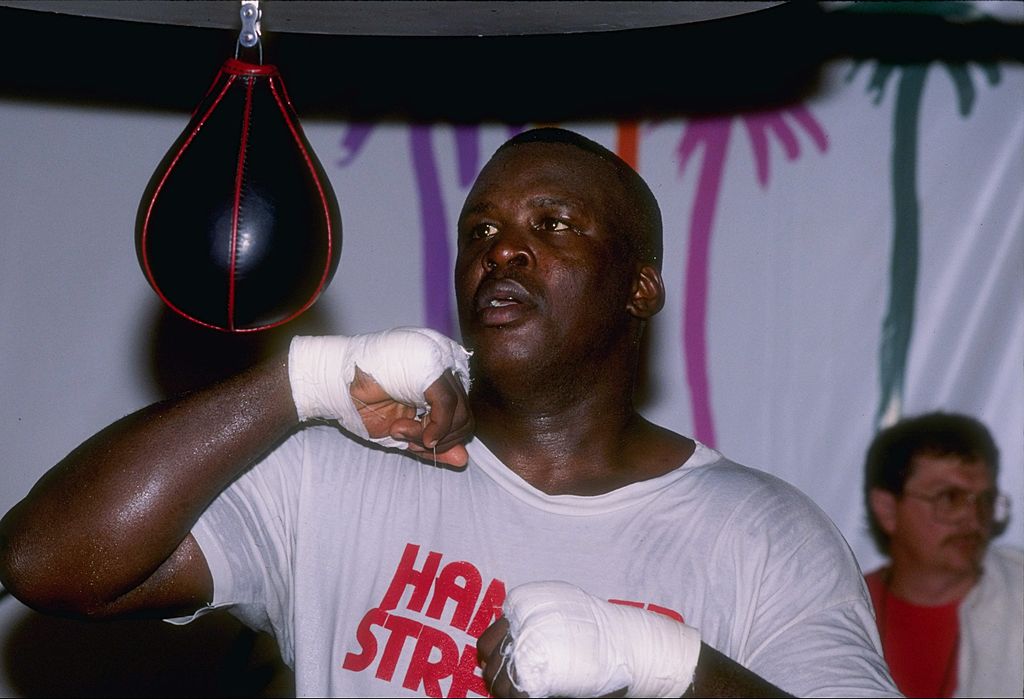 Buster Douglas Once Upset Mike Tyson, but Now He's Helping Young Boxers in the Ring
30 years ago, James "Buster" Douglas upset Mike Tyson in historic fashion. Where is the former heavyweight champ now?
There are few things that sports fans love more than a good Cinderella story. Whether it's a mid-major school making a run in March Madness or an upstart AFL team winning a Super Bowl title, there's nothing like the thrill of watching an underdog pull off the impossible. No upset, however, can top James "Buster" Douglas knocking out Mike Tyson in 1990.
For a brief moment, Douglas was on top of the sports world; his time at the top, however, was quite brief. These days, however, he's using his experience to prepare the next generation of boxers.
Buster Douglas vs. Mike Tyson
As a teenager, Buster Douglas found success as both a basketball player and a boxer. He decided to focus his efforts in the ring, though, which would set the stage for one of sports' most iconic upsets.
Douglas started his professional career in 1981 and started working his way up the competitive ladder. While he wasn't always dominant force, the Ohio native did make a name for himself; eventually, he earned a shot a the heavyweight title. That, however, meant a date with Mike Tyson.
Coming into the fight, Douglas was understandably a massive underdog. Tyson had made a habit of dispatching any challenger in a matter of seconds; no one expected this fight to be any different. In the ring, however, Douglas didn't follow the script. He came out strong and started working the defending champ over. Tyson knocked the challenger down in the 8th round, but Douglas made it back to his feet; in the 10th round, however, boxing would change forever.
Douglas, the 42-1 underdog, knocked out "the baddest man on the planet." He was now the heavyweight champion of the world.
A brief reign at the top
While Buster Douglas may have claimed the heavyweight title in a fairy tale upset, his boxing career didn't have a happy ending.
Rather than stepping back into the ring with Tyson, Douglas' camp decided his first title defense would be against Evander Holyfield. The opponent, however, wouldn't make much of a difference on the day.
When Douglas arrived to defend his title, the boxer was 15 pounds heavier than the night when he claimed the belt; he seemed slow and struggled to keep pace with Holyfield. In the third round, the reigning champ went for an uppercut, but whiffed and took a counterpunch to the jaw. With that, his time at the top was over.
After that defeat, Buster Douglas retired from professional boxing. While he would make a brief comeback attempt several years later, his career, for all intents and purposes, ended that night.
Buster Douglas is paying it forward
These days, Buster Douglas' name is synonymous with one of the greatest upsets in sports history. The former champ, however, struggled with both physical and emotional problems after his sudden rise to prominence; eventually, he found solace and returned to his roots.
Douglas has returned to Columbus, Ohio, where he lives with his wife and sons. He works with the local Parks and Recreation department, helping young boxers in the same gym where he first stepped into the ring. Beyond boxing tips, he's able to leave them all with one life lesson.
"Dream, dream big and believe in your dream," Douglas told Jon Spencer of the Mansfield News Journal in March 2019. "Go after whatever you want in life, give it your all, and 9 times out of 10 you'll succeed. But even if you miss, you'll still be amongst the stars."