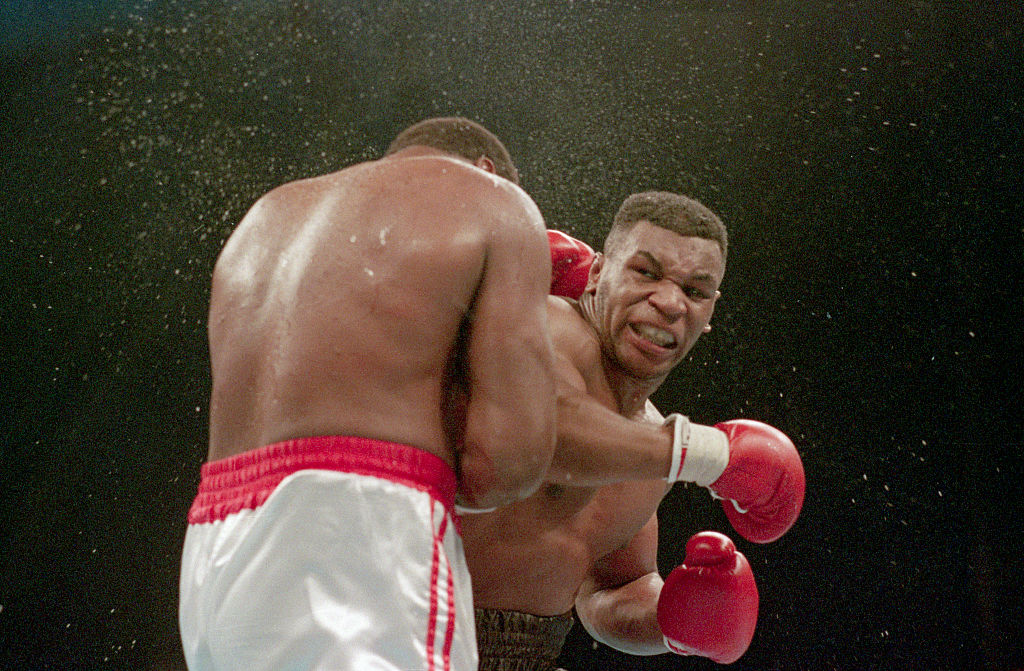 A Look Back at Mike Tyson's Fastest Knockouts
Here's a quick look at the five fastest knockouts from former undisputed heavyweight champion Mike Tyson.
Mike Tyson has delivered some of the greatest knockouts in the history of boxing. While mostly known for his power, it's sometimes easy to forget just how fast Tyson was in his prime. Just ask Michael Spinks about the combination of the two. Spinks was a perfect 31-0 when he met Tyson in 1988. 91 seconds later, he was 31-1 and never boxed again.
Mike Tyson turned pro at the age of 18 and quickly rose through the heavyweight ranks. Many of his early fights ended rather quickly and he didn't go the distance until the 20th fight of his career, a 10-round unanimous decision victory over James Tillis in May 1986. Many of his fights were over before they began as opponents were terrified of Iron Mike before the bell ever rang.
Here's a quick look back on the five fastest knockouts from Mike Tyson.
Mike Tyson knocked out Ricardo Spain in 39 seconds in his fourth professional fight
On June 20, 1985, Mike Tyson took on Ricardo Spain in Atlantic City in what at the time was the biggest crowd Iron Mike had ever been in front of. They certainly got a show as Tyson swarmed Spain, who was in just the second fight of his pro career. Tyson knocked Spain to the canvas about 20 seconds into the bout and then again a very short time after and the ref stopped the bout 39 seconds into the first round.
He picked up another 39-second win three months later against Michael Johnson
Three months and three wins after destroying Ricardo Spain, Mike Tyson was back in Atlantic City to face Michael Johnson on September 5, 1985. Johnson, who hadn't fought in two years, suffered the same fate as Spain. A vicious body shot from Tyson put Johnson down the first time and following the standing eight, it took just one more punch, a nasty right cross, to end things, again 39 seconds into Round 1.
Mike Tyson dropped Lou Savarese in 38 seconds in 2000
In the fourth fight of his comeback after being suspended for famously biting Evander Holyfield, Mike Tyson faced Lou Savarese on June 24, 2000, in Glasgow, Scotland. It was a long trip for such a short fight. Tyson dropped Savarese with a left hook 10 seconds into the fight, the first real punch Iron Mike had thrown. Once Savarese got up, Tyson was back on the attack and the referee had to jump in and stop the onslaught. It seemed that this could be the quickest win of Tyson's career as the ref had jumped in at about 28 seconds. But the official time given was the 38-second mark of the first round.
His first scheduled eight-rounder went 37 seconds
On October 25, 1985, again in Atlantic City, Mike Tyson was scheduled for the first eight-round fight of his career against Robert Colay, although nobody expected it to get that far. And it certainly did not. Colay actually seemed excited to get in there and mix it up as he came running out of his corner. His enthusiasm wouldn't last very long. 27 seconds in, Tyson hit his signature left hook and Colay went down hard. 10 seconds later, at 37 seconds of Round 1, it was over.
The fastest KO of Mike Tyson' pro career came against the son of a legend
Four months before becoming the youngest heavyweight champion in history, Mike Tyson fought the son of another legendary champ. On July 26, 1986, Tyson took on Marvis Frazier, the son of Joe Frazier. Frazier was 16-1 coming in but got smoked as Iron Mike was all over him. Tyson hit multiple uppercuts and Frazier's body just went limp as he hit the canvas. The referee got to a count of five and then just stopped it. The 30-second win was the fastest of Mike Tyson's professional career.
Mike Tyson fastest win came as an amateur
Here's a little bonus for you. While we just looked at the five fastest wins in Mike Tyson's pro career, his quickest knockout came in the amateur ranks at the 1981 Junior Olympics when he destroyed his opponent in eight seconds. You're welcome.