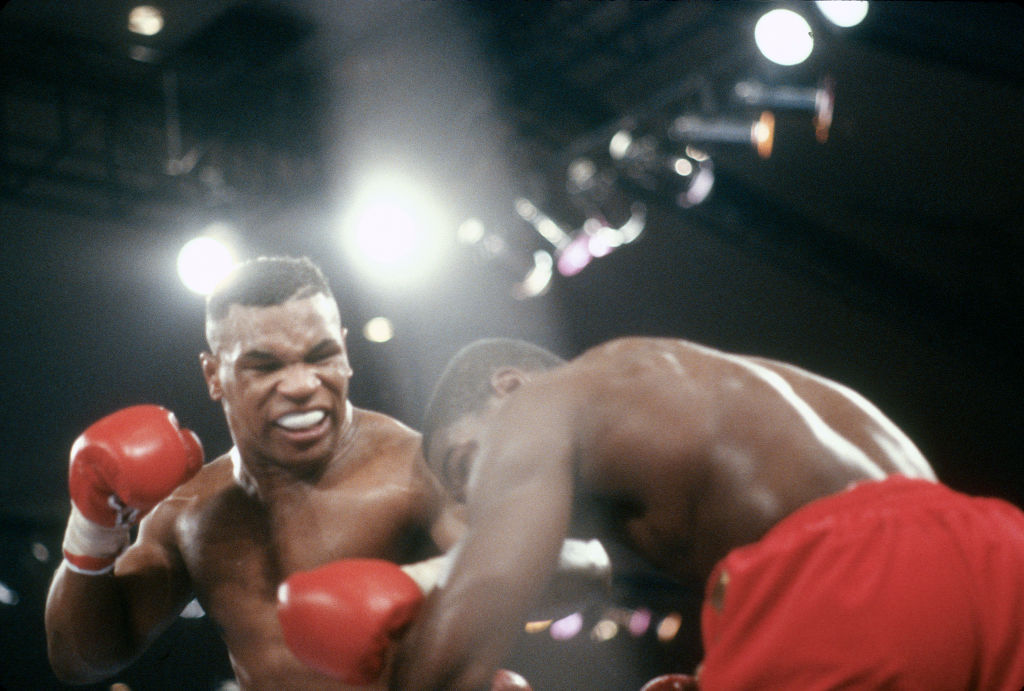 How Good Was Mike Tyson in His Prime?
A look back at the prime days of former heavyweight boxing champion Mike Tyson.
Mike Tyson is undoubtedly one of the most ferocious fighters to ever step foot in a boxing ring.
While he may not have been as graceful as Muhammad Ali, as big as George Foreman, or as poised as some of the great heavyweights in history but Mike Tyson was once the most feared man in the sport. Wanna know how he feared he was? In 1988, he battled Michael Spinks, who was 31-0 at the time and looked at by many as the real heavyweight champion of the world, and Spinks didn't even want to leave his dressing room. That was the power of Mike Tyson in his prime.
Mike Tyson was trained by the legendary Cus D'Amato
In his younger days, Mike Tyson got himself into a lot of trouble, getting into numerous altercations with those who would make fun of his high-pitched voice and lisp. He was sent to a reform school where he met former boxer Bobby Stewart, who would later introduce him to legendary trainer Cus D'Amato, who had at one time helped lead Floyd Patterson to the world heavyweight championship.
D'Amato took Tyson under his wing, training him and adopting him at 16 when Tyson's mother died. He saw the rage in the youngster and simply wanted to harness it. Using D'Amato's famed peek-a-boo style in which a fighter would keep his hands close to his face and his arms close to his torso, Tyson won gold medals in 1981 and 1982 at the Junior Olympic Games and still holds the fastest knockout record, once beating an opponent in eight seconds.
When D'Amato died in 1985, Teddy Atlas took over all training duties for Mike Tyson. Tyson had turned pro about eight months before his mentor passed and rose through the ranks quickly, using his impressive combination of speed and power to destroy opponents.
He knocked out opponents at an alarming rate
Mike Tyson had his first pro fight on March 6, 1985, and it literally didn't take long for him to make a name for himself. He knocked out Hector Mercedes, who was appearing in just his fourth fight and was 0-3, at 1:47 of Round 1 and he was off from there. The next month, he knocked out Trent Singleton in the first round. The month after that, he knocked out Don Halpin in the fourth. The month after that, he knocked out Ricardo Spain in the first. In July 1985, Tyson had two knockouts in eight days. And that continued for months. It wasn't until his 20th bout on May 3, 1986, that a Mike Tyson fight went to the scorecards, a 10-round unanimous decision over James Tillis, the same result that would come in a fight with Mitch Green just two weeks later.
Tyson was an absolute force. His power was unmatched in the sport at that time but what's often overlooked was how fast he was. Throughout the years, Mike Tyson has been looked at as just being a puncher but the discipline was there in the early days. Could he throw big punches? Of course he could. If the overhand right or the uppercut didn't get you, the devastating left hook would. And they just came out of nowhere. Using D'Amato's peek-a-boo style, a style that was criticized often as some believed that a sufficient attack couldn't come from it with the arms being so close to the body, Tyson proved those critics wrong. His hands were so fast and he was so agile that his opponents simply couldn't figure him out and before they knew it, they were on the ground.
Mike Tyson becomes heavyweight champion at 20 and unifies the division
On November 22, 1986, Mike Tyson became the youngest heavyweight champion in history at 20 years, 145 days when he knocked out WBC champ Trevor Berbick in the second round. In March 1987, he added the WBA title with a win over James Smith. In August, he tacked on the IBF title with a victory over Tony Tucker and continued to dominate the division over the next few years. He scored knockout wins over Hall of Famers Larry Holmes and Michael Spinks and had a record of 37-0 (33 KO) when he lost to James "Buster" Douglas on February 11, 1990, a loss that shocked the world and sent Tyson in a downward spiral that culminated in a three-year prison sentence.
Tyson would return to boxing upon his release in 1995 and would regain the heavyweight championship but nothing would ever quite be the same as those early days. He lost to Evander Holyfield in a fight that should have happened five years earlier than it did and then flew off the handle in the rematch when he bit Holyfield's ear off. He got embarrassed by Lennox Lewis in another match that happened much later than it should have and lost the final two fights of his career to journeyman fighters that he would have destroyed in about 30 seconds in his prime.
Nevertheless, Mike Tyson is still viewed as one of the greatest heavyweights of all time and for good reason. In his prime, he was unstoppable and the highlights of those fights in his heyday are still amazing to watch.